This post may contain affiliate links, my full disclosure can be read here. As an Amazon Associate I earn from qualifying purchases.
Disclaimer: This post contains affiliate links.
Do you dread the "What's for supper?" question? It happens to all of us, doesn't it? Life just gets so busy during the day and suddenly it's late in the afternoon and everyone is asking you what's for supper. All too often we can find ourselves turning to unhealthy convenience food or take out just to get dinner on the table. This is where freezer cooking can really save you! I'm so excited to share with you a new freezer cooking program called MyFreezEasy.com Freezer Meal Plan Membership from MyFreezEasy that I have been reviewing for the past month.
Freezer cooking and canning my own convenience food is something I've done for years. I can honestly say that it saves me so much time and money.
What Is Freezer Cooking?
Have you heard of freezer cooking before? Sometimes it's also called Once A Month Cooking (OAMC) although you don't have to cook a full months worth of meals at one time. The idea of freezer cooking is really very simple. You spend an hour or two in the kitchen and prepare meals for the freezer that will feed your family for weeks.
How Long Does It Take To Make Freezer Meals?
Many of the OAMC sessions I've done before would take me most of the day to prepare and freeze. It was a lot of work! Well worth it but still it's not always easy to find that much time in the kitchen.
This is how MyFreezEasy is different! Most of the meals are put together and frozen without any pre-cooking! The exception would be for recipes using ground beef but then you only need to cook the ground beef and not the entire meal.
What's Included In A MyFreezEasy Membership?
With a membership to MyFreezEasy each month, you'll have access to 8 brand new menu plans. Each one comes with 5 recipes except for the 20 meals plan obviously! The recipes are grouped my cooking type and meat to make it really easy to find what you're looking for.
The meal plans are:
The 20 Meals Plan
Traditional Meal Plan
Clean Eats Meal Plan
Gluten-Free Meal Plan
All Chicken Meals Plan
All Ground Beef Meals Plan
All Pork Chops Meals Plan
You also have access to a build your own menu system where you can completely customize your family menu plan. Here you can swap recipes in and out from the different meal plans that month and an additional large database of recipes.
Each meal plan is downloadable as a PDF that includes:
Table of Contents
Each recipe on its own page with instructions for 1 recipe or 2.
A Supply list
Grocery shopping lists
Assembly instructions for putting togeather your freezer meals.
Each meal plan also includes a bonus PDF of labels you can print for your freezer containers.
What Type's Of Recipes Are Included?
I wasn't sure if MyFreezEasy would be a good fit for our family at first. My children are a little picky when it comes to meals! It's not so much that they will refuse to try new things but they don't like seafood or spicy food. However, I was so glad that I tried out these recipes anyway. Even ones that looked like they might be a little to hot for our children's liking were easy to adjust the spice level just a bit.
Some of the recipes we have enjoyed so far are:
Slow Cooker Butter Chicken
Slow Cooker Spanish Rice
Dutch Oven Italian Chicken and Potatoes
Lazy Lasagna Bake
Chicken Fajita Bake
I've been using the MyFreezEasy recipes as a starting point and then customizing the spice mix to fit our family better. I've also found that the meat portions in the recipes are very generous.
Butter chicken cooking
The first time I made the butter chicken recipe I doubled it because it said it serves 4 people and we have 8 in our family. Most of the time I have to double or triple recipes for us so I'm really used to doing that. This time, I found the butter chicken gave us enough for supper, lunch the next day and supper again! So when I prepare these recipes I have started using half the meat the recipe calls for and that gives me an extra recipe to freeze! Bonus!
I love that their are menu plans made for 1 type of meat. I've been watching our grocery sales and when I see a good deal on ground beef or chicken I can quickly make up a large number of meals for the month.
We were recently doing an all day canning day and by the time I was done I was just too tired to make supper. Does that sound familiar? Thankfully before we started canning that morning I took out a freezer meal and started it in our slow cooker. We enjoyed a nice homemade supper that night without any extra work.
Now it takes me just 4 or 5 hours to prepare meals for my family all month long. If I know I'm going to have a busy day or be out I can pull a freezer meal out for my slow cooker. If I know I'm going to be home then I can just pull out a casserole to bake in the oven.
Using MyFreezEAsy has cut down my freezer cooking preparation by more than half and made the process so much more enjoyable for me! Would you like to see how freezer cooking work? Try their free workshop!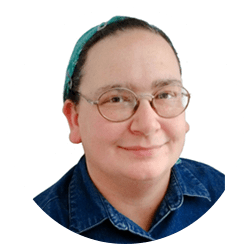 Kim Mills is a homeschooling mom of 6 and lives on an urban homestead in Ontario, Canada. Blogging at Homestead Acres she enjoys sharing tips to help you save money, grow and preserve your own food.