This post may contain affiliate links, my full disclosure can be read here. As an Amazon Associate I earn from qualifying purchases.
It's been a busy week here on the homestead we are making the most of the warm fall weather to start planting next year's potatoes. There are many benefits to planting potatoes in the fall.
Years ago we were talking to an "old-time" farmer and he told us that when he was a boy they always planted potatoes, garlic, and onions in the fall. That really got us thinking about how we organized our planting and growing of potatoes.
Potatoes are a very hardy plant. Every year we have volunteer potato plants coming up in the garden and they grow and produce just fine. So why do we work so hard to try and plant them in the spring when we are busy with other garden jobs?
Benefits Of Planting Potatoes In The Fall
1. Potatoes Get A Head Start
Potatoes planted in the fall get a head start on the growing season. They will stay dormant in the soil over the winter. In the spring when the soil warms up they will start to grow.
Before you see the potato plants sprouting through the soil they are busy growing roots. By planting the potato tubers in the fall they will start to grow roots as soon as the soil is the right temperature. This gives them at least a 2-week head start over spring-planted potatoes.
2. Planting Isn't Held Up By Weather
In our zone 5b growing area the spring weather is unpredictable. Many times our planting has been held up by heavy rain or, yes even snowstorms in April and May.
If you're not using a deep mulch system in your garden a heavy rain can keep you from being able to plant for a week or more until the soil dries out enough to work.
Even if you do use a deep mulch system like Back to Eden or Ruth Strout's methods the weather needs to clear up so you can work in the garden.
By planting potatoes in the fall you don't need to worry about working the soil for planting in the spring. The spring rains will help to get your potatoes off to a good start instead of slowing down planting.
3. Earlier Potato Harvests
Potatoes planted in the fall start to get off to a better start and grow faster than spring-planted potatoes. This means you will normally have an earlier harvest also.
After your first crop of potatoes is harvested you can plant another crop of early maturing potatoes and have 2 harvests of potatoes in one season.
4. No Plagues Of Bugs While Planting
Ok, I know you're laughing, but I'm serious! When it's time to plant potatoes in the spring here, it's the same time swarms of blackflies and mosquitoes are coming out.
I for one don't like being used as a blood bank while I'm trying to work outside. Planting potatoes in the fall is so much nicer, no bugs!
How To Plant Potatoes In The Fall
When planting potatoes in the fall one of the first jobs you'll need to do is get your seed potatoes.
Now in the early spring, these can be easily found in garden centers but it's not likely you're going to find them for sale in the fall in the north. This means you will need to save your own seed from a previous harvest.
When you plant potatoes in the spring you often cut the tubers into smaller pieces to make the seed potatoes go further. However, when fall planting it's best to plant the whole potato.
Amazon is one of the few places I've found seed potatoes available in the fall!
US Grown Potato Medley Mix – 10 Seed Potatoes Mixed Colors Red, Purple and Yellow!
Yukon Gold Seed Potatoes 2.5 Pounds | Certified Organic Virus-Free Non-GMO Yellow Potato
Red Pontiac Seed Potatoes 2.5 Pounds | Certified Organic Virus-Free Non-GMO Red Potato
Potatoes that have been cut into smaller sections for planting have a much higher chance of rotting over the winter. Whereas whole potatoes will safely stay dormant until the warm weather arrives.
When selecting seed potatoes chose ones that are firm and show no signs of rot, blight, scab or other diseases. The seed potatoes should be the size of a chicken egg or golf ball or larger.
This is where some personal preference comes in.
When planting potatoes the larger the seed tuber is the more energy the plant will have to start growing with. However, many people prefer to keep the large and medium-sized potatoes for eating instead of planting.
It's perfectly fine to save the small egg-sized potatoes to plant your next crop with. I've done this and they have always grown just fine.
But I do find that using larger potatoes does get the plants off to a better start and yields a little more.
The next step is to prepare your planting area. We do a deep mulch, no-till gardening. So the process is very simple for us. We make our planting rows using our homemade row maker but you can also use a string line.
The planting rows are deep enough that the mulch is pulled to the side and the bare soil is exposed.
Next, place the seed potatoes into the planting furrows leaving 6 to 8 inches between the tubers.
Once the potatoes are planted we cover them with 1 to 2 inches of rabbit manure mixed with composted wood chips. This will help to provide fertilizer to the plants as it's washed into the soil over the winter.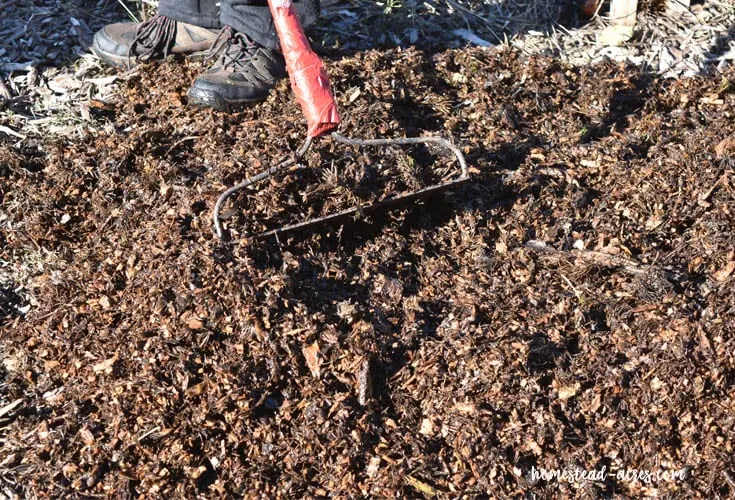 Finally, we top the planting furrows up with another 4 inches of wood chip mulch. This provides enough protection from frost and cold over the winter.
So why not save a little time in the busy spring season and plant your potatoes this fall?
They will be off to a great start next spring and you won't have to worry about getting the potatoes planted early in the spring.
You May Also Enjoy:
Connect With Homestead Acres!
Be sure to follow me on social media, so you never miss a post!
Facebook | Twitter | Pinterest | Twitter
Visit my Amazon store to find all my favorite gardening, homesteading tools, and gadgets plus all of my printed garden books and journals!
Kim Mills is a homeschooling mom of 6 and lives on an urban homestead in Ontario, Canada. Blogging at Homestead Acres she enjoys sharing tips to help you save money, grow and preserve your own food.