This post may contain affiliate links, my full disclosure can be read here. As an Amazon Associate I earn from qualifying purchases.
Young pepper and tomato plants need protection from the cold wind and temperatures of late spring to get off to a great start. Use this easy and cheap idea to give them the protection they need.
Peppers plants are so much fun to grow in your garden. Whether you enjoy growing bell peppers, hot banana peppers, or spicy chili peppers there is a variety out there that you will love!
One thing to keep in mind when growing peppers and tomatoes is that they love hot weather. Remember these plants originally came from tropical growing areas and grew as perennials.
Now most of us treat them as annuals because they simply won't survive the winter conditions in most areas of Canada and the USA.
If you have started your own peppers or tomatoes from seed or bought plants from a local nursery they are going to need some special care when you plant them into your garden.
First, you will need to harden them off, but even pepper plants that have been hardened off will grow better if you protect them from the cool temperatures of late spring.
How To Protect Peppers And Tomatoes From The Cold
There are many ways that you can protect young plants from the cold. If you are growing a lot of pepper plants one of the easiest ways is to place wire hoops over the growing bed and cover it with a floating row cover.
These fabric blankets are made to protect plants from the cold and frost and come in different weights depending on how much protection you'll need.
But there is another easy way to protect young pepper plants and tomato plants from the cold that I want to share with you.
Easy Homemade Cloche For Peppers, Tomatoes, And Eggplant
There is a very simple method I've learned that is used by local farmers in our area for their home gardens and we've found it very effective and affordable. It's really a form of a homemade garden cloche that is so easy to use and cheap too!
First, take a clear plastic garbage bag and cut the bottom seam off so you are left with a clear tube.
Then place it on the ground over the pepper or tomato plant.
Then simply place 4 small wooden stakes into the ground around the plant, on the inside of the bag. You will want to angle at least one of these stakes leaning slightly out away from the plant.
Once the stakes are in place, gently pull the bag up the stakes. Because you've angled the stakes leaning away from the plant they will create tension that helps to hold the bag up and in place.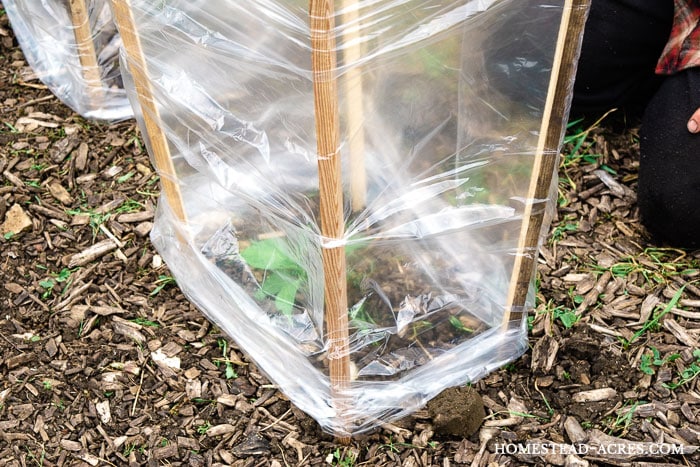 Now you're done!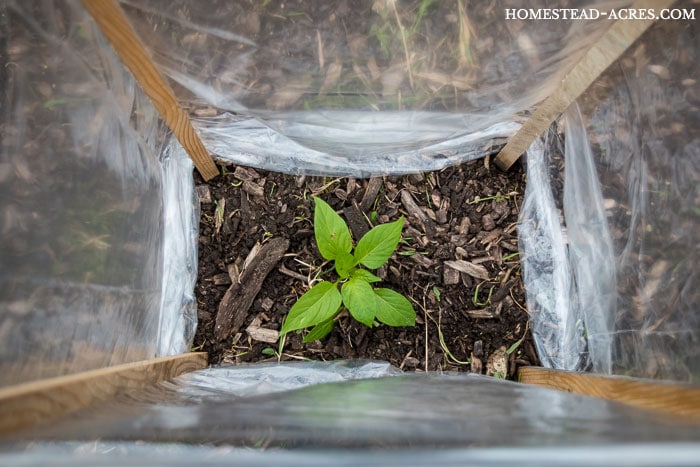 See, I told you that was a very simple way to protect peppers and tomatoes from the cold right?
Traditionally many around here reuse the plastic grain feed bags but we find that the clear garbage bags work really well.
Why This Homemade Cloche Helps Plants
The plastic bag is clear so the light is allowed through and it helps to create a mini greenhouse effect warming the plant and soil around it. But since the top is open the excess heat rises out.
The only downside to using this method is that it doesn't protect the plants from frost because the top of the bag is open. But neither pepper or tomato plants shouldn't be planted out into the garden until a few weeks after your last frost date in the spring anyway.
If you do have a late, unexpected frost coming you can take another clear garbage bag without the bottom cut open and place it over the other bag upside down.
Do this in the evening just before the sun goes down so that you don't overheat the plants, and remove it again in the morning.
Just remember that although you can use plastic for frost protection, you don't want to let it touch the plants or it can actually harm them. If you were expecting a hard frost then use a fabric row cover or blankets to keep you plants save.
But for normal cold and wind protection using this method of staking and bagging the plants is a great choice and much cheaper than buying pre-made devices like Wall-o-Waters.
When the weather is warm enough that you no longer need the plastic covers you can just slip them off the stakes and save them for next year.
Depending on what you're growing you can pull the stakes out or tie garden twine around them to make a homemade cage that will help to support your peppers or tomatoes.
Connect With Homestead Acres!
Be sure to follow me on social media, so you never miss a post!
Facebook | Twitter | Pinterest | Twitter
Visit my Amazon store to find all my favorite gardening, homesteading tools, and gadgets plus all of my printed garden books and journals!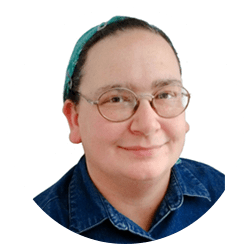 Kim Mills is a homeschooling mom of 6 and lives on an urban homestead in Ontario, Canada. Blogging at Homestead Acres she enjoys sharing tips to help you save money, grow and preserve your own food.