This post may contain affiliate links, my full disclosure can be read here. As an Amazon Associate I earn from qualifying purchases.
Crochet Ribbed Hat Pattern – Would you like to make a rib knit hat but don't knit? Well, knitters can't hog all the fun if you can crochet you can make a rib knit style winter hat to!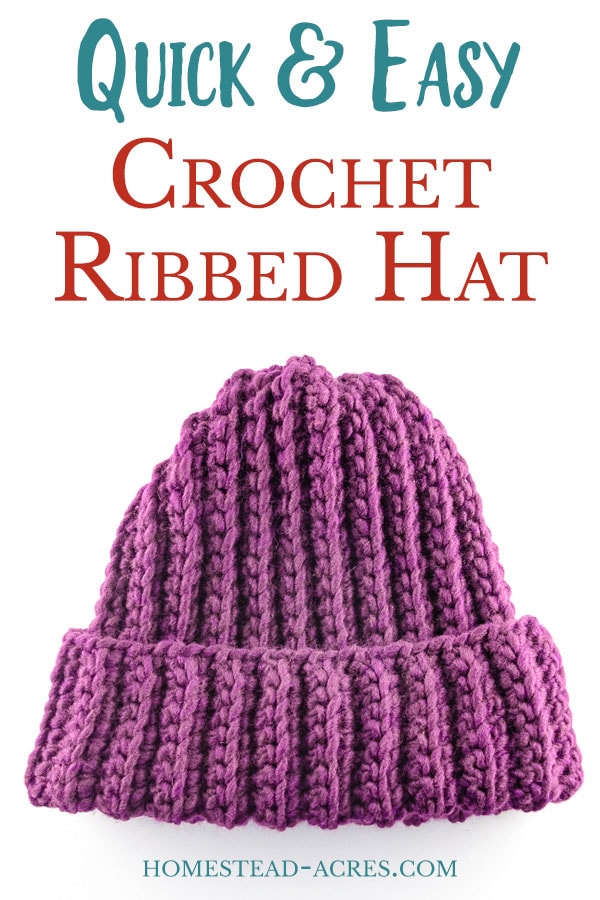 Years ago my husband needed some new winter hats or toques as we call them here in Canada. At the time I didn't know how to knit but I loved to crochet. Most crochet hats look very soft and feminine and that really wasn't the style my hubby was wanting.
So I came up with an easy to make crochet hat pattern that looks just like knit ribbing.
It's a unisex pattern I've made many of these hats for kids, men, teens and woman alike and they've all loved the style.
This hat keeps you warmer than most knitted winter hats because crochet stitches are thicker.
This crochet ribbed hat pattern is quick and easy to work up! It makes a great beginner pattern to.
Bernat Roving Yarn, 3.5 oz, Gauge 5 Bulky, Flint
Bernat Roving Yarn, 3.5 Ounce, Teal, Single Ball
My favourite yarn for these hats is Bernat Roving. It's a bulky yarn that's 80% acrylic and 20% wool, it does need hand washing but works up quickly and stays soft. However, any bulky yarn that you love will work well for this hat.
Don't miss the step by step video at the end of this post too!
Click here for a wide selection of Bernat Roving colors.
Crochet Ribbed Hat Pattern
Don't miss the printable version of the pattern at the bottom of the tutorial.
Add the project to your Ravelry queue
Materials:
Yarn type: 5 Bulky – Bernat Roving 1 ball for a child hat, 2 balls for a teen/adult hat.
Hook: 6mm or J
Yarn needle
Scissors
Gauge:
34 stitches and 11 rows = 7 inches
For this pattern, the gauge isn't that important you can easily adjust the rows to be as wide and long as you like.
Stitches:
Ch – chain stitch
Sl – slip stitch
Sc – single crochet stitch
Blsc – back loop single crochet stitch
Sizes
Child size 10-12 – Repeat pattern rows for 35 rows or desired width.
Adult/teen – Repeat pattern rows for 47 rows or desired width.
How To Customize Your Crochet Ribbed Hat
This hat is very easy to customize the size of. Your starting chain is the hight of your hat.
To customize it measure from the top of your head to where you want your hat to stop.
You can add a few extra inches to make a fold up brim if you like. The width of the crochet rectangle becomes the width of the hat.
You will want it to be about 1 inch less than the circumference of your head, depending on the stretchiness of the yarn you are using.
Chain 35 stitches.
Row 1. SC into the second chain from the hook and in each chain stitch until the end of the row. Chain 1, turn. [34]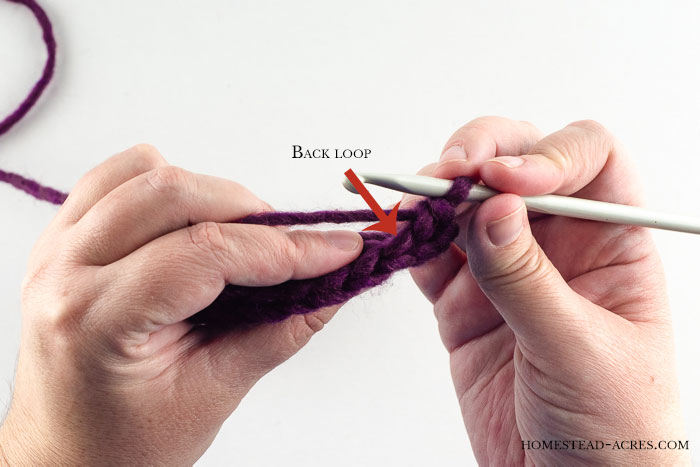 Row 2. Blsc into the back of each stitch across the row. Chain 1, turn. [34]
Rows 3 to 35 (47). Repeat row 2.
After you have finished a few rows you will start to see the ribbing pattern appearing.
Work as many rows as you need to get the desired width of your hat.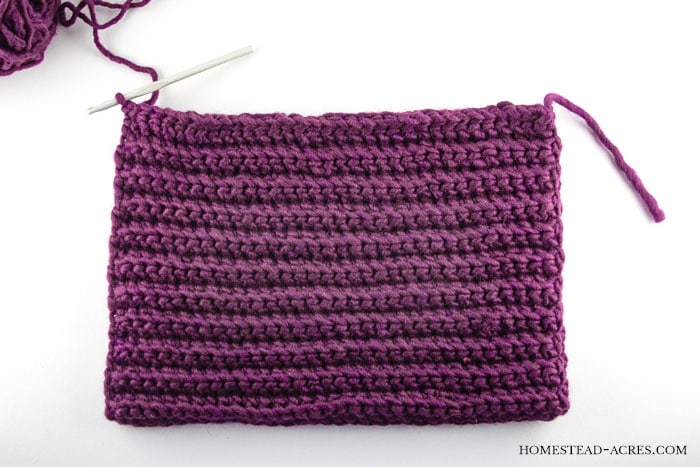 Fold the hat in half matching up first and last rows.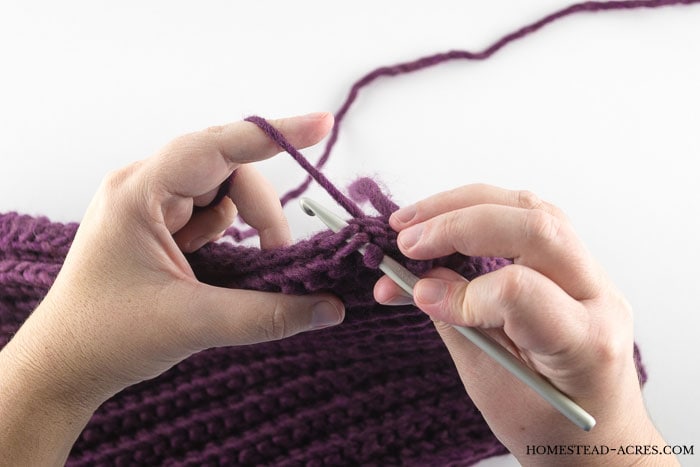 Slip stitch the seam together, fasten off yarn after the last stitch.
Leaving a long tail weave a running stitch around the top edge of the hat, pull to gather. Knot yarn.
If there is a small opening at the top sew closed with remaining tail yarn, knot off and weave the end in.
Watch this step by step video to see how to make your crochet hat from start to finish.
If you are having problems finding Bernat Roving yarn locally it can be ordered from Amazon. I find they have a better price than I can find locally.
Want a printable version of the pattern? I share these printables as a bonus to my newsletter subscribers. Sign up below to get your copy.
Looking For More Easy Crochet Patterns?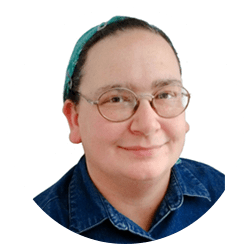 Kim Mills is a homeschooling mom of 6 and lives on an urban homestead in Ontario, Canada. Blogging at Homestead Acres she enjoys sharing tips to help you save money, grow and preserve your own food.