This post may contain affiliate links, my full disclosure can be read here. As an Amazon Associate I earn from qualifying purchases.
Would you like to use the best compost in your garden? Then you need to sift your compost before using it, don't worry it's easy to make a compost sifter!
We use a lot of compost in our vegetable gardens. We make compost using large compost bins and our chicken yard. One thing about making compost is that it takes time for it to fully finish breaking down.
But even the most finished compost pile can still have large pieces of debris that need to be screened out. Things like broccoli stocks, corn stocks, etc. can take longer to break down than leaves and other soft materials.
This is why it's a good idea to sift compost before spreading it onto your garden.
It's a lot easier to screen the compost first than it is to rake it out over the garden and then try to rake or hand pick out the larger pieces.
This is where our easy homemade compost sifter is a big help in the garden! All you have to do is place it over top of a wheelbarrow, add a few shovels of compost into the compost sifter and slide it back and forth a few times.
The finished compost falls through the wire screen leaving behind the larger pieces that can be put back into your compost pile.
DIY Compost Sifter Plans
The best part is that this homemade compost sifter is easy to make and quick too! You can make one of these sieves in about 30 minutes using materials you likely have around your homestead already.
Don't miss the printable version at the end of this tutorial!
Material List
2 – 1×6 @ 8 feet long
2 foot wide 1" square rabbit wire (or hardware cloth)
wood screws
3/4" fencing staples (often called u nails)
If you want to make a coarse sized compost sifter use 1×1" wire, if you want a fine compost then use 1/2"x1/2" hardware cloth wire.
Grip Rite 34HGPNS1 1.050 lb Galvanized Poultry Net Staple, 3/4
Gilbert & Bennett YARDGARD 24-Inch by 10-Foot 1/2-Inch Mesh Hardware Cloth
Cut List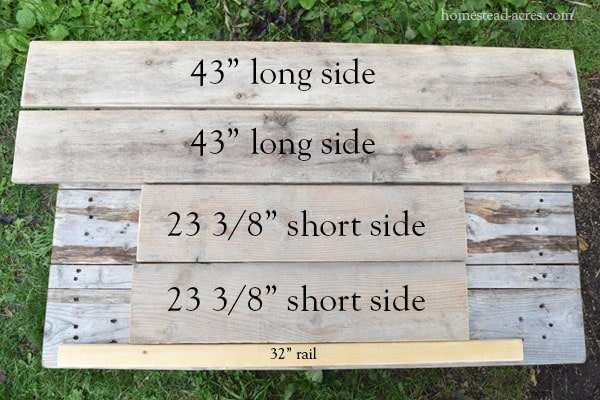 2 – 1×6 @ 43"
2 – 1×6 @ 23 3/8"
1 – 1×2 @ 32"
Step 1. Make The Compost Sifter Frame
After cutting your wood to the lengths listed in the cut list. Take one of the 43" long side pieces and line it up with one of the shorter 23 3/8" side pieces.
Screw them together using 3 wood screws. Repeat this for all the corners.
Step 2. Cut The Wire
The wire comes in 2-foot widths so all you need to do is to cut the wire to 43" in length to fit.
Step 3. Attach The Wire To The Compost Sifter Frame
Place the wire over the wooden frame, making sure that it's squared with the frame. Using U nails attach the wire securely.
It's best to place a U nail every 6 inches or so around the edge.
Step 4. Add The Slider
Take the length of 1×2 and place it going across the compost sifter on top of the wire and 16" from the end.
Attach with 1 wood screw on each side.
Now your DIY compost sifter is done! See, wasn't that easy?
How To Use Your Homemade Compost Sifter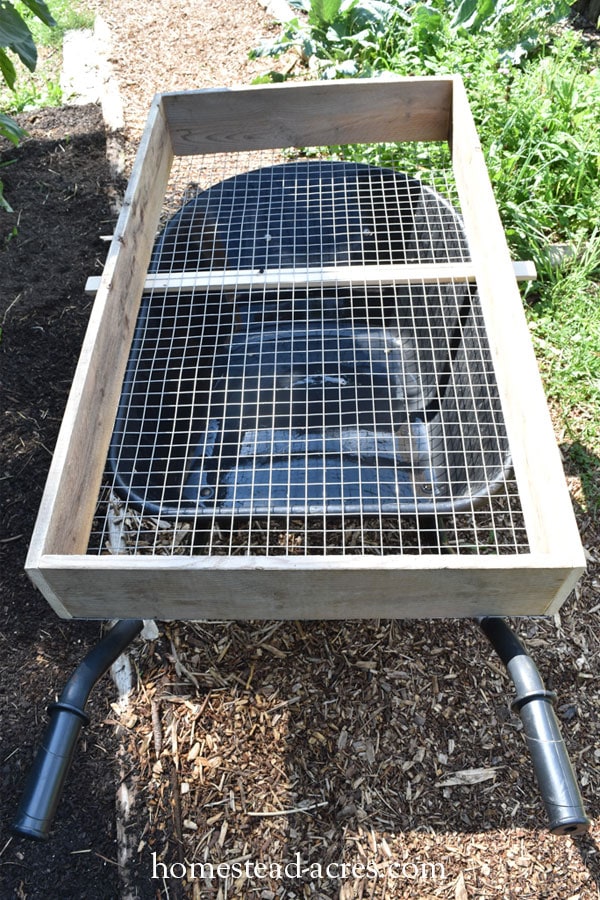 Ok, now that your compost sifter is ready to use, it's time to get busy!
Grab your wheelbarrow, sifter, and a shovel and head over to your compost pile.
Place the sifter on top of the wheelbarrow so that the 1×2 strip sits evenly along the edges and on the end furthest from you.
Then shovel some compost into the sifter. Start with 3–4 shovel fulls because it can be heavy.
Holding the end of the compost sifter closest to you lift it up slightly and start sliding it back and forth on top of the wheelbarrow. The finer compost falls through the holes into the wheelbarrow pretty quickly.
When all that is left in the sifter is to course to pass through tip it over and dump it into a new compost pile to continue breaking down.
What Size Wire Should I Use To Make A Compost Sifter?
We have 2 compost sifters and use both of them often.
The 1st compost sifter we made uses 1/2" square hardware cloth. This size is perfect if you want a nice fine, crumbly compost that is ready to use for starting seeds, containers and of course making garden beds.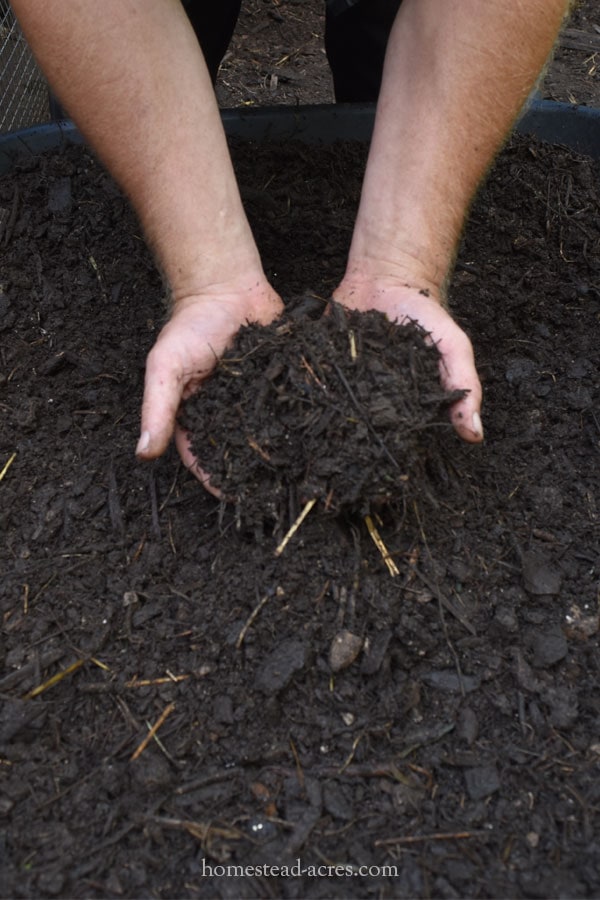 Our 2nd compost sifter was made using 1" square rabbit wire. This size is perfect if you want to use your compost as a top dressing or mulch in your garden.
We use our chicken pen to make a lot of compost that is mixed with wood chips, garden weeds, grass clippings, food scraps, etc. We like to use the coarse compost sifter to screen the compost in our chicken yard at least once a month.
The larger holes let the small and medium-sized wood chips fall through. We find that after placing this compost on top of our garden beds and watering a few times the fine compost works down through the wood chips leaving a thin chip mulch on the top.
I Can't Find Rabbit Wire What Should I use?
I love using rabbit wire for garden projects because it's easy to work with and strong. We can buy it through local farm stores. If you can't find it locally you can use hardware cloth instead.
Almost all hardware stores carry or can get hardware cloth easily for you. It's not as strong as rabbit wire but it will work well for making your own compost sifter.
Why Do You Put A 1×2 Strip On The Bottom Of The DIY Compost Sifter?
Are you wondering why this odd looking strip of wood is so important for your compost sifter?
Well on our homestead we have at least 4 different wheelbarrows and they are all slightly different widths and lengths.
When we first started making our own compost sifters it was frustrating because it would fit great on 1 wheelbarrow but not quite on the others. When sifting compost it would start sliding off the wheelbarrow or not quite cover it enough to slide at all.
So we added a thin strip of wood across the bottom and this fixed that problem!
The wood strip is wide enough that it can balance on top of our widest wheelbarrow and still easily fit on top of the smaller ones as well.
It also makes it very easy to slide the compost sifter back and forth because it stays nice and straight on top of the wheelbarrow. This is why the wood strip is placed closer to the front of the compost sieve.
If it was placed in the middle it's harder to slide back and forth. Always make sure that that slider bar is on the side of the compost sifter furthest from you.
This way when you lift the edge that's closer to you up slightly to start sifting it places the weight on that bar making it easy to slide.
Much easier than trying to balance the narrow edges of the sifter onto of the narrow edges of the wheelbarrow!
Why You Should Screen Your Compost
Screening your compost before using it is a great idea. When you buy compost in bulk or by bags it has already been sifted for you. It's all fine soil particles that are perfect for planting in.
But let's face it, when you spread your homemade compost onto your garden it doesn't look the same, does it?
It's got fines yes, but also clumps that haven't broken down. It can also have large stems, bits of wood, and other items that take longer to compost.
It's not a good idea to leave these in your garden. They don't look very nice and get in the way when you are planting.
Sifting compost before using it gives you a nice fine compost that looks nice, is easy to spread in the garden, and is great for using to start seeds.
Other Uses For The Compost Sifter
I love to find multiple uses for tools on our homestead and this homemade compost screener is easy to adapt to other uses in our garden.
Sifting Wood Mulch
We use the Back to Eden Gardening mulch system in many of our vegetable gardens. But to make it easy for different crops we sometimes sift the wood chips before placing them on the garden.
Using this sifter with our wood chip mulch lets the small and medium chips fall through and screens out the larger sticks and chips. These larger bits can be used in pathways and other areas that don't need a finer mulch.
Use It As A Drying Rack
Another great use for this compost sifter is to use it as a drying rack for onions and garlic. Since it fits on top of your wheelbarrow so easily you can harvest and place them right in the rack then wheel it to where you want to leave them to dry.
Use The Sifter As Vegetable Wash Tray
You can pick your vegetables and place them in the sifter. Then with it either over a wheelbarrow or propped up on bricks hose off the vegetables outside.
This is a great way to rinse off large amounts of vegetables quickly.
Sifting Garden Soil
If you have garden beds that are filled with rocky soil this compost sifter can help you with that too.
Simply shovel the soil into the sifter and slide it back and forth over your wheelbarrow. The soil will fall through and the rocks and any larger weed roots will be left behind.
You can then place the sifted soil back into your garden and do what you like with the rocks. Start a rock garden maybe!
Taking a little time to make your own homemade compost sifter will really simplify your composting. You can screen almost ready compost when you need to use some right away, or screen finished compost to just get the larger debris out.
Both methods save a lot of time when you are getting your planting beds ready.
Want a printable version? I share printables as a bonus for my newsletter subscribers. Sign up below to get your copy.
Connect With Homestead Acres!
Be sure to follow me on social media, so you never miss a post!
Facebook | Twitter | Pinterest | Twitter
Visit my Amazon store to find all my favorite gardening, homesteading tools, and gadgets plus all of my printed garden books and journals!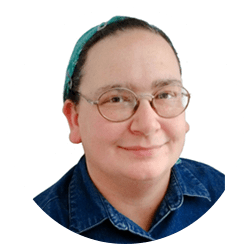 Kim Mills is a homeschooling mom of 6 and lives on an urban homestead in Ontario, Canada. Blogging at Homestead Acres she enjoys sharing tips to help you save money, grow and preserve your own food.