This post may contain affiliate links, my full disclosure can be read here. As an Amazon Associate I earn from qualifying purchases.
How to get dents out of carpets and keep it looking great! Impressions from large furniture being left in one place to long on carpets it the main cause of dents. But these easy tips make them easy to remove in both natural and synthetic fiber rugs.
Did you just move your furniture around to make more room for guests and then realize that you have ugly dents in your carpet?
Or maybe you bought new furniture and the old ones have left dents that can't easily be covered up.
Flattened areas in your carpet are one of the common frustrations when you start rearranging your rooms.
I remember when we were renting our first apartment and they had just put down brand new carpeting in the living room. Honestly, it stressed me out a little.
I didn't want to be responsible for wrecking their new carpet but we had heavy couches and desks in that room.
But I learned many tricks for getting imprints out of carpets and ways to prevent them from happening in the first place.
So don't worry whether you are renting or caring for your own carpet you can keep it looking great without a lot of work!
Are Carpet Dents Permanent?
If you've been hesitating to move your furniture around because of carpet dents, don't worry they aren't permanent!
You can get rid of them quickly using one of the 3 methods below.
How To Get Carpet Dents Out
Before you start trying to remove carpet dents it's important to realize that most homemade ways of getting dents out involve water and/or heat and steam.
Always test the method on test area that can't be seen to make sure it will work with your carpet type and not cause damage.
If you have hardwood floors under your carpets adding a lot of water and steam to the carpet could possibly damage the hardwood underneath.
So remember to protect your floors by placing absorbent towels under the carpet or rug before starting.
Ice Cube Method
The ice cube method is a really simple way to remove carpet dents. It can work on most carpet types but I find it's best for synthetic fibers like polyester, nylon or olefin.
Simply place an ice cube or multiple ice cubes into the carpet dent if it's large and let them sit for at least a few hours.
If the dents are deep then leaving it overnight is even better.
The water will slowly melt and be absorbed by the carpet fibers causing them to swell back to their normal size.
If they need a little help uses a spoon or coin to lift up the flattened carpet fibers. Then blot up any excess water with a sponge or paper towels.
Mist And Blow Dry
This is a very easy way to fluff up your carpet when you are in a hurry.
Fill a spray bottle with water and spritz the area to saturate the carpet fibers.
Then grab your blow dryer and begin blowing warm air over the dent. As the carpet starts to dry, fluff up the fibers with a spoon or your fingers
I've had good luck with this method on carpets made of natural materials like cotton and wool
Steam Iron
If you have really deep dents in your carpet that just aren't coming out with the normal methods there is another way that often works.
Place a damp dishtowel or similar cloth over the top of the dent.
Then get your iron and set it to the medium setting and hold it 6 to 7 inches above the towel for about 30 seconds. You can go as long as a minute if you need to.
I have also ironed directly on the towel for dents that are hard to get out.
Just remember not to let the iron touch the carpet directly and don't do it to long as it could burn it.
Fluff up the fibers with a spoon or vacuum it well to help pull up the fibers.
How To Prevent Carpet Dents
Move Your Furniture Around
I know you love the way Your furniture is laid out but leaving it in one position for years can make carpet dents deeper and harder to remove.
This is especially true for larger things like your sofa. Try moving things around every few months, even if it's just a few inches. Then treat any small carpet dents with the methods above.
Use Rugs
If your living room is just too small to be able to move furniture around in, then another easy option is to place a sturdy rug under the sofa.
This works especially well if you can't see under your couch and paired with the coaster idea below was the best way I found to prevent dents in our carpet when we were renting.
Furniture Coasters
Furniture coasters are a great way to help protect your carpets from dents.
These small coasters that are designed specifically to be used on carpets and placed under the legs of heavy furniture like couches.
Simply place a coaster under the legs of your couch and chairs and it distributes the weight more evenly over the carpet helping to prevent dents.
Homemade Carpet Coasters
If you have carpet scraps from when you had your new carpet installed you can easily make your own carpet coasters!
Cut small pieces of carpet just a little larger than the leg of your couch. If the legs are visible then take extra care to trim them to be as close in shape to the furniture legs as you can.
Then slide one under each leg. This is a super-easy way to help give extra padding to your carpet and distribute the couches' weight a little better.
And hey, it perfectly matches your carpet!
Connect With Homestead Acres!
Be sure to follow me on social media, so you never miss a post!
Facebook | Twitter | Pinterest | Twitter
Visit my Amazon store to find all my favorite gardening, homesteading tools, and gadgets plus all of my printed garden books and journals!
How To Get Dents Out Of Carpets
Need to move your furniture around but worried about ugly carpet dents? Use these 3 easy ways to get dents out of your carpet and make it nice and fluffy again. Plus tips for avoiding getting dents in your carpets and rugs.
Total Time
1 hour
20 minutes
Materials
Using Ice Cubes
For The Mist Method
Steam Method
Tools
Spoon or coin
Hair dryer
Iron
Spray bottle
Instructions
Removing Carpet Dents With Ice Cubes
Place a ice cube into the carpet dent, you can use more if the dent is very deep. Let the ice cubes melt and sit for a few hours to over night.
Then fluff up the carpet fibers using a spoon or coin.
Mist And Fluff Up
If you are in a rush this is a quick way to fluff up your carpet fibers. Spray the carpet fibers well with water.
Using a blow dryer set to warm start to dry the indented carpet.
As the carpet starts to dry use spoon or your fingers to lift and fluff the fibers.
Steam Iron
Place a damp towel over top of the carpet dent.
Using your iron set it to medium heat and hold it 6 to 7 inches over top of the towel for 30 to 60 seconds. If you have to you can try ironing directly on the damp towel but take care not to touch the carpet directly or iron to long as you could burn your carpet.
Fluff the fibers up with a spoon or your fingers.
Notes
To avoid getting more dents in your carpet try using coasters made for carpets that displace the weight of your furniture.
Remember to protect the floor under your carpet if it's anything that could be harmed by getting wet.
Recommended Products
As an Amazon Associate and member of other affiliate programs, I earn from qualifying purchases.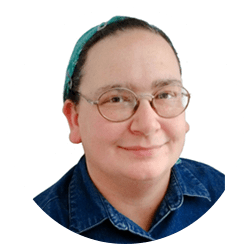 Kim Mills is a homeschooling mom of 6 and lives on an urban homestead in Ontario, Canada. Blogging at Homestead Acres she enjoys sharing tips to help you save money, grow and preserve your own food.