1
How To Grow Corn In A Square Foot Garden
This post may contain affiliate links, my full disclosure can be read here.
Do you wish you could grow sweet corn but think your yard is to small? Don't give up, you really can grow corn in a small space. The secret is to use square foot gardening!
When corn is grown in the field it is normally planted 4 to 6 inches apart in rows that are 30 to 36 inches apart. That takes up a lot of room for just a small patch of corn. When you intensify your planting method you can fit a lot of corn in a small space.
Why would you want to grow your own sweet corn?
The taste! Honestly that is the main reason we always grow our own. You just can't beat the taste of fresh picked sweet corn. See the minute you pick corn it starts to convert it's sugar into starch. So the longer it sits before cooking the more it loses it's sweetness. The BEST sweet corn is picked 10 minutes or less before cooking. Really, if you haven't tried corn that fresh before you have to it's so good.
When you want to intensify your plantings you need to make sure you have a good quality soil to plant in. Four years ago we were introduced to the Back To Eden garden method. If you haven't heard of this before it's all about using deep mulch in your garden and encourages the use of woodchips over other types of mulch. The woodchips help to supress weeds, reduce the need to water and as they compost leave you with a beautifully rich soil to plant in.
One of the questions I'm often asked is how do you plant your garden after you've covered it with a thick mulch. We've been experimenting with different ways and came up with a very easy way to combine square foot gardening with the Back To Eden garden method.
We plant our sweet corn 4 inches apart this gives us 9 plants per square foot. My hubby made a wooden planting guide to help us keep the spacing just right.
Step 1
The first step is to mark off where you want to plant your corn. We use our row maker to mark the edges of the planting bed.
Step 2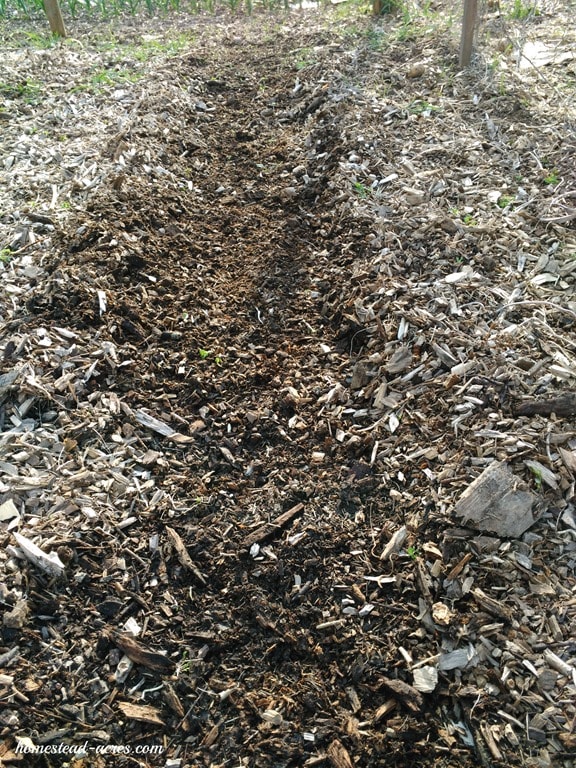 Rake the mulch back off your planting area. Then remove any weeds that have started growing under the mulch. Normally there isn't many and they are very easy to pull out because the mulch keeps your soil so soft.
Step 3
Lay your planting guide down and use a dibber to poke a hole into each circle. You want your holes to be 1 inch deep.
Step 4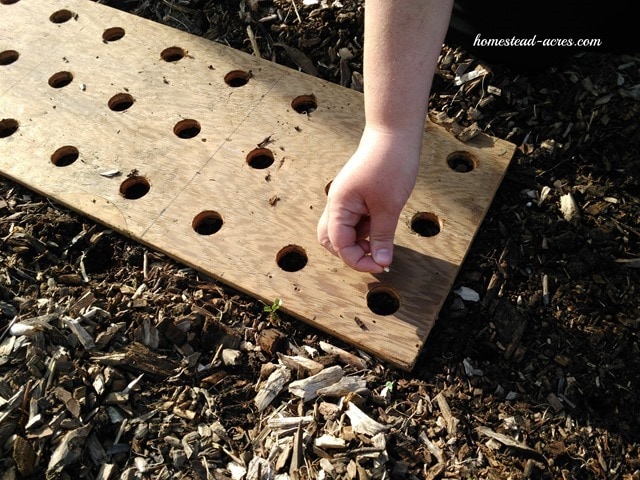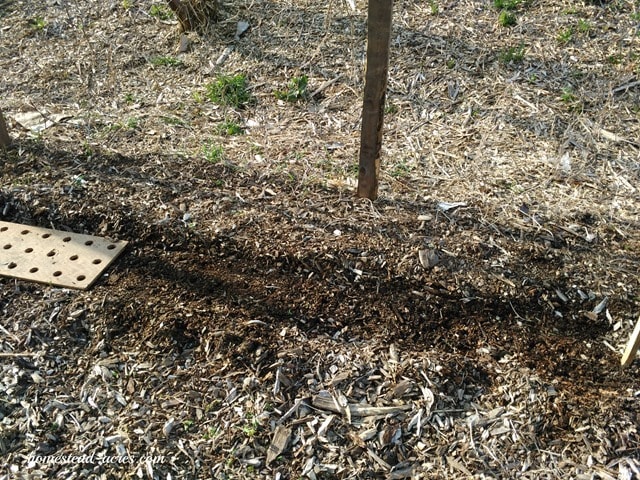 Drop a corn seed into each hole. Then flip your planting guide over and line it up to start the next section.
Step 5
Cover the corn seed with soil. I do this as we work so while my hubby is making the planting holes for the next section I'm covering the one I just planted with soil.
Step 6
Rake the mulch back over top of your planting area and water it well.
Corn is wind pollinated so you should plant at least a 4 foot x 4 foot area to ensure good pollination.
Would you like to see how quick and easy this really is? Here is a video showing how we planted our corn this year.