This post may contain affiliate links, my full disclosure can be read here. As an Amazon Associate I earn from qualifying purchases.
Do you love pickled beans or dilly beans as they are often called? I do and so do my children they will often grab a jar to snack on and prefer them to "normal" cucumber pickles.
This recipe is so good and easy to make to!
I love to plant another crop of bush beans in the middle of summer just so we can have extra beans to make pickles with in the fall.
How To Make Pickled Beans
Wash your beans and then trim the ends off. You can leave the beans whole or cut them into 2 inch long pieces whatever you like works.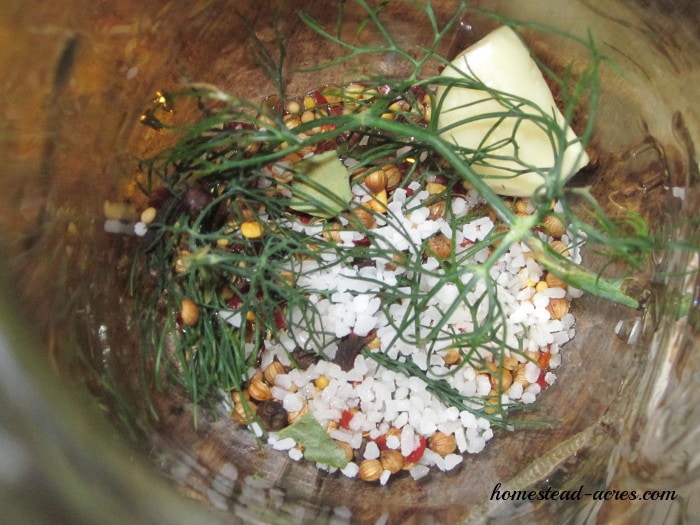 Now mix your vinegar and water together in a large pot and bring it to a boil.
While you're waiting in each pint jar place 1 head of dill or a bunch of dill weed, 2 cloves of garlic and 1 tsp. of pickling spice.
Then pack your beans into the jar and pour your brine over the beans leaving 1/2 inch of headroom.
Use a thin plastic knife or spatula to remove any air bubbles by running it around the inside edge of the jar.
Wipe the jar rims clean and place the lids on finger tight. Process the pickled beans for 10 minutes in your water bath canner.
When the time is up, remove the jars and place them on a towel, let them sit undisturbed for 24 hours to allow the seal to set.
Any jars that haven't sealed after 20 hours need to be reprocessed or placed into the fridge.
Tips For Making Pickled Dilly Beans
How Long Should Dilly Beans Sit?
After making your pickled beans wait 4 to 6 weeks before opening the jars. This gives enough time for the brine flavor to really soak into the beans.
Do I Need To Blanch Beans Before Pickling?
You'll find some recipes for pickled green beans say to blanch the beans first. Blanching simply means cooking them in boiling water for 2 minutes and then dropping them into ice water to cool them down right away.
Some say that it helps to keep the beans bright color and snappy texture after pickling.
Blanching may help to improve the color of pickled beans a little but I don't find the extra step worth the trouble.
When you pour the boiling hot pickle brine into the jar it will soften the beans a little without the need of blanching first.
But if the color of your pickled beans is really important to you then yes, go ahead and blanch them first.
Tips For Filling Jars
When you are trying to pack beans into jars they can often fall all over the place. If you want to make sure the jars are as full as possible and look really nice too, just tilt the jar on its side a little as you are filling it.
This lets the beans stay in one place as you fill the jars and they look much nicer.
Yield: 7 Pints
Pickled Dilly Beans
Easy to make dilly beans, one of my favourite pickles!
Ingredients
5 1/2 lb beans (green or yellow)
7 dill heads or weed
14 garlic cloves
7 tsp. pickling spice
8 cups vinegar
8 cups water
Instructions
Wash your beans and trims the ends off. Leave whole or cut in half or 2 inch long sections.
Combine vinegar and water for your brine and bring it to a boil.
In each pint jar place 1 head of dill or a bunch of dill weed, 2 cloves of garlic and 1 tsp. of pickling spice.
Fill the jars with beans and pour the brine mix over them leaving 1/2 inch of headroom. Release any air bubbles and wipe the jar rims clean, place the lids on finger tight. Then process in a water bath canner for 10 minutes.
When the beans have finished processing remove the jars from your canner and set on a towel. Leave them for 24 hours to let the seal harden. Refrigerate or reprocess any jars that haven't sealed.
Don't forget to pin this for later!
Connect With Homestead Acres!
Be sure to follow me on social media, so you never miss a post!
Facebook | Twitter | Pinterest | Twitter
Visit my Amazon store to find all my favorite gardening, homesteading tools, and gadgets plus all of my printed garden books and journals!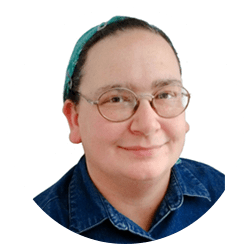 Kim Mills is a homeschooling mom of 6 and lives on an urban homestead in Ontario, Canada. Blogging at Homestead Acres she enjoys sharing tips to help you save money, grow and preserve your own food.