1
How To Can Peas Safely And Easily
This post may contain affiliate links, my full disclosure can be read here.
Canning peas is so easy to do! While I really don't care for the taste of store bought canned peas, I really enjoy canning my own. They taste so much better! Keep reading to see how to can own peas, you'll never go back to store bought again.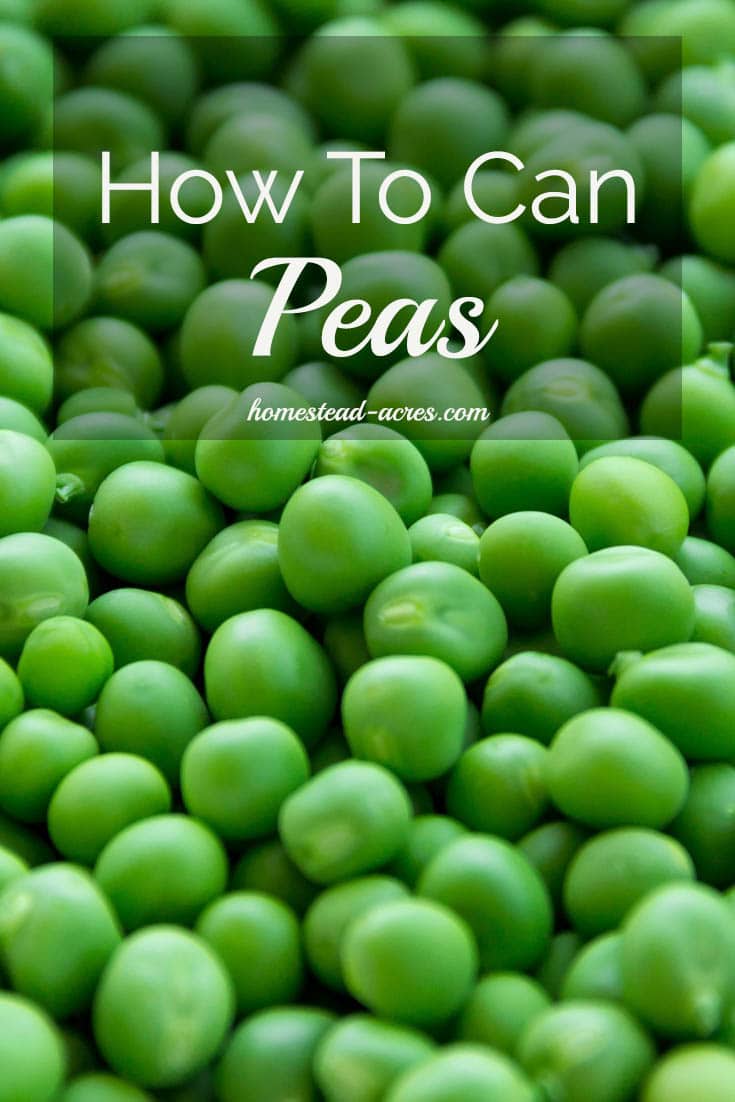 Supplies Needed For Canning Peas
Presto 23-Quart Pressure Canner
Norpro Stainless Steel Wide-Mouth Funnel
Presto 09995 7 Function Canning Kit
&
Pressure Canning Peas Safely and Easily
Canning peas isn't hard or difficult but there is one very important thing you need to know before you start canning them. Peas are a low acid vegetable because of this they can not be safely water bath canned. To can peas and other vegetables you must use a pressure canner.
Don't worry pressure canners really aren't hard to use at all. You just need to follow some basic safety rules. I've been pressure canning for years with no problems so give it a try you won't regret it!
Select pea pods that contain young, tender and sweet peas. As you're sorting your peas make sure to toss any pods that are diseased.
Shell your peas and rinse them well. After rinsing pack the peas into your canning jars and cover with water leaving 1 inch of headspace. If you are using salt to help preserve the flavour and color add 1/2 tsp. of salt per pint jar or 1 tsp. of salt per quart jar.
Run your spatula around the edge of the jar to remove any air bubbles and place the lids on. Process your canned peas pint or quart jars in a pressure canner for 40 minutes at 10 pounds pressure up to 1,000 feet elevation. If you live over 1,000 feet use 15 pounds of pressure.
Canning Peas Step By Step Videos
How To Can Peas Printable Recipe
Kim Mills @ Homestead Acres
Yields 9 pints
How To Can Peas
Can your garden peas safely and easily includes a step by step video.
30 minPrep Time
40 minCook Time
1 hr, 10 Total Time
Ingredients
20 pounds Peas
1/2 tsp. salt per pint jar
1 tsp. salt per quart jar
Water
Instructions
Sort and shell your peas. Rinse your shelled peas well.
Fill your canning jars with peas leaving 1 inch of headspace.
Add 1/2 tsp of salt per pint jar/ 1 tsp of salt per quart jar (optional)
Cover the peas with hot/boiling water.
Run a spatula around the edge of the jar to remove any air bubbles. Wipe rims clean and put lids on.
Place in the canner and secure the lid.
Turn heat up high and let steam vent out of the canner for 10 min.
Place the weight on the canner. Once weight starts jiggling adjust the heat to get a slow, steady rocking. Set timer for 40 minutes for pints or quarts.
After timer goes off turn of the heat, let canner vent.
Once all pressure has been released wait an additional 20 min. Then remove weight and lid. Place jars on a towel to cool, let sit for 24 hours.
7.6.8
19
https://www.homestead-acres.com/homestead-series-how-to-can-peas/
Looking for more canning recipes?
Click here to see all of my canning recipes.