This post may contain affiliate links, my full disclosure can be read here. As an Amazon Associate I earn from qualifying purchases.
Learning how to grow dill in your garden is so worthwhile and it's easy too!
Dill is an annual herb and a favorite of many gardeners. Start it by seed after your last frost date and you can start harvesting dill leaves just 6 weeks later.
With just a small space you can grow lots of tasty green leaves called dill weed to add flavour to your favorite recipes from salads, fish, vegetable dishes, to sauces.
Later in the season you're rewarded with pretty yellow flowers and seeds that can be used in pickles, and the seeds are also lovely in coleslaw, bread, and other savoury dishes.
Dill is always on my list of herbs to grow in our garden every year. It's definitely an easy to grow, fuss-free plant that can be used in many recipes.
How To Grow Dill
Planting
Wait until after your last frost date has passed to plant dill into your garden unless you are using a row cover to extend your growing season.
For best germination, the soil temperature should be between 60 to 70 F (15 to 21 C).
Dill will grow faster and bloom sooner in full sun but if your garden is shady don't let that stop you from growing dill. Dill will grow great in a shady garden but it will take a few weeks longer to mature.
Before planting add 1 to 2 inches (2.54 to 5.08 cm) of good quality compost to your garden bed.
Sow dill seeds in your garden 1/4 inch (5 mm) deep and 2 inches (5.08 cm) apart. Space rows 18 inches (45 cm) apart. Seeds will take 10 to 21 days to germinate.
For a continuous supply of fresh leaves sow a new planting every 2 to 3 weeks after your first planting.
Once the dill has grown up 2 to 3 inches (5.08 to 7.62 cm) thin the plants to be 6 inches (15.24 cm) apart. Remember to save your thinings to use in salads, dips, or to dry for later use.
Starting Indoors
I'm often asked if you can start dill by seed indoors and then transplant it out into your garden. Most resources will tell you not to do this because it can cause dill to bolt early.
But I've never found this to be a problem and we start multiple flats of dill in our greenhouses to transplant into the garden every year.
If you want to start dill this way start them 3 to 4 weeks before your last frost date. Plant the seeds 1/4 inch (6.35 mm) deep in your seed cell packs and keep them well watered and under lights until you are ready to transplant them into the garden.
Once your last frost date has passed harden them off and transplant them into your garden 6 inches (15.24 cm) apart.
Growing
How Tall Does Dill Grow?
Dill is one of the tallest herbs you can grow in your garden. Depending on the variety you grow the plants can reach from 1 to 6 feet (30.48 to 182.88 cm) tall.
This makes dill a great focus plant in your herb garden. But if you are growing taller varieties make sure to plant them towards the middle of the garden bed so that it doesn't overcrowd smaller plants.
Watering
Dill likes consistent watering, so make sure the plants are getting 1 inch of water a week.
If possible start watering from the bottom once the plants have grown to 24 inches (60 cm) tall. This helps to discourage mildew from growing on the leaves.
Harvesting
You can start to harvest dill leaves once the plants have grown 6 inches (15 cm) tall and has 4 or 5 leaves. Simply pinch off or cut the larger outer leaves as needed.
But heads of dill won't be ready for harvest until about 10 to 12 weeks after the plants first germinated.
Once the heads start to flower you can cut them to use in your dill pickle recipes or save them for seeds.
Once the first few seeds start to turn brown on the flower head, cut the whole head off and hang it upside down in a paper bag. As it continues to dry the seeds will fall off.
If you are wondering when to harvest dill for pickling the answer is really anytime! You can pick the dill leaves early for pickles but if you want the pretty dill heads in your pickle jars then you'll have to wait until they start to flower.
Is Dill An Annual Or A Perennial?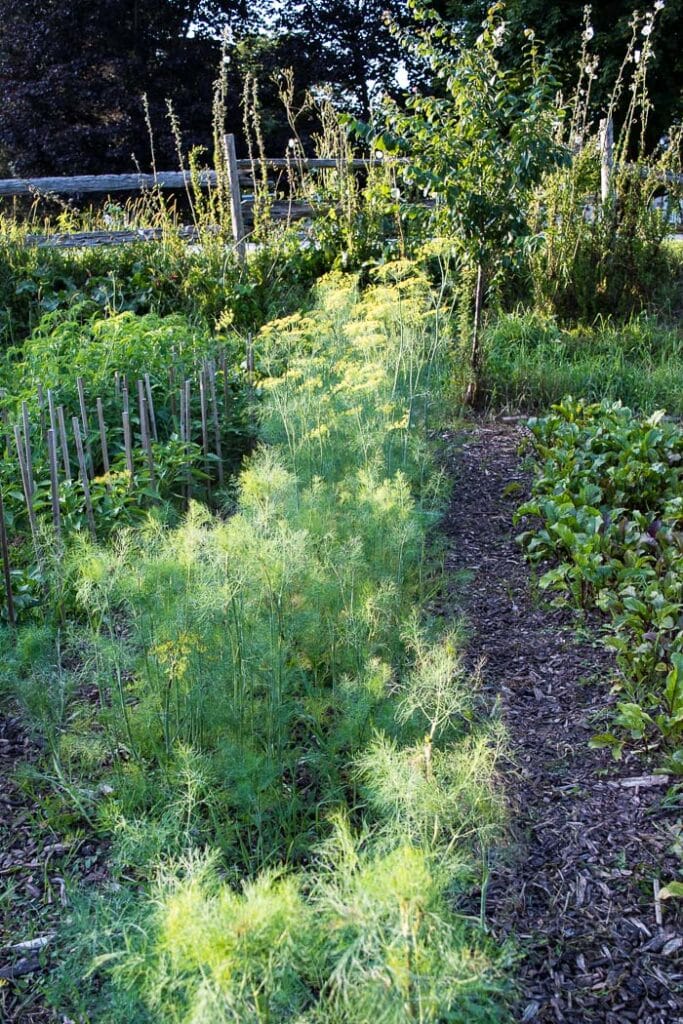 Dill is a warm-season annual plant. It's started by seed each spring and harvested throughout the summer.
However, if you leave dill plants in your garden and don't collect the seed heads, the seeds will drop to the ground and germinate the following spring. This is a great way to keep dill coming back every year with very little work.
Varieties
Fernleaf Dill
Fernleaf dill is a great choice if you want to grow dill in a small space. This dwarf variety grows 12 to 18 inches (30 to 45 cm) tall. Its short height also makes it perfect for container gardening.
Bouquet Dill
Bouquet dill is another good variety that grows in a compact shape. Plants reach 30 to 36 inches (75 to 90 cm) tall. It produces large flower heads and seeds.
This type looks lovely when tied in bunches on your farmers market table but still compact enough to grow in smaller gardens.
Get Bouquet Dill seeds from Seeds For Generations.
Long Island Mammoth
If you want to grow huge dill plants Long Island Mammoth is the variety for you. These vigorous plants grow 6 feet (2 m) tall and sometimes more and look impressive in the garden.
Get Mammoth Dill seeds from Seeds For Generations.
Whether you are making a dip, cucumber soup, a fish dish or homemade dill pickles dill is a great plant to add to your herb garden.
Connect With Homestead Acres!
Be sure to follow me on social media, so you never miss a post!
Facebook | Twitter | Pinterest | Twitter
Visit my Amazon store to find all my favorite gardening, homesteading tools, and gadgets plus all of my printed garden books and journals!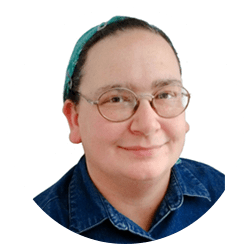 Kim Mills is a homeschooling mom of 6 and lives on an urban homestead in Ontario, Canada. Blogging at Homestead Acres she enjoys sharing tips to help you save money, grow and preserve your own food.