This post may contain affiliate links, my full disclosure can be read here. As an Amazon Associate I earn from qualifying purchases.
Learning how to make dill pickles is so worth it! If you loved the taste of grandmas old fashioned homemade garlic dill pickles when you were a kid then this easy recipe will become your new favorite. Enjoy this super easy canning recipe on your hamburgers and sandwiches all year long.
Dill pickles have always been one of my favorite snacks even when I was a kid I would always be into the pickles especially the garlic dill pickles!
They are cold and crunchy with a slightly sour taste and perfect for serving with a wide range of meals or enjoying on their own.
So it's no wonder that I just couldn't get enough of them. I'm still the same way!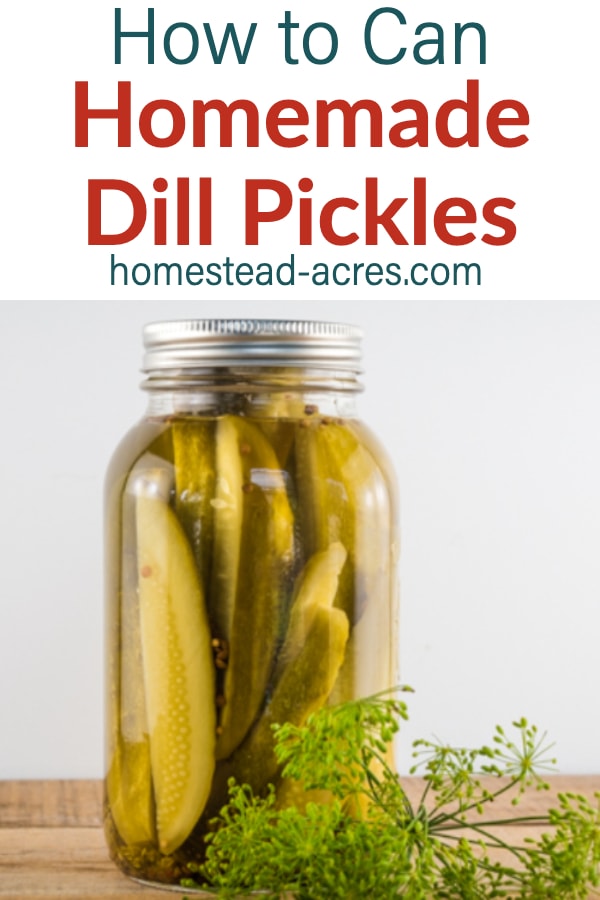 Of all the different things we can each year I always look forward to making many different types of pickles.
The good news is, that it's so easy to make homemade dill pickles! You can make up a few pint or quart jars in only 40 minutes or less including the processing time.
Tips For Making Perfect Dill Pickles
Use The Best Cucumbers
One of the most important parts of making great homemade pickles is to start off with the right cucumbers.
Make sure you are using pickling cucumbers as many types sold as slicing cucumbers don't hold up well to pickling and canning.
Select fresh cucumbers that feel firm, avoid cucumbers that feel limp, wrinkly or soft.
What Size Of Cucumbers Are Best For Pickles?
Cucumbers for pickling are best picked between 2 and 5 inches long. The smaller sized ones are perfect for making baby dill pickles and the larger ones work great cut into rounds, pickle spears or long slices.
Trim Off The Flower Ends
Always remove a thin slice from the end of the cucumber that had the flower growing. It contains enzymes that can cause the cucumbers to go soft.
How Long Until Homemade Dill Pickles Are Ready?
Have you been wondering how long does it take for a cucumber to pickle? Once the jars have been processed and stored, let them sit for 4 to 5 weeks before opening.
Cucumbers need at least this long to allow the brine to fully soak in and develop that great pickle taste.
Do I Need To Sterilize Jars For Pickles?
The jars you use to pack your pickles in need to be clean but according to current standards, there is no need to sterilize them if you are processing the jars for 10 minutes or more. The jars will be sterilized during the canning process.
How To Substitute Dill Heads?
I love using dill heads in my pickle jars because they look pretty and add a great flavor. But if you don't have any fresh dill then substitute 1 tsp. of dill seed for each head of dill.
How To Make Dill Pickles
Supplies You Need For Canning Pickles:
Ladle
Canning jars
Jar lids and rings
Sharp knife
Large pot
Large bowl
Towles or dishcloths
Cucumbers
Fresh dill
Garlic
Before starting make sure to wash and remove the spines from the pickling cucumbers and then set them aside.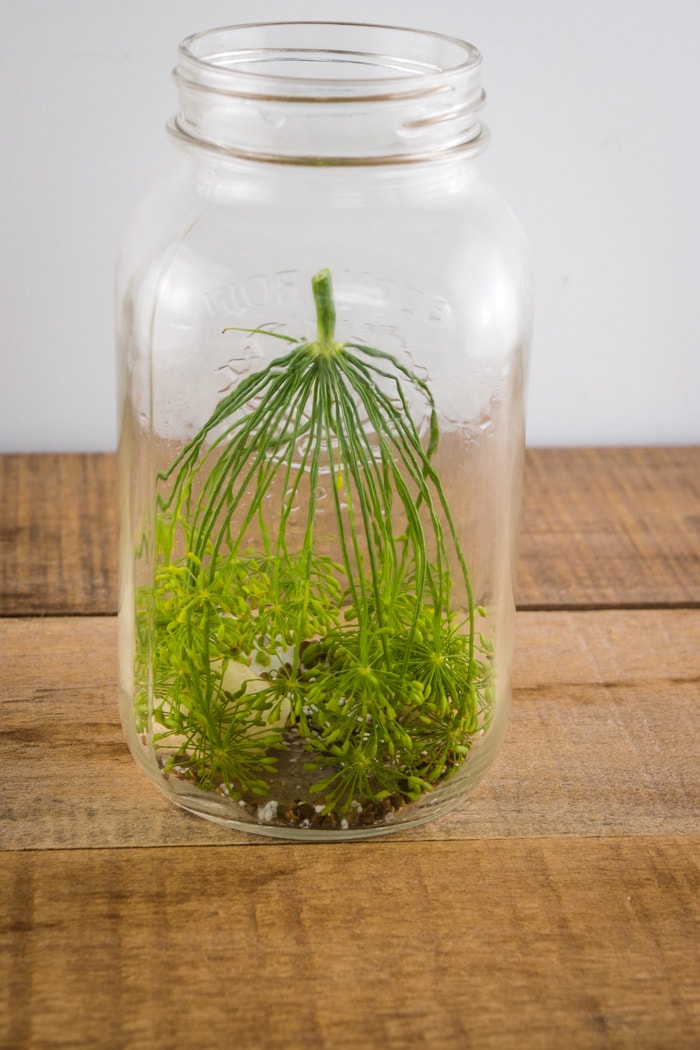 Wash your quart-sized canning jars and set them on top of a towel or wooden surface. Then into each quart jar place 1 fresh dill head, 2 cloves of peeled garlic and 1 tbs. pickling salt.
Next, get your cucumbers and take a thin slice (1/16th) off the blossom end of each cucumber and then pack into your prepared jars.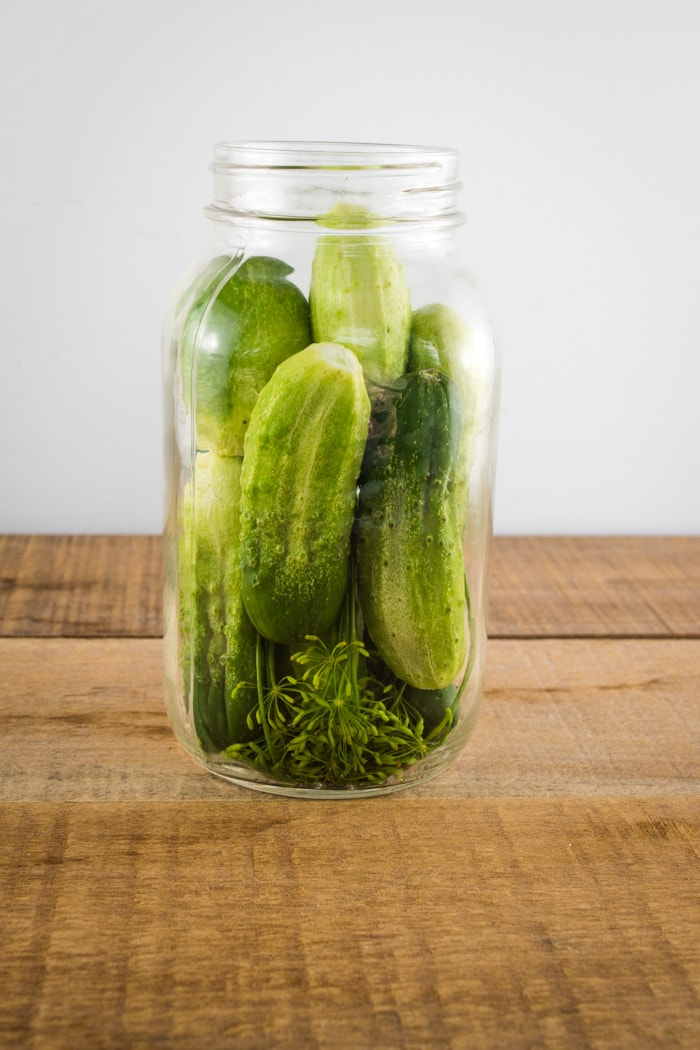 You can cut the cucumbers into any shape you like. I use this same recipe for making icicle pickles, rounds, long thin slices that are perfect for burgers and yes even whole pickles.
This homemade pickle recipe is very flexible so just cut them up any way you like or do a mixture of styles.
To make the brine combine the vinegar and water in a large pot and bring to a boil. Pour the brine over the pickles, leaving 1/2 inch of headroom.
Remove any air bubbles from the jars and wipe the rims clean and place the lids on finger tight. Place the jars into a water bath canner and process for 15 minutes adjusted for your altitude.
See making your own homemade dill pickles wasn't hard, was it? With just a few minutes in the kitchen, you can easily make up a few batches of pickles and enjoy their tangy, crunchy taste all year!
More Yummy Pickle Recipes
Yield: 7 Quarts
Easy Garlic Dill Pickles Recipe
If you loved the taste of grandmas old fashioned pickles when you were a kid then you will love this garlic dill pickle recipe! Packed with just the right amount of garlic, dill, and spice to give it a classic taste that you will love on hamburgers, sandwiches and more! Learn how to make these easy pickles in 40 minutes or less!
Ingredients
8 pounds of pickling cucumbers
14 cloves of garlic
7 dill heads
8 cups of water
8 cups of vinegar
Instructions
Wash and remove the spines on the pickling cucumbers. Cut into rounds or icicles if desired or leave them whole.
Combine vinegar and water in a large stockpot and bring to a boil.
In each quart-sized canning jar place 1 head of dill, 2 cloves of garlic, 1 tsp. of pickling spice, 1 tbs. of pickling salt.
Pack the cucumbers into the canning jars, then cover with hot brine leaving 1/2 inch of headroom.
Remove any air bubbles from the jars, wipe the rims clean and place the jar lids on finger tight.
Process in a water bath canner for 15 minutes or according to your altitude.
After canning remove the jars and place on a towel in a draft-free place to sit for 24 hours. Any jars that have not seeled in 24 hours need to be reprocessed or placed into the refrigerator.
Notes
If you don't have fresh dill then you can substitute 1 dill head with 1 ts. of dill seed.
Connect With Homestead Acres!
Be sure to follow me on social media, so you never miss a post!
Facebook | Twitter | Pinterest | Twitter
Visit my Amazon store to find all my favorite gardening, homesteading tools, and gadgets plus all of my printed garden books and journals!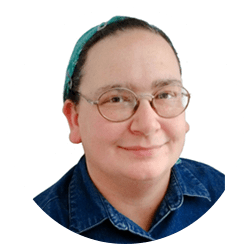 Kim Mills is a homeschooling mom of 6 and lives on an urban homestead in Ontario, Canada. Blogging at Homestead Acres she enjoys sharing tips to help you save money, grow and preserve your own food.