This post may contain affiliate links, my full disclosure can be read here.
Learn how to start your own money making blog!
Are you thinking about how to start a blog? I'm glad your here! I'll show you step by step how to start your own blog. It's much easier then you think even if you're not a techie!
I started my first blog back in 2002 long before the term blog was really being used. We had recently moved off our off-grid homestead and were living in an apartment.
I was a new mom and was looking for a way that I could connect with other mom's who had a passion for living a simple life.
I had no idea at the time that the little website I started for fun would later become such a huge blessing in our lives.
Starting a blog has helped me connect with people who have become dear friends and provided a good income for my family.
Why Start A blog?
There are many great reasons why you should start a blog, here are a few.
Blogging is a great way to share your creativity with others. If you enjoy gardening, cooking, crochet, knitting, quilting, or encouraging people starting a blog is the perfect way to share your gifts.
Make money from home by blogging. Yes, you can really make money with your blog. It provides a good income for my family and it's fun too!
Get more exposure for your business. It doesn't matter if you are running a big company or just starting one blogging is a great way to reach people.
Blogging helps you learn new skills. From computer skills to social media, to just helping people I learn new things every day that I wouldn't have it I hadn't started a blog.
Hard work pays off! The more work you put into your blog the more it pays back.
You can help people overcome struggles in their lives.
You can really change your own family's financial situation.
Blogging is very flexible! I honestly can't think of a more flexible job than blogging. There is no set time you need to be on your computer. You can take it with you anywhere.
Blogging is a low-cost way to start your own business. Starting your own blog can be as little as a few dollars a month. It's pretty hard to set up another business for that!
You can blog from anywhere in the world. It doesn't matter if you live on an off-grid homestead or want to travel the world. If you can get an internet connection you can be a blogger.
Can you see how any of these things would help you? Keep reading!

Decide What You Want To Blog About
It can seem overwhelming at first when you decide to start a blog. You might have so many ideas running through your mind about what you want to write about.
Take some time to think about what you really enjoy. Make a list it helps! Then narrow it down to the topics you are crazy about.
If you don't enjoy writing about a topic it will come through in your writing. You won't enjoy it and your readers won't either.
Pick a topic that is wide enough to have lots of content. You need to be creating content consistently and keep it interesting. So you want to make sure that you have lots that you can talk about.
What if I can't decide on a blog topic?
It's ok, start a blog anyway! Too many times I've seen bloggers told to wait until they have everything figured out before they start. But then for too many, they get overwhelmed and never get started.
Go ahead and just get started! Most people change topics over time as they blog anyway, it's ok really.
Pick A Name For Your Blog
Once you have an idea for what you want to blog about you need to pick a name for your site.
The name you pick should reflect the topic you want to write about. This will help readers have an idea at a glance what your blog is about and what to expect when they click a link to your site.
You can also choose to pick your name as your blog name if you want to brand yourself instead of a business name. This option gives you a lot of flexibility if you decide to change blog topics down the road.
The name for your blog will also be used as your domain name. So you want to make sure it's not already being used by another site.
Also before buying your domain name check to see if it's available on social media. It's best if you can have a Facebook page, Twitter handle, and Pinterest username that match your blogs name. It makes it easier for people to find you.
If the domain name and social media accounts you want isn't available pick another name. Just keep trying until you find one that you like and is available.
FAQ Blogging Questions
What is a domain name?
A domain name is simply the name of your website with .com (or .ca, .org, etc.) after it. My domain name is homestead-acres.com.
See the Internet is run by computers after all and computers see in numbers, not letters.
Every website has its own IP address that is a series of numbers but these are really hard for people to remember. After all, it's hard enough trying to memorize a phone number!
Could you imagine trying to remember an IP number for every website you check each day?
Yeah, it would be a real pain.
This is why we use domain names. Each domain name can only be used by 1 website. So once you buy it and point it to your hosting the computers know to point that series of letters to that IP number.
Find a domain starting at $0.88
What is website hosting?
When you are running a website or blog you need a place online to store it. This is why you pay a company to host your files for you.
You are basically renting space on their computer servers so that people can access your website.
This is one of the most important steps in starting a blog that you need to think about. You want to pick a host that has a good reputation, great customer service and has plans that will fit your budget.

What is WordPress?
WordPress is what's called a CMS (content management software) it was created to make running websites and blogs easy.
There was a time where if you wanted a website you had to code the entire thing with HTML code by hand and maintain each page on its own. This is a lot of work!
WordPress is an easy to use software that runs a huge amount of online websites and blogs. It's completely free for you to use and has lots of options for customizing your site.
Do I need a self-hosted website?
Yes! I highly recommend having a self-hosted WordPress site for your blog.
Now, I'm not going to tell you that you can't make money having your blog on a free site like Blogger because I have many friends who have awesome blogs there.
I have also had some of my sites on Blogger. I actually moved some from WordPress to Blogger when I had a huge problem with a host and was happy for a while.
But about a year later I moved my sites back to WordPress with a better hosting company. So why did I switch back from Blogger to WordPress?
1. WordPress has a huge library of free plugins that makes adding features to your blog easy.
Want a newsletter popup? There are a ton of good free options to pick from.
Want a drag and drop visual editor to make posts or pages from? No problem, Eliminator and Beaver Builder have great free versions! Their paid visual builders are amazing too.
Basically, what I found with Blogger is that writing posts are easy but if I wanted to do more styling or add extra features I had to keep using HTML code. Otherwise, I had to pay for external services to do things like newsletter popups that looked pretty.
2. It's very hard to get support from Blogger or Google
When you are running a website one of the most important things is having great customer support! Unfortunately, if your Blogger blog breaks in some way you can't just call or jump on chat for support.
There is a Blogger support forum but it's mostly run by other Blogger users that last time I was there.
When I started having problems with my site there was no easy way to get help.
One big problem was that one day I noticed when trying to pin a post to Pinterest that all my images were broken! They displayed just fine in the post, but not once you clicked the pin button.
Turns out that Google had done a big update in how images were handled and moved them to a new images service. This had something to do when they ended the free Google Picassa service and changed images to Google Photos.
It messed up the HTML code that pulled my photos in from their service.
There was NOTHING that I could do to fix this without uploading every photo again for hundreds of blog posts.
I actually started doing then, when I noticed that some of the posts I had already fixed were showing the broken image problem again.
I decided that my time was better spent moving my blog back to WordPress. Where I had full control over how and where my photos were stored.
Now it's easy to get good support it I have a problem, I can hop on chat and have help in just a few minutes.
What is the difference between WordPress.com and WordPres.org?
One of the questions I'm asked most often is "What is the difference between WordPress.com and WordPress.org?".
The .com version of WordPress is not a self-hosted option. In this case, you can set up a blog for free using the WordPress software but it's hosted by the company that owns WordPress.
They have rules and restrictions on what you can and can't do with this version of WordPress. For example, you can't run ads on your site hosted there. You are also limited to what themes and plugins you are allowed to use.
If you want to use your own domain name instead of having your site end with the wordpress.com then you need to pay $5 a month for that. If you want to monetize your site there then you need to pay the $10 a month plan.
If you want to be able to fully customize your blog then it's better to go the self-hosted way and that means using WordPress.org.
Now, you don't actually have to go to the WordPress site and download the software to install because you host will have an easy automatic installer for WordPress that you can use or have them install it for you.
When people say they are using WordPress.org really what they mean is that they are using the WordPress software to run their blog/website on a hosting service that they are paying for.
How To Start A Blog
These are my simple steps to starting a self-hosted WordPress blog, even if you have no technical experience!
Step 1. Choose A Hosting Provider
Once you have decided to start a blog or website you need a place to store it on the internet so that people can view it.
See WordPress is just software, you can even download it and install it onto your own computer but then you are the only one who can see it. In order to put your blog live online, you need to rent server space from a host, this is what we call hosting.
What host should you use?
I highly recommend SiteGround! I've been using them to host all of my blogs for a while now and I've been very happy with their service and support.
SiteGround has some amazing features that help them stand out from other services I've used.
99.99% uptime, important because you don't want your site down all the time right?
FREE setup from SiteGround's support or FREE migration of your website from another hosting company.
WordPress migration plugin – SiteGround normally moves 1 website for free but what if you have multiple WordPress installations? They have a new plugin that you can use to migrate your blogs over easily now!
FREE SSL certificates – this used to be a huge expense for me paying for SSL on multiple sites. Goodness even for 1 blog it can be $100+ per year. This saves you a lot of money!
SSD drives – this means their servers operate really fast and this helps your site load faster too.
Amazing Customer Service – I've been so impressed with SiteGround's customer service. They have 24/7 chat and anytime I have had a problem or a question they have replied quickly. Usually, it's just a few minutes before my problem is solved.
FREE daily backups – If you've ever had a site crash you know just how important this is!
GDPR compliment – Privacy is important and with new laws like the GDPR happening it's great to know that your host is compliant.
A Caution On Choosing A Hosting Provider
I've been running websites and blogs for 16 years in that time I've used many different hosting providers and the truth is you get what you pay for.
I've used some big hosting companies that have very low start-up plans and yes they worked well for me for a little while.
Unfortunately, as soon as my sites started to get a little traffic they started to crash all the time. I found customer service completely unhelpful and often rude. Simple problems caused by their servers were blamed on me and my sites frozen and shut down.
I had to jump through hoops to get my sites live again with no help from them at all.
Since I switched to SiteGround any problem I've had were fixed quickly with their live support and I have always been treated very well.
Step 2. Pick You Hosting Plan
Once you've picked your host you need to decide on what plan you need.
SiteGround has 3 hosting packages to pick from.
The StartUp Plan is perfect if you have 1 website or blog that you are just launching. It's ideal for sites having less than 10,000 visitors per month and has 10 GB of space.
The GrowBig Plan is a great value because it lets you create multiple websites on your hosting account. It includes extra features like their WordPress SuperCaching that really helps to speed up your blog. It also includes backup and restore services and 20 GB of space. This plan is ideal for sites having less than 25,000 visits per month.
The GoGeek Plan is perfect if you have a large website, blog or online store. You can host multiple websites easily. It includes more advanced options like staging and free on demand backups. You get 30 GB of space and is ideal for sites with less than 100,00 visits per month.
So what plan should you choose?
You can start with their StartUp plan for as little as $3.95 per month but I really recommend the GrowBig plan as the best place to start.
The Grow Big plan lets you run more then 1 blog or website and comes with the full version of SuperCacher. This is their special caching system that includes 4 different caching options to optimize your websites.
It's easy to set up and makes a big difference in how my sites load.
Since site speed is a ranking factor in Google you want your blog to load quickly!
Tip: You can have SiteGround help you setup SuperCacher!
SiteGround hosting plans come with a 30-day money back guarantee too!
Step 3. Choose Your Domain Name
Before your blog can be live online you need to buy a domain name for it. My favourite place to buy domain names is Namecheap.
They have great prices, are easy to use and include WHOIS guard privacy free for life!
Find a domain starting at $0.88
When you are setting up your hosting SiteGround gives you 2 options for your domain.
Register a New Domain – This is if you want to buy a domain name through SiteGround.
I Already Have A Domain – This is if you have bought a domain name through another service like Namecheap.
If you are buying your domains through another service make sure to select the 2nd option so you won't be charged an extra fee for buying a new domain name.
While it's simple to buy your domain name through your hosting company it's more secure if you don't.
If your hosting company ever has a security problem, shuts down or you decide to switch hosts at a later time it's much easier if your domain is separate.
Step 4. Enter Your Billing Information And Choose Any Extra Features
After you make your domain name selection the next screen is to enter your billing information and choose any extra options you need.
If you decide to buy your domain name through SiteGround I highly recommend selecting the Domain Privacy option. It's an extra fee each year but keeps your home address secure.
All domains are listed on the WhoIs service and if you use your personal home address to register your domain it will be made public. Selecting the Domain Privacy option means that your domain name provider uses their address in the listing instead.
This keeps you from being flooded with spam mail and emails wanting to sign up for services and some extra security.
SG Site Scanner
The last choice you need to make is if you want to pay for the SG Site Scanner. This is a service that scans your website daily and will notify you if you have been hacked or it finds a malicious code.
I prefer to keep this selected as an extra layer of security for my sites and peace of mind.
After you have finished checking out, you will get an email confirmation from SiteGround. You will need the email and password that you set up during the check out to log into your account.
Step 5. Connect Your hosting with your domain name
If you bought your domain name through SiteGround you won't need to do anything to connect the domain name to your hosting.
But if you used another domain regretter you will receive an email from SiteGround with some directions to follow.
It will show you your name servers and have a tutorial link on how to point your domain name to SiteGround's hosting.
It might sound confusing but it's really very easy!
Login to your domain account and select the domain name you want to point to SiteGround.
Select custom DNS and copy the DNS name server records that SiteGround gave you, save your settings.
It can take up to 48 hours for your domain to point to SiteGrounds hosting. It usually happens within 10 minutes for me but there have been a few times I had to wait a day.
Step 6. Setup Your WordPress Blog
Now it's time to install WordPress on your hosting!
Tip: You can ask SiteGround's live support to do this for you! They are always very helpful.
Log into your SiteGround account, then under the My Accounts tab, click on Go To cPanel.
Set Up Your SSL
The first thing to do is to set up your SSL certificate for your website.
SSL stands for Secure Sockets Layer and it's really a must-have now. It used to be only needed if you were selling products on your website or blog.
But Google penalizes sites that don't use it now, even if your just a blog and don't plan on selling anything. Make sure to set this up so that you don't get flagged by Google as a nonsecure site.
Log into your account and open the cPanel.
In your cPanel go to the "Security" section and select "Let's Encrypt"
Near the bottom of the screen, you'll see a "Install new Let's Encrypt Certificate" box.
In the Domain, drop-down select the domain name that you just signed up with.
Then select Let's Encrypt SSL button below it and click install.
You will get a message that it's successfully installed and then it will be displayed in a list near the top of the page called "Manage Let's Encrypt Certificates"
You will see a drop-down menu under the Action column. Select this and pick HTTPS Settings.
This will open a new menu window, click on the button for HTTPS Enforce.
This will make sure any visitor that tries to go to your site with a non-https link will be automatically redirected to the https version.
After you select that option another option will pop up below it. This one is called External Links Rewrite.
What this does and changes links on your site to SSL links, this is for things like external images you may have uploaded to a blog post.
Turn this on is a good idea but if a version of that resource isn't available with an https URL then it won't load. This is mostly an issue for blogs that have been around for a long time and not for new ones.
Tip: If you have any problems contact SiteGround's support they are so helpful and can install this for you.
Install WordPress
Now that your SSL is setup it's time to install WordPress.
In your cPanel go to the "Autoinstallers" section and select WordPress.
Click on "Install Now"
For "Choose Protocol" select the https:// since that is what we just set up with the SSL certificate.
For "Choose Domain" make sure to select the domain name that you just set up when you created your account.
For the "In Directory" line leave this empty.
Under Site Settings
For "Site Name" type in the name of your blog or website.
For "Site Description" type in your tagline or short description of your site. Don't worry you can change the description later in WordPress
Under Admin Account
For "Admin Username" pick the name you want to login to your WordPress site under. Do NOT choose admin. It's not a secure name to use because that's what all the hackers and spam bots try to use first.
Make it something easy to remember and write it down in a safe place.
For "Password" of course use a hard to guess password. You can use their password generator to make a good one and write it down.
For "Language" make sure that the right language for you is selected.
Under Select Plugins
Limit Login Attempts – this is helpful to protect your site from hackers trying to login to your site over and over again.
Contact Form – I don't set this one up because I have a different contact form plugin that I like to use.
Under Choose Theme
SiteGround gives you some theme options to pick from but I skip this. Don't worry WordPress comes with its own default theme.
We will set up a better theme in the next step.
Click the Install button and wait a minute for your site to be set up.
The next screen will show you that your site has been set up and give you the link to login to your admin area.
Yah! WordPress is set up now!! Great Job!
Step 7. Install A Blog Theme And Plugins
Use the link from the page you just saw it will look like this:
https://yoursiteurl.com/wp-admin
Log in with the username and password you set up.
Now it's time to pick a theme for your new blog.
In the left sidebar menu, you will see a tab called "Appearance" you'll want to go to Appearance -> Themes
Here you can activate one of the default themes that WordPress comes with, these are Twenty Fourteen, Twenty Fifteen, and Twenty Sixteen if you like them.
Click the "Add New" button search the WordPress theme directory for a free theme or upload your own theme that you have paid for.
When you first start blogging you are tempted to go with a free theme to save money. I totally understand that!
It's important to remember that with free themes you get less customizing choices for fonts, colors, layouts etc. As well as not getting good support for many of the free WordPress themes.
There are a few free WordPress themes that I have used and really like that I can recommend.
This is a fairly new theme on the market but it's won a lot of praise. I use this theme on some of my blogs and it's so easy to work with.
They have a free version you can install right from the WordPress theme installer or get it from Astra. One thing I have to say about Astra is that it's so easy to work with and fast!
If you need more control over your fonts, and layout then the free version offers their paid Astra Pro version is very affordable. It also comes with many helpful add-ons that you will appreciate as your site grows.
GeneratePress
The GeneratePress theme has been around for a long time and has a great reputation for being fast and easy to use.
They have a free version that you can install from the WordPress theme library that has lots of options.
If you need more options then the free version gives you they have the best theme pricing I've ever seen. The Pro version is just $39.95 and includes support and use on unlimited websites. If you want to renew the theme each year for updates and support the renewal is 40% off.
Both Astra and GeneratePress also work very well with page builders so that's something to consider as well if you plan on using one.
But, if you want a pretty out of the box theme that doesn't need a lot of styling then you should check out the themes below.
Pretty Paid WordPress Themes
I love the StudioPress Genesis Framework and their child themes. Genesis has been around for a very long time and considered one of the best WordPress themes to use on your website.
There are a ton of free tutorials available online to help you set up your site just the way you want too.
StudioPress themes are mobile responsive and optimized for SEO all very important things to get your blog off on the right start.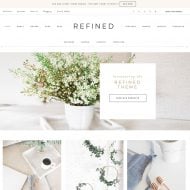 Refined Pro Theme
If you want a beautiful blog theme that doesn't need much extra styling then I highly recommend the Genisis child themes from Restored 316.
They are awesome, feminine designs and so easy to set up!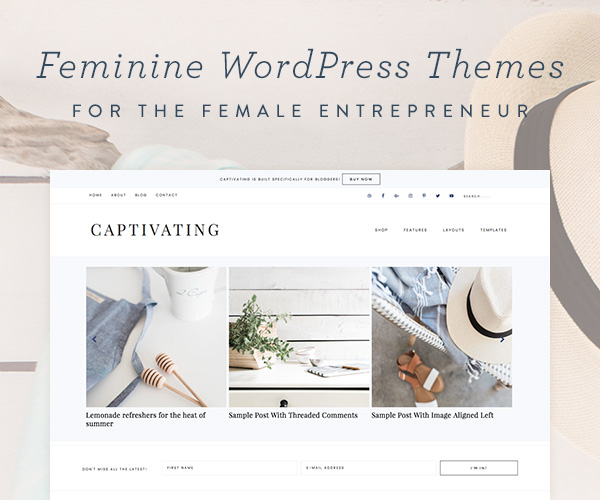 Set Your Permalinks
Ok, now you have your domain name setup, you have installed your SSL, and setup WordPress and a theme. The next step is to setup your permalinks in WordPress.
The default link structure that WordPress uses really isn't good for SEO at all. When WordPress is first installed it uses the "Plain" permalink format. It looks like this:
https://www.homestead-acres.com/p=123
Leaving that URL for your blog posts will not help search engines like Google know what your post is about!
In your left sidebar go to Settings -> Permalinks and change it from the default to Post Name.
This works best for most sites unless you are worried about having duplicate titles/URLs. This is normally not a problem unless you're posting a lot of similar named content like on a news or deals site.
In that case, you might be better off with picking the month and name option.
Install Plugins
After you have installed your themes and set your permalink you need to install a few plugins to help your site run it's best.
Askimet – This plugin gives you spam protection for the comments of your blog.
Yoast SEO – Yoast optimizes your website and posts for SEO (search engine optimization) it helps Google find your content and helps you write posts that will rank better in searches.
Wordfence Security – This plugin helps to protect your site against hackers and alerts you to problems.
Sassy Social Share – Having a good share bar on your blog is important so people can easily share your articles. This one is free, easy to use and my favourite.
Ninja Forms – This is an easy to use contact form plugin. Forms are made using an easy drag and drop method.
Google Analytics Dashboard for WP by ExactMetrics – This plugin is the easiest way to add your Google Analytics code to your WordPress blog.
Tasty Recipes – This is my favourite recipe plugin for WordPress! It's so easy to use and makes your recipes have good markup for SEO in Google.
Tasty Pins – Optimizing your images to share on Pinterest is so important! Tasty Pins lets you add descriptions for Pinterest easily and keep the alt text area for Google descriptions. You can also add hidden images for Pinterest easily.
ShortPixel – This is my favourite WordPress plugin for optimizing images.
Was this helpful to you? If so please share this post to help others who would also like to start a blog.
Kim Mills is a homeschooling mom of 6 and lives on an urban homestead in Ontario, Canada. Blogging at Homestead Acres she enjoys sharing tips to help you save money, grow and preserve your own food.