This post may contain affiliate links, my full disclosure can be read here. As an Amazon Associate I earn from qualifying purchases.
Easy Chunky Applesauce Recipe – You'll love this simple homestyle applesauce recipe! It's so easy to make and perfect for eating fresh, canning or freezing to enjoy all year.
When you think of fall what are your childhood favorite foods? For myself, it's my dear Nana's chunky applesauce!
Every year as summer came to an end my Nana would start gathering apples. Sometimes they came from neighbours, but more often from my Aunts farm. Our kitchen would be filled with bags of apples. We spent many long days peeling and slicing apples to make applesauce.
Nana didn't own a food mill and always left her applesauce a little chunky. This is still my favorite way to make applesauce!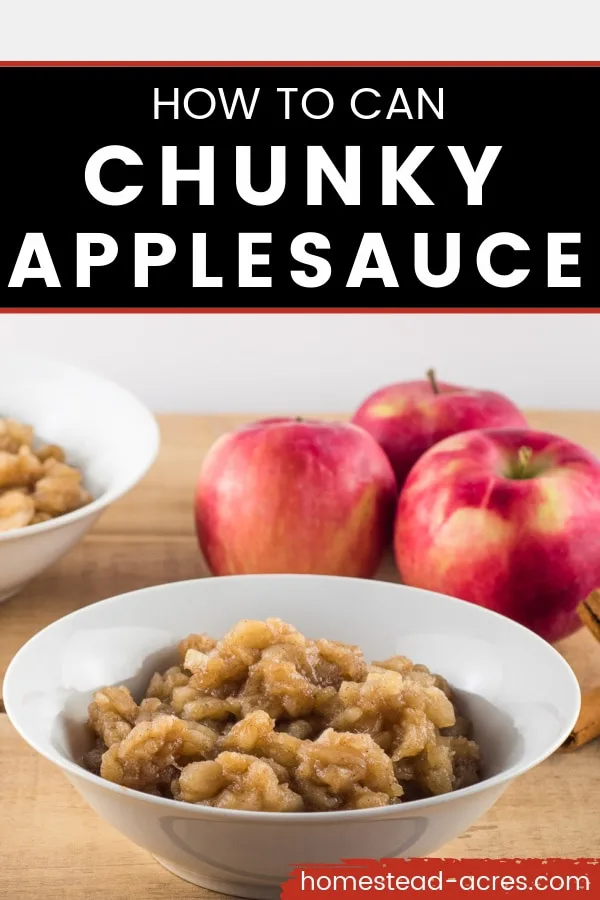 Easy Homemade Chunky Applesauce Recipe
Ingredients:
Apples, washed
Cinnamon
Brown Sugar (optional)
Water
Supplies:
Large pot
Ladles and spoons
If Canning You will Also Need:
To start making your apple sauce peel and slice your washed apples. We use a hand-cranked gadget that peels, slices and cores the apple at the same time.
I love this and it saves so much time!
We also slice the apples in half, but this is optional I do find them easier to stir when cooking if they are sliced in half first.
Place sliced apples in a pot and add enough water to cover the bottom, you only need a cup or two depending on how many apples you are cooking at the same time.
Then add a little cinnamon if desired overtop of the apples, stir to coat the apples. For a large pot about half a bushel of apples I like 2 TBS of cinnamon, a smaller batch of 3 pounds of apples I use 1 tsp.
Bring the apples to a boil over medium heat. Stir often to prevent the apples from burning.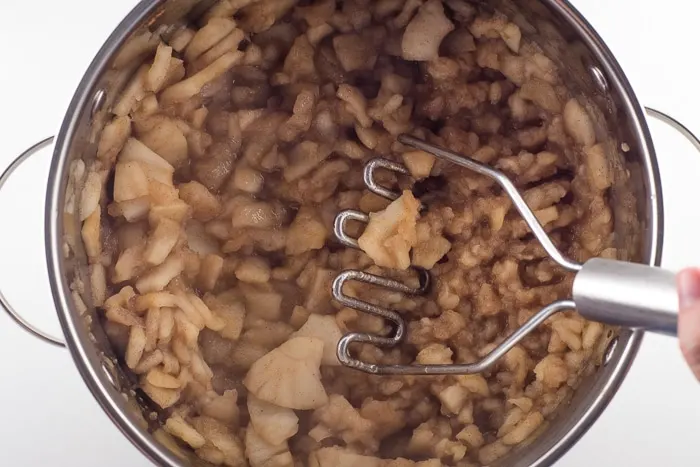 As they start to soften mash them with a potato masher. Just keep mashing until they are the consistency you like.
When your applesauce is finished cooking have a taste and add more cinnamon if needed.
If your apples aren't sweet enough for your liking just add some sugar. My favorite is brown sugar! For a large batch of sweet apples adding 2 TBS of sugar would be enough, but if you are using tart apples you may want to add more.
If you're going to eat it fresh just cool and place into a bowl in the fridge. This applesauce also freezes and cans very easily! To freeze just ladle into freezer containers, allow to cool and then freeze.
How To Can Chunky Applesauce
It is so easy to can your own applesauce! First wash your jars well, then ladle the hot applesauce into the jars leaving 1/2 inch of headspace.
Run a spatula around the inside edge of the jar to release air bubbles. Then wipe the rims of the jars clean. I like to use a paper towel with vinegar on it as I find it cleans the surface really well.
Then place your canning lids on the jars, add the rings and tighten until they are finger tight.
Place the jars into your hot water bath canner and bring the water to a boil.
If you're at sea level or up to 1000 feet process pints for 15 minutes and quarts for 20 minutes.
When the time is up turn the canner off and allow the canner to stop boiling. Then remove the jars and place on a towel. Let them sit undisturbed overnight to allow the seal to harden.
The next day test the seals, if the lids will push up and down then they did not seal. You can reprocess these jars with new lids or place into the fridge to use right away. If they have sealed ok remove the rings, then wipe the jars off, label and store in a cool dry place.
Chunky Applesauce Recipe And How To Freeze or Can It
Yield: 7 quarts
Nana's Homestyle Chunky Applesauce Recipe
Easy homestyle applesauce recipe you can freeze or can. You will love this easy homemade chunky applesauce recipe! It's so easy to make and has been a family favorite for years. Enjoy it fresh or put some up for later.
Ingredients
21 pounds of Apples
2 Tbs. Cinnamon
2-4 Tbs. Brown Sugar (optional)
1-2 cups water
Instructions
Wash apples, then peel and slice.
Place sliced apples into a large pot. Add enough water to just cover the bottom of the pot.
Add ground cinnamon if desired and stir to coat the apples.
Then bring apples to a boil over medium heat. Stir often to prevent from burning.
When the apples start to soften mash them with a potato masher. Keep mashing until you reach the consistency you like.
Taste and add more cinnamon if you like.
Add brown sugar (or white sugar) if needed to taste.
If storing in the fridge or freezing ladle into containers and let cool. Then place into the fridge or freezer.
Canning Instructions
Ladle into hot canning jars.
Run a spatula around the inside edge to release air bubbles.
Wipe rims clean and place lids and rings on finger tight.
Process in a water bath canner according to your altitude.
Notes
You can easily make this recipe with out adding sugar or cinnamon if you like. If you are unsure of how you will be using the applesauce later canning it plain is a great idea. Just add cinnamon and sugar when you are ready to use it.
Nutrition Information:
Yield:
28
Serving Size:
1
Amount Per Serving:
Calories:

190
Total Fat:

1g
Saturated Fat:

0g
Trans Fat:

0g
Unsaturated Fat:

0g
Cholesterol:

0mg
Sodium:

5mg
Carbohydrates:

51g
Fiber:

8g
Sugar:

38g
Protein:

1g
Nutrition information isn't always accurate, this information is for informational purposes only please consult a nutritionist for more information and guidance.
Processing Times
| | | | | |
| --- | --- | --- | --- | --- |
| | 0 – 1,000 ft. | 1,001 – 3,000 ft. | 3,001 – 6,000 ft. | Above 6,000 ft. |
| Pints | 15 min | 20 min | 20 min | 25 min |
| Quarts | 20 min | 25 min | 30 min | 35 min |
Connect With Homestead Acres!
Be sure to follow me on social media, so you never miss a post!
Facebook | Twitter | Pinterest | Twitter
Visit my Amazon store to find all my favorite gardening, homesteading tools, and gadgets plus all of my printed garden books and journals!
Kim Mills is a homeschooling mom of 6 and lives on an urban homestead in Ontario, Canada. Blogging at Homestead Acres she enjoys sharing tips to help you save money, grow and preserve your own food.