This post may contain affiliate links, my full disclosure can be read here. As an Amazon Associate I earn from qualifying purchases.
Learning how to make peony jelly is a great way to use up your peony flowers as they start to fade in your flower garden.
Peony's are a beautiful flower in your early summer garden. Although the blooms don't last long you can make a wonderful jelly from the flower petals.
Hey, you need to dead head those flowers anyway as the blooms start to fade, so why not make a yummy jelly that you can enjoy all year with them.
What Does Peony Jelly Taste Like?
Peony jelly is a delicious tasting flower jelly that is really hard to find for sale. It has a lightly floral taste blended with peach and strawberry flavors.
Are Peony Flowers Edible?
Peony plants have been used as food and for medical uses for many years. However, it's one of those funny plants that turn up on both lists of edible and toxic plants.
My Health Albert lists peony's on their non-toxic list of plants.
While this article talking about eating peony petals in the New York Times references the National Poison Center Network in Pittsburgh as saying "there is nothing to indicate that peony petals are troublesome." It goes on to say there is "no evidence that they are toxic"
The ASPCA does list peonies as toixc to dogs, cats, and horses so make sure you keep your pets away from these plants and anything made from them.
So my best advice to you is to do your own research and to never eat plants that you don't feel safe eating.
But I personally love this recipe, it's so easy to make and tastes amazing. It's quickly become one of our favourite jelly recipes.
How To Make Peony Jelly
1. Select Your Flowers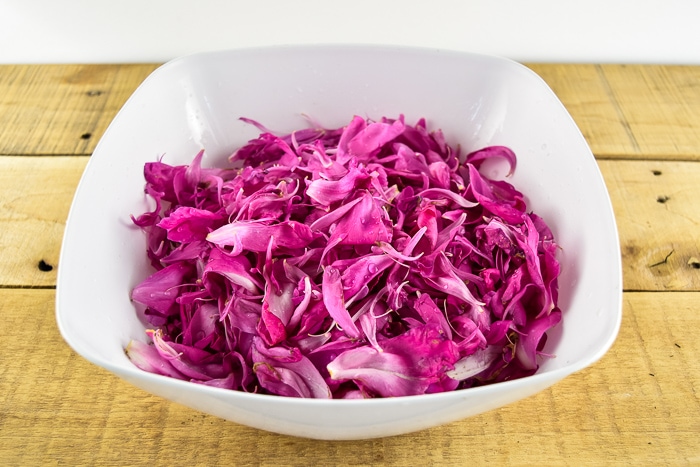 You can use peony flowers that are in full bloom but if you want to enjoy your flower garden and have a yummy jelly then it's best to wait to collect the flowers until the blooms start to wilt.
Cut the flowers from the plants just before they start to turn brown.
Now, if you've ever brought cut peony flowers inside before you know these pretty flowers are full of bugs. Ants, earwigs, and spiders all love to hide inside these large flowers.
So make sure you rinse the flowers before using them. I like to have a container of cool water sitting outside and dunk the flowers in.
After the flowers have been cleaned start picking off the flower petals until you have 2 cups worth.
2. Steep The Flowers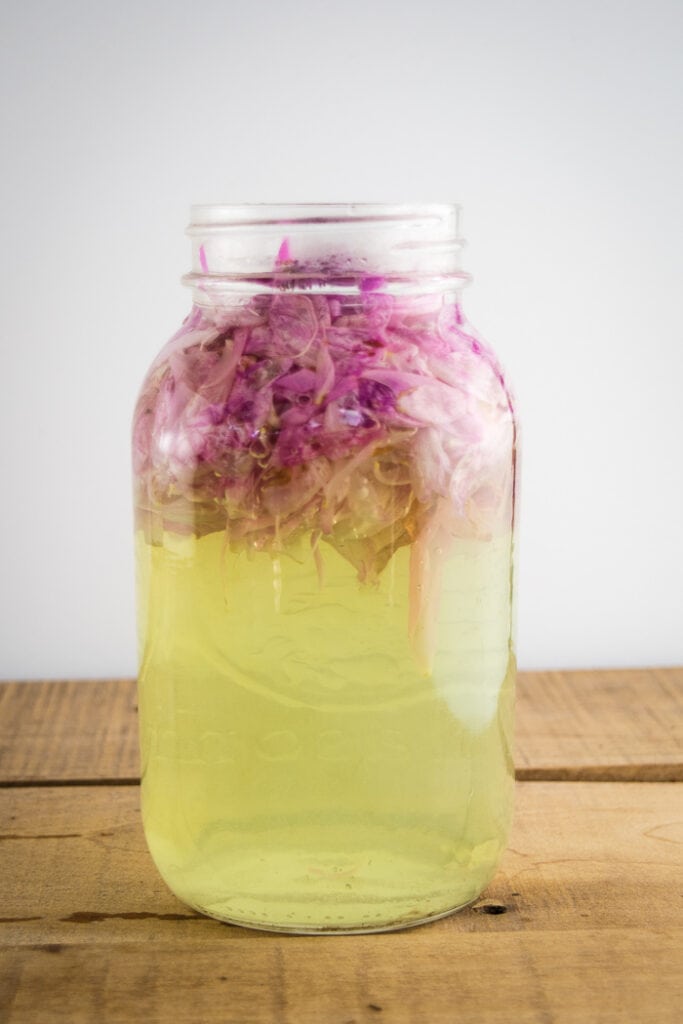 Place the flower petals into a quart sized mason jar or a saucepan and cover with 4 cups of boiling water.
The flowers will start to shrivel up and shrink quickly while there color starts to turn the water a light pink. The color can depend on what color your flowers are to start with.
Cover and let the liquid cool then place in your fridge for 24 hours to steep.
3. Strain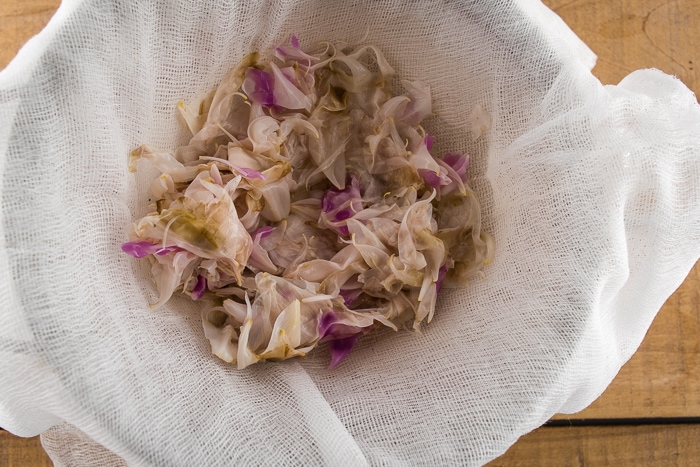 Line a fine meshed strainer with 2 layer of cheesecloth, then pour the peony infusion through it. Squeeze the cheesecloth to remove as much liquid from the flowers as possible.
You should have 4 cups of liquid, if you are a little short add enough water to make up the difference.
4. Cook
Pour the peony infusion into a heavy bottomed pot, then add the lemon juice. The color will change from a pale yellow to a pretty pink color.
Then add the powdered pectin.
Bring the mixture to a boil over medium-high heat, then add the sugar. Return the mixture to a boil stirring constantly, and boil for 1-2 minutes.
Remove the jelly from the heat and skim off the foam. Then ladle into your canning jars if you want to keep it in your pantry. If you plan to use it up soon then you can let the jars cool and place them into your fridge.
Remove any air bubbles, then wipe the jar rims clean and place the lids and rings on finger tight.
Process in a water bath canner for 10 minutes or according to your altitude.
After processing remove the jelly jars from the canner and place on a towel in a draft free place. Let them sit undeserved for 24 hours for the seal to harden.
Any jars that haven't sealed in 24 hours need to be reprocessed or refrigerated.
Jelly will normally set within 24 hours but sometimes it does take a few days. If your jelly doesn't set up nice and firm use these tips for fixing runny jelly.
If you're getting hooked on making flower jellies don't miss this easy violet jelly, it's perfect for making in the early spring from wild violets or later in the spring with pansies.
Dandelion jelly is another amazing flower jelly that tastes just like honey, and this easy dandelion syrup is delicious too. If you are growing lilacs then you must try lilac jelly, it's one of our favorite jelly recipes.
Connect With Homestead Acres!
Be sure to follow me on social media, so you never miss a post!
Facebook | Twitter | Pinterest | Twitter
Visit my Amazon store to find all my favorite gardening, homesteading tools, and gadgets plus all of my printed garden books and journals!
Yield: 6 cups
Peony Jelly
Peony jelly is a fun and unique flower jelly recipe you must try this spring! It's so easy to make and has a lovely floral taste mixed with peaches and strawberries.
Ingredients
2 cups peony flowers
4 cups water
4 cups sugar
2 TBS. lemon juice
1 box powdered pectin
Instructions
Rinse your peony flowers and remove petals. Make sure to check and remove any bugs that could be hiding in the flowers.
Place 2 cups of petals in a large canning jar and cover with 4 cups of boiling water. Cover and let them steep for 24 hours in your fridge.
The next day drain the peony flower liquid through a cheesecloth-lined strainer. You should have 3 1/2 to 4 cups of liquid. Add water to make up the difference.
Place the liquid in a large heavy-bottomed pot, add lemon juice, and pectin. Bring the mix to a boil over medium-high heat.
Add the sugar and return to a boil.
Boil for 1-2 minutes string to help keep the jelly from burning.
Remove your pot from the heat and skim off the foam.
Ladle into canning jars and process for 10 minutes in a water bath canner or place the cooled jars into your fridge for short-term use.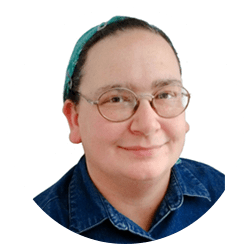 Kim Mills is a homeschooling mom of 6 and lives on an urban homestead in Ontario, Canada. Blogging at Homestead Acres she enjoys sharing tips to help you save money, grow and preserve your own food.