This post may contain affiliate links, my full disclosure can be read here.
Learn how to start your own money making blog!
Dandelions do you love them or hate them?  You can spend a lot of money trying to eliminate them from growing in your lawn, while other people think they are beautiful.  Myself I love dandelions!  I don't see them as a pest at all rather a beautiful and helpful herb.
Do you know that you can make a lovely jelly from dandelion flowers?  Yes really you can and it's so easy to make dandelion jelly to!  This jelly has become a family favourite of ours because it tastes just like honey with just a hint of lemon.  We use it on toast, biscuits, and even in tea as a replacement for honey sometimes.
Supplies & Ingredients Needed
How To Make Dandelion Jelly
The first thing you will need to do is of course, gather the dandelion flowers.  You want just the flower heads and not the stems.
This is a great job to get kids helping with!  After all, they love picking flowers anyway right?  Make sure to gather your flowers in an area that is clean, not near the side of the road or where pets have been kept.
After you've picked a nice sized bowl of dandelion flowers you need to cut off the green part of the flower.
I cut it close to the base and then remove any remaining green parts with my fingers, they slide off pretty easy.  I've always been told that it can make the jelly bitter if you leave the green parts on so I removed them to be on the safe side.
After you've measured out 2 cups of the flower petals it's time to make the dandelion tea. Yes, I said tea! You first need to steep the dandelion flower petals to make a tea and then you turn that liquid into jelly
How To Make Dandelion Tea
Pour 4 cups of boiling water over the flower petals.  Let it sit until it cools down then cover and place it into the fridge for 24 hours.
After it's finished steeping strain it well and squeeze out as much liquid as possible.  Now at this point your tea will smell a bit "grassy" but don't worry!  Once it's cooked it will taste so good really like honey with a dash of lemon.
Cooking Dandelion Jelly
Measure out 3 1/2 to 4 cups of liquid and pour it into a large pot, add 2 Tbs. of lemon juice and 1 pouch of powdered pectin bring this to a boil.  Then add 4 cups of sugar stir well and return to a boil. Boil the jelly for 1 to 2 minutes and removed from the heat.
Pour the jelly into hot canning jars leaving 1/4 inch of headspace.  Run a spatula around the inside edge to remove any air bubbles.  Then wipe the edge of the jar clean and place the lids and rings on finger tight.
Place the jars in a water bath canner and process for 10 minutes or according to your altitude.  Remove the jars from the canner and place on a towel.  Allow them to sit undisturbed for 24 hours to let the seal harden.  Any jars that haven't sealed need to be put in the fridge to use first or reprocessed.
Dandelion Jelly Recipe
Print
How To Make Dandelion Jelly
A delicious dandelion jelly that tastes just like honey. This is a must try!
Author:
Prep Time:

00:30

Cook Time:

00:12

Total Time:

42 minutes

Yield:

5 1/2 pint jars
Ingredients
2 cups dandelion petals
4 cups water
4 cups sugar
2 Tbs. lemon juice
1 box powdered pectin
Instructions
Cut the green part of the flower off and place the petals into a quart canning jar.
Pour 4 cups of boiling water over the flower petals. Allow them to cool and then place into the fridge for 24 hours.
Strain the flowers well and squeeze out as much dandelion tea as possible.
Place into a large pot 3 1/2 to 4 cups of dandelion tea, lemon juice and pectin. Bring it to a boil.
Add sugar and return to a boil while string. Boil the jelly for 1 to 2 minutes.
Remove from the heat and pour into canning jars. Process for 10 minutes in a boiling water bath canner or according to your altitude.
Would you like to try another flower jelly?  This violet jelly is simply amazing!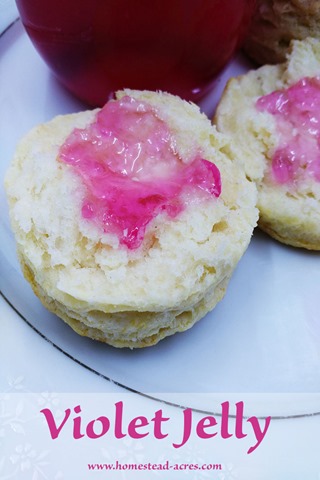 Kim Mills is a homeschooling mom of 6 and lives on an urban homestead in Ontario, Canada. Blogging at Homestead Acres she enjoys sharing tips to help you save money, grow and preserve your own food.