This post may contain affiliate links, my full disclosure can be read here. As an Amazon Associate I earn from qualifying purchases.
There is nothing like warm fresh bread and it's so easy to make! This is my favourite basic white bread recipe, I've been making it for over 18 years and it comes out soft and fluffy every time.
When I was a girl our home was often filled with homemade treats and while I loved the sweet treats my favourite was when we made homemade bread!
Are you a bread fan too? Whether you're making peanut butter and jelly sandwiches, french toast, or your favourite savory sandwich this bread recipe is perfect for it all.
Homemade Bread Baking Tips
Making your own homemade bread is really very easy but there are a few things you need to do get right. Although I grew up in a home that often made homemade bread I didn't make it myself until after I was married and moved out.
Guess what? My very first loaf it came out like a brick. Yes, really!
You could have used that poor loaf as a doorstop. But I didn't give up and soon I was making homemade bread just like I remembered from my childhood.
These are some simple tips to get your bread making off to a great start.
Always use warm water for your bread dough. Yeast is alive and using warm water helps to wake it up. However, HOT water can kill the yeast and cold water will slow down the time it takes to proof. So when you measure out your water make sure it's nice and warm to the touch.
If you're adding milk to your bread dough warm it up first. Again just think of your yeast, adding cold milk to the dough will slow down how fast it rises.
Make sure you have enough sugar or honey. Yeast needs the warm water to wake up but it's the sugar that feeds it to grow and rise your bread.
If your loaves are browning too much in the oven cover them with a tent of foil to protect the tops.
Don't add too much flour. While sticky dough isn't easy to work with if you add to much flour your bread will come out more dense. Add just enough flour to make a soft dough that is tacky to the touch.
Use a good bread knife. Really, using a good quality bread knife makes all the difference. A poor knife squishes your bread when you're slicing it, and causes misshapen slices.
DALSTRONG Bread Knife – Gladiator Series – German HC Steel – 10
Easy Handmade Bread Recipe Step By Step Video
Are you a visual learner? Me too! I find it so much easier to learn how to do things from videos.
If you're the same way, see how easy it is to make homemade bread with this step by step tutorial.
Yield: 3 loves
Basic White Bread Recipe
Soft and fluffy homemade bread recipe is our family's favourite. This basic white bread is my go to recipe when needing to make bread for sandwiches.
Prep Time
1 hour
40 minutes
Total Time
2 hours
5 minutes
Ingredients
3 cups of warm water
1 cup milk (optional replace with water if not using milk)
5 tbs butter or oil
4 1/2 tsp yeast (or 2 packs)
1 tsp salt
5 tbs sugar or 1/4 cup of honey
2 or 3 eggs (optional)
About 7 cups of flour
Instructions
Place warm water in a large bowl, add sugar or honey and stir to dissolve. Then add yeast and let it sit for about 10 minutes.
Meanwhile warm the milk up in a pot and add the butter to melt. Don't boil it just get it nice and warm. Add this to your yeast mixture and add salt and eggs. Stir well.
Start adding the flour a few cups at a time until well blended. Keep adding flour until you have a soft dough. It will come a way from the sides of the bowl.
Then turn it out onto a floured surface and knead for 10 minutes. The dough will be nice and smooth. Place in a greased bowl covered with a tea towel or plastic wrap and let it rise till doubled in size. About an hour.
Punch the dough down and divide it into 3. Pat each piece into a greased loaf pan. Let it rise about 20 minutes and bake at 350F for 25/30 minutes. To tell if it's fully cooked take the loaf out of the pan and tap the bottom it will sound hollow when done.
You may also like: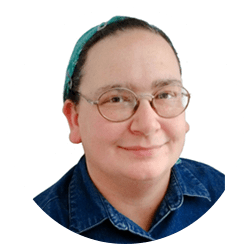 Kim Mills is a homeschooling mom of 6 and lives on an urban homestead in Ontario, Canada. Blogging at Homestead Acres she enjoys sharing tips to help you save money, grow and preserve your own food.