This post may contain affiliate links, my full disclosure can be read here. As an Amazon Associate I earn from qualifying purchases.
Need a great way to use up all your zucchini? Then you must try this easy moist zucchini bread recipe! It comes together quickly in just 10 minutes or less and is perfect for breakfast or snacks. Make it with fresh or frozen zucchini it's always perfect!
Are you drowning under a mountain of zucchini from your garden? Or maybe your neighbors keep leaving bags of it on your doorstep while they try to run away as fast as they can before you see who left it.
Yes, ok I'll admit it. I'm the crazy neighbor that grows a lot of zucchini plants!
We always have at least 12 plants in our garden and I've grown more than 20 some years.
I love all squash but zucchini has always been one of my favorites. Depending on the type of zucchini you are growing it can have a soft nutty flavor or almost no flavor at all.
This makes it so easy to use in a wide range of recipes! Ahem, fellow mommies adding shredded zucchini to your recipes is a great way to sneak vegetables into your child's meal if they are in the picky eating stage.
If you are looking for a great recipe to use up all that extra zucchini then you are going to love this easy zucchini bread! It's so moist and tender that you'll want to enjoy it as a yummy treat often.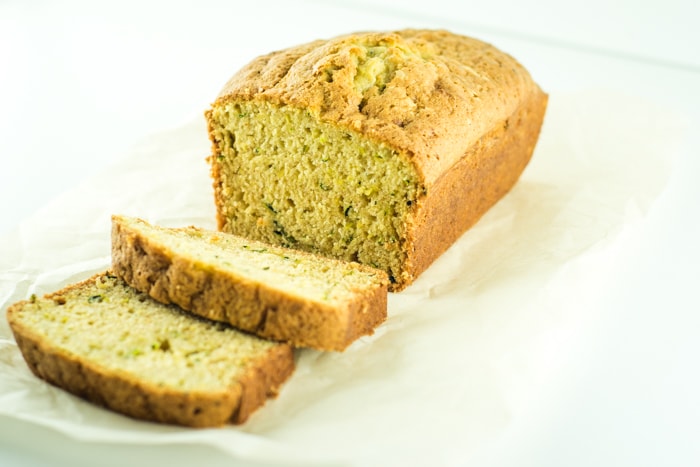 How To Make Moist Zucchini Bread
First, wash and shred your zucchini and measure out 4 cups and set it aside.
Next, mix your dry ingredients together. In a bowl add the flour, baking soda, baking powder, salt, and cinnamon. Stir well with a whisk to combine then set it aside.
In the bowl of your stand mixer add the eggs, oil, sugar, and vanilla and mix them together well.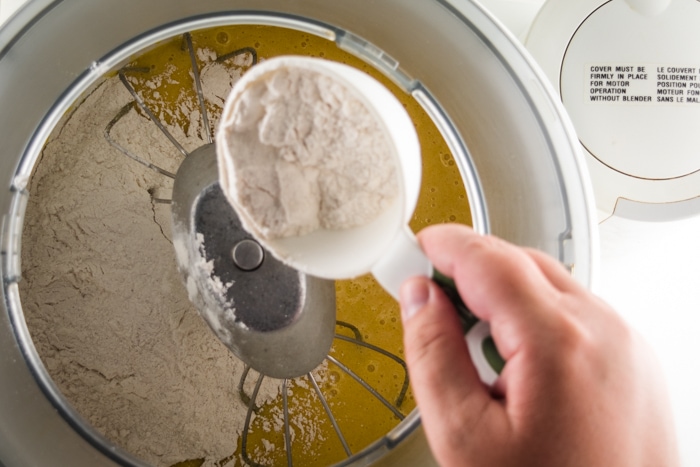 Slowly add in the dry ingredients to the wet while mixing to incorporate them well. The batter will start to get pretty thick.
Finally, stir in the shredded zucchini until it's just mixed in with the batter. You'll notice right away that the batter gets much runnier. This is because the zucchini contains a lot of water and this helps to make your bread nice and moist.
Pour half of the batter into each 4×8 loaf pan and bake for 45 to 60 minutes. Test for doneness by inserting a toothpick into the center of the loaf. When it comes out clean the zucchini bread is done.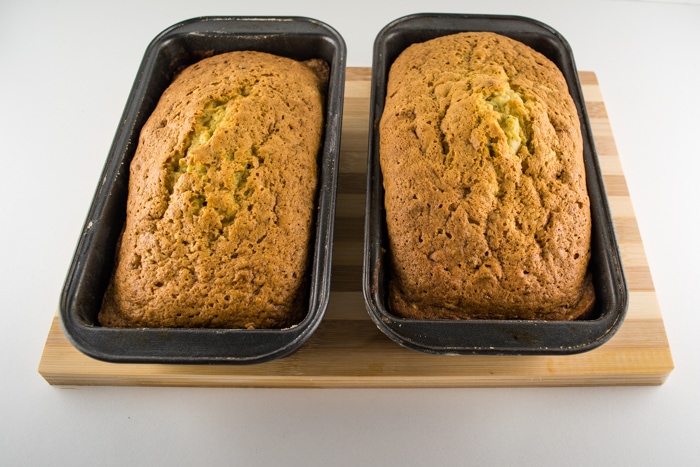 Allow the bread to cool for 10 minutes and then turn out onto cooling racks.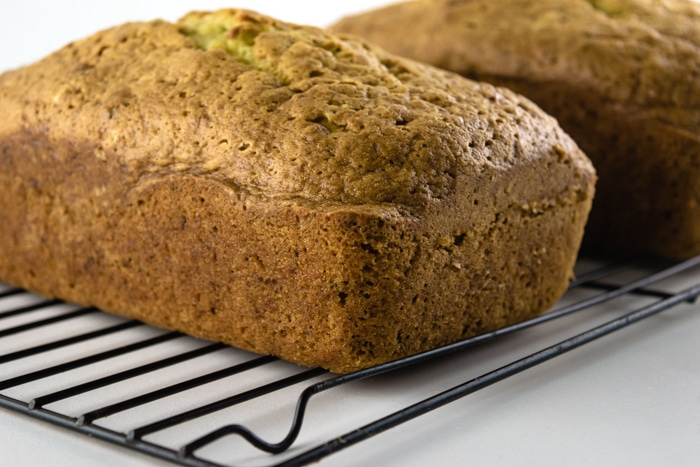 Tips For Making Zucchini Bread
Do You Use The Skin In Zucchini Bread?
Yes, don't bother peeling your zucchini! I know it's tempting to remove all the zucchini skin first but there really isn't a need for that.
Shredded zucchini gets very soft when it's cooked in bread and pretty much melts into the batter. You will know it's there but there are no worries about any long stringy skins. Just wash and shred the zucchini.
Do You Have To Take The Seeds Out of Zucchini?
When you are baking with zucchini you'll want to scrape the seeds out of the large zucchinis before grating it for use.
If your squash is small and doesn't have hard seeds formed yet then you can just trim the ends off and shred up the entire zucchini.
How Do You Keep Zucchini Bread From Sticking To The Pan?
Zucchini bread and other quick breads are much easier to remove from the pan if you prepare the loaf pans first.
Simply grease the pan well with butter or oil. Make sure to coat the bottom and the sides and then dust the pan lightly with flour.
This will help the zucchini bread turn out of the loaf pan easily.
Why Did My Zucchini Bread Sink In The Middle?
Did your zucchini bead look really good at first and then fall and collapse in the center as it cooled?
The main cause of zucchini bread and most quick breads sinking is because the batter was mixed too quickly or vigorously.
Make sure to mix the batter well but not to over mix or mix to quickly so that you get enough air into the batter to help the loaf rise and stay that way.
How Do You know When Zucchini Bread Is Done?
The easiest way is to test it with a toothpick. Starting at 45 minutes (depending on the temperature of your oven) sick a toothpick in the center of the bread.
If it comes out clean the bread is done, if there is batter sticking to it then it needs to cook longer.
Do You Need To Refrigerate Zucchini Bread
No, zucchini bread doesn't need. To be refrigerated as long as you're going to use it up within 3 days. Just wrap it well or place it in an airtight container.
Yield: 2 loaves
Easy Moist Zucchini Bread
You will love this crazy easy to make zucchini bread recipe! It's so light, fluffy and moist that you will want to make it all the time. Perfect for breakfast, or snacks and freezes well too.
Total Time
1 hour
5 minutes
Ingredients
3 cups flour
1 tsp. baking soda
1 tsp. baking powder
1 tsp. salt
1 Tbs. ground cinnamon
4 cups shredded zucchini
3 eggs
1 cup oil
2 1/4 cups sugar
4 tsp. vanilla extract
Instructions
Preheat oven to 350 F.
In a medium-sized bowl combine the flour, baking soda, baking powder, salt, and cinnamon and stir well.
In your mixer bowl add the eggs, oil, sugar, and vanilla, mix together well.
Slowly add the dry ingredients to the wet, while mixing. The batter will start to look very dry.
Finally, add the shredded zucchini and stir well. The batter will become much runnier with the liquid from the zucchini.
Pour half of the mixture into each loaf pan.
Bake for 45 to 60 minutes or until done.
Notes
To keep the bread from sticking remember to grease and flour the bread pans.
Store in an airtight container after cooling. For longer storage wrap well and freeze.
Nutrition Information:
Yield:
24
Serving Size:
1
Amount Per Serving:
Calories:

229
Total Fat:

10g
Saturated Fat:

1g
Trans Fat:

0g
Unsaturated Fat:

9g
Cholesterol:

23mg
Sodium:

180mg
Carbohydrates:

32g
Fiber:

1g
Sugar:

19g
Protein:

3g
Nutrition information isn't always accurate, this information is for informational purposes only please consult a nutritionist for more information and guidance.
Looking for another way to use up zucchini? Don't miss my yummy zucchini relish recipe!
Don't forget to pin for later!
Connect With Homestead Acres!
Be sure to follow me on social media, so you never miss a post!
Facebook | Twitter | Pinterest | Twitter
Visit my Amazon store to find all my favorite gardening, homesteading tools, and gadgets plus all of my printed garden books and journals!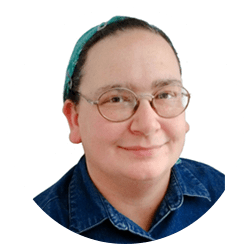 Kim Mills is a homeschooling mom of 6 and lives on an urban homestead in Ontario, Canada. Blogging at Homestead Acres she enjoys sharing tips to help you save money, grow and preserve your own food.