This post may contain affiliate links, my full disclosure can be read here. As an Amazon Associate I earn from qualifying purchases.
Dutch butter cookies are one of my favorite Christmas cookies. They just have to have a center place on our holiday cookie tray every year.
I think this Christmas tradition started when I was just a little girl. I can remember always having that pretty blue tin of Christmas butter cookies sitting on the table as the holidays approached.
There was always that temptation to sneak into that little tin as I passed by!
I still love these classic Christmas cookies but instead of buying them, I have fun making homemade butter cookies with my children every year.
Supplies Needed To Make Dutch Butter Cookies
Easy Butter Cookie Recipe
These butter cookies are so easy to make and you likely have all the ingredients you need in your pantry right now, which makes this a very easy butter cookie recipe to whip up anytime you feel like a good cookie.
Hey, you don't have to limit yourself to the holidays. These cookies are a great treat anytime you feel like a yummy, buttery cookie.
Ok, to get started in your mixer bowl add the butter and confectioners (powdered) sugar turn your mixer on high, and cream the butter and sugar together until it's light and fluffy.
This will take 3 to 5 minutes depending on your mixer.
Once the butter and sugar mixture is ready add the eggs, milk, and vanilla to your mixer bowl and mix on medium speed until it's well combined.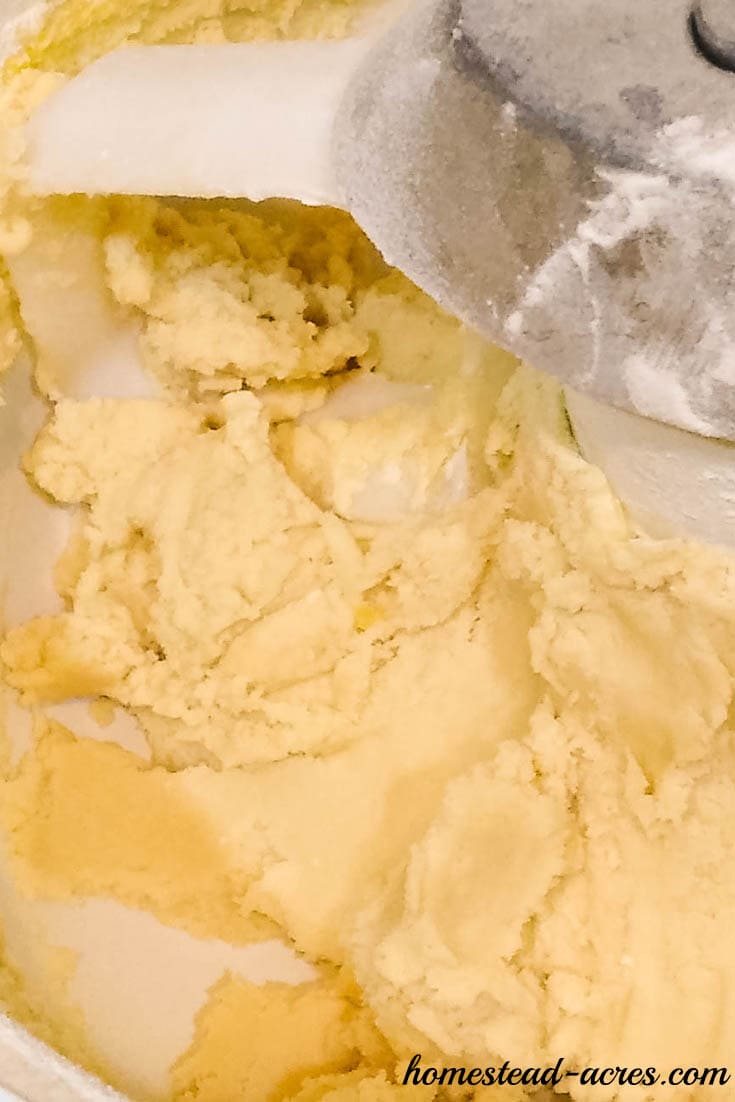 Then add the salt and flour and stir until the dough comes together. The butter cookie dough will be soft but it shouldn't be wet or sticky.
If you find that it is, add a little more flour. If your cookie dough is too dry and crumbling apart add a little more milk until the dough just comes together nicely.
Spritz Cookie Maker
Now comes the fun part of shaping your Dutch butter cookies. I love to use my Wilton Spritz Cookie Press to make these butter spritz cookies.
After all, what is better than a yummy cookie? A yummy cookie in a cute Christmas shape!
Wilton Cookie Preferred Press Cookie Press
I treated myself to the Wilton Cookie Pro Ultra II Cookie Press and it's become one of my favourite kitchen tools. The spritz cookie press makes shaping beautiful butter spritz cookies a quick and easy job.
Scoop out some of your butter cookie dough and place it on some plastic wrap, then roll it back and forth until it forms a round log shape that will fit inside your cookie press.
Cut off a section of dough and place it inside your spritz cookie press, then place the lid and your chosen shape disk on and tighten. Turn the knob until it presses the dough inside down to the right level.
When your cookie press is ready, set it on top of your baking sheet and press the handle, then lift the press straight up leaving a perfectly formed cookie shape.
I bought my Wilton Cookie Press from Amazon and found they had a better price at the time.
If you would like to add holiday sprinkles to your cookies now is the perfect time. They will melt into the cook a little as they bake.
Bake the Dutch butter cookies for 8 to 10 minutes until the edges are a light golden brown.
Remove them from the oven and let the cookies cool for about 5 minutes before moving them to a cooling rack.
When your cookies are just cool enough to handle grab yourself a cup of coffee and curl up with the perfect holiday treat.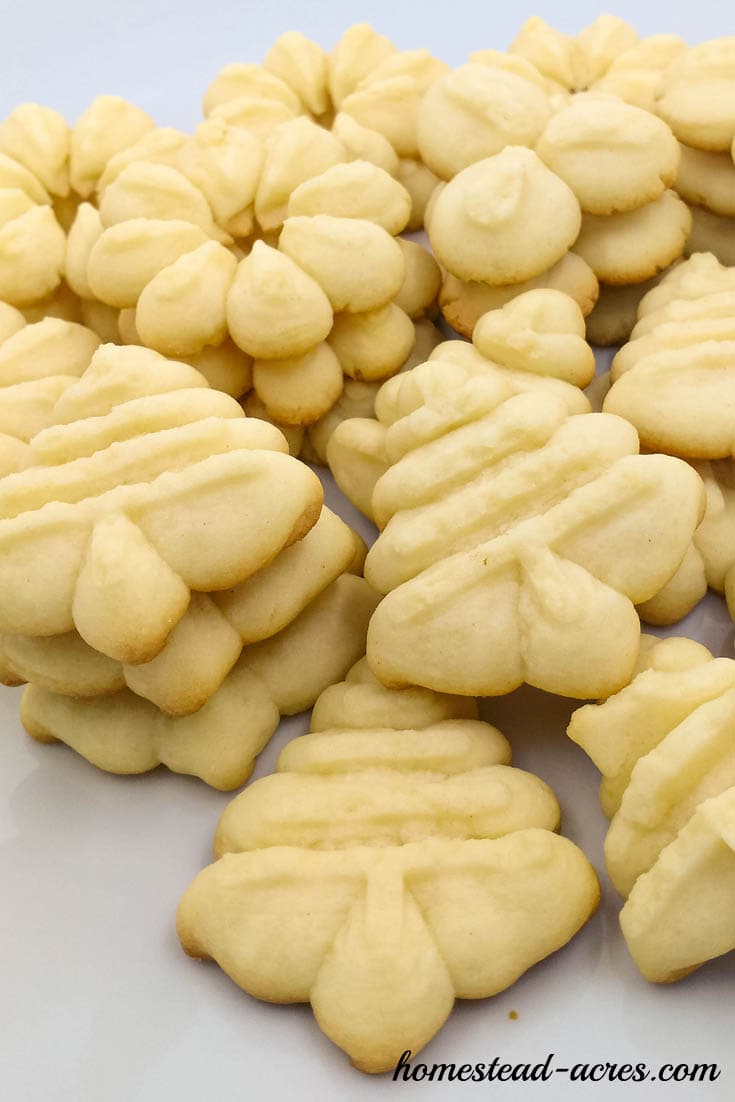 Butter Spritz Cookie Baking Tips
Often the first 2 or 3 cookie shapes are not formed properly. This is because the dough isn't pressed dough far enough into the cookie press yet.
Just lift these cookies off the pan and add them back to your dough mix for the next batch. After that, they should form just fine.
If you find your butter spritz cookies are not sticking to your baking sheet and you are using parchment paper to line them, try pressing your cookies directly onto your baking sheet.
The parchment paper doesn't stay firmly down on the tray and can lift as you lift your cookie press also causing the dough to lift. If desired you can use a thin metal spatula to transfer the cookies onto the parchment paper before baking.
If you are trying to press your cookie dough directly on the cookie pans but find your dough isn't sticking, set your baking pans in the freezer for 10 minutes.
If the pans are warm it can cause the dough to get soft and not stick to the pan.
More Yummy Cookie Recipes
Yield: 45 small cookies
Dutch Butter Cookies
Perfect rich Dutch Butter Cookies are a must-have holiday cookie. Easy butter cookie recipe that is foolproof.
Ingredients
14 TBS. butter, softened
1 cup confectioners sugar
1 egg
1 TBS. milk
2 1/2 tsp. vanilla extract
1/2 tsp. salt
2 1/4 cups flour
Instructions
In a mixing bowl cream together the butter and confectioners sugar on high until it is light and fluffy. Depending on your mixer this will take 3 to 5 minutes.
Stir in the egg, milk and vanilla until well combined.
Add the salt and flour and mix well until a soft dough forms. The cookie dough shouldn't be wet or crumbly. If it's to wet add a little more flour and if it's crumbling and not sticking together add a little more milk.
Put the dough into your spritz cookie press and press your cookies out onto the baking sheets.
Bake at 350F for8 to 10 minutes until the edges have turned a light golden brown.
Nutrition Information:
Yield:
45
Serving Size:
1
Amount Per Serving:
Calories:

66
Total Fat:

4g
Saturated Fat:

2g
Trans Fat:

0g
Unsaturated Fat:

1g
Cholesterol:

14mg
Sodium:

56mg
Carbohydrates:

7g
Fiber:

0g
Sugar:

2g
Protein:

1g
Nutrition information isn't always accurate, this information is for informational purposes only please consult a nutritionist for more information and guidance.
Connect With Homestead Acres!
Be sure to follow me on social media, so you never miss a post!
Facebook | Twitter | Pinterest | Twitter
Visit my Amazon store to find all my favorite gardening, homesteading tools, and gadgets plus all of my printed garden books and journals!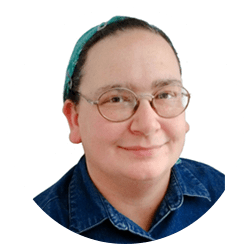 Kim Mills is a homeschooling mom of 6 and lives on an urban homestead in Ontario, Canada. Blogging at Homestead Acres she enjoys sharing tips to help you save money, grow and preserve your own food.