This post may contain affiliate links, my full disclosure can be read here. As an Amazon Associate I earn from qualifying purchases.
One of our must have cookies around the holidays are these yummy ginger molasses crinkle cookies. They taste like a thick, soft and chewy gingerbread you just can't get enough of. Dusted with powdered sugar they look like they have been sprinkled with snow.
[toc]
As pretty as ginger molasses crinkle cookies are you just can't beat the taste when it comes to Christmas cookies and luckily they are very easy to make.
Tips For Baking Ginger Molasses Crinkle Cookies
Sometimes crinkle cookies can be a little stubborn and just don't want to form crinkles. Don't worry they will still taste amazing but if you're having a hard time getting that pretty crinkly top to form here are a few tips.
Make sure your ginger crinkle cookie dough is well chilled. The reason crinkle cookies form the pretty split lines through them is because when the cookie dough is cold the outside forms a harder crust while it cooks.
The center takes longer to warm up and cook but when it starts to it expands and cracks open the crust that has started to form. This makes very pretty crinkle lines on your cookies.
Another trick that can work is to sprinkle a few drops of cold water on the tops of your cookies just before placing them in the oven.
Cookie Scoop
A
cookie scoop
is a must have tool when it comes to making cookies
!
I always used a tablespoon to measure out my cookie dough the problem with that is that it's messy and not very accurate. You always end up with cookies that are uneven and they don't bake consistently in the oven.
This cookie scoop scoops up the perfect amount of cookie dough and forms it into a ball. All you have to do is release it onto your baking mat or parchment paper and you're ready to get baking!
Supplies Needed
All purpose flour
brown sugar
baking soda
salt
butter
milk
white sugar
mixing bowl
How To Make The Best Ginger Molasses Crinkle Cookies
In your mixer bowl place the flour, brown sugar, baking soda, ginger, cinnamon, and salt. Mix these together for 30 seconds.
Then add your butter pieces and mix on medium speed until the mixture looks like a coarse meal. This normally takes about 90 seconds.
Turn your mixer down to low and slowly pour in the milk and molasses. Continue mixing the dough until it's evenly moistened. Then turn the speed up and mix until well combined.
Remove the ginger crinkle cookie dough from your mixer bowl and divide it in half.
Shape one half of the dough into a round shape and press to flatten to about an inch thick.
Wrap the dough in plastic wrap and repeat with the remaining dough. Place the cookie dough into the fridge for at least 2 hours or overnight.
Alternatively, you can freeze them for 20 minutes.
When your dough is well chilled remove one disk from the fridge, using a spoon remove enough dough to roll into a ball 1 1/2 to 2 inches round.
Take care not to overwork the dough or it will get to warm. If the dough gets too warm it will not form a crinkle top.
Roll each dough ball into the white granulated sugar and then roll in the confectioners sugar until it's well coated.
Then place the cookie dough balls onto your cookie sheet spaced 1 inch apart. Bake the ginger molasses crinkle cookies for 10 to 12 minutes.
These pretty ginger crinkle cookies are perfect additions to a cookie tray along with these snickerdoodles and soft and chewy ginger cookies.
Printable Thick & Chewy Ginger Molasses Crinkle Cookies Recipe
Yield: 24 cookies
Ginger Molasses Crinkle Cookies
These thick, soft and chewy ginger molasses crinkle cookies are the perfect treat!
Ingredients
3 cups flour
3/4 cup brown sugar
1 tsp. baking soda
1 TBS. ground ginger
1 TBS. ground cinnamon
1/2 tsp. salt
3/4 cup molasses
3/4 cup butter, softened and cut into cubes
2 TBS. milk
1/2 cup white sugar
1/2 cup confectioners sugar
Instructions
In the bowl of an electric mixer place flour, brown sugar, baking soda, ginger, cinnamon, and salt, mix at a low speed until combined.
Add the butter cubes and mix on medium speed until the mixture resembles coarse meal, about 90 seconds.
Reduce the mixer to low speed and slowly add in the milk and molasses. Mix until the dough is evenly moistened and then mix on medium until well combined.
Divide the dough in half, form each half into a round shape and pat down until it's an inch thick. Wrap in plastic wrap and chill for at least 2 hours in the fridge.
When ready to bake remove one disk of dough at a time to work with. Scoop enough dough to form a 2-inch dough ball.
Then roll each dough ball into the white sugar and then into the confectioners sugar.
Place the cookies 1 inch apart on a baking sheet and bake for 10 to 12 minutes at 350F.
Nutrition Information:
Yield:
24
Serving Size:
1
Amount Per Serving:
Calories:

187
Total Fat:

6g
Saturated Fat:

4g
Trans Fat:

0g
Unsaturated Fat:

2g
Cholesterol:

15mg
Sodium:

153mg
Carbohydrates:

32g
Fiber:

1g
Sugar:

20g
Protein:

2g
Nutrition information isn't always accurate, this information is for informational purposes only please consult a nutritionist for more information and guidance.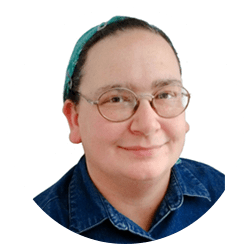 Kim Mills is a homeschooling mom of 6 and lives on an urban homestead in Ontario, Canada. Blogging at Homestead Acres she enjoys sharing tips to help you save money, grow and preserve your own food.