3
Easy Slow Cooker Apple Butter
This post may contain affiliate links, my full disclosure can be read here.
Our family just loves apple butter and it's one of the easiest "jams" to make, that is if you make easy slow cooker apple butter! Apple butter reminds me of a spreadable apple pie, yum!
Traditionally apple butter was cooked for a long time in cast iron kettles over an open fire. It requires a lot of watching and stirring to keep from burning.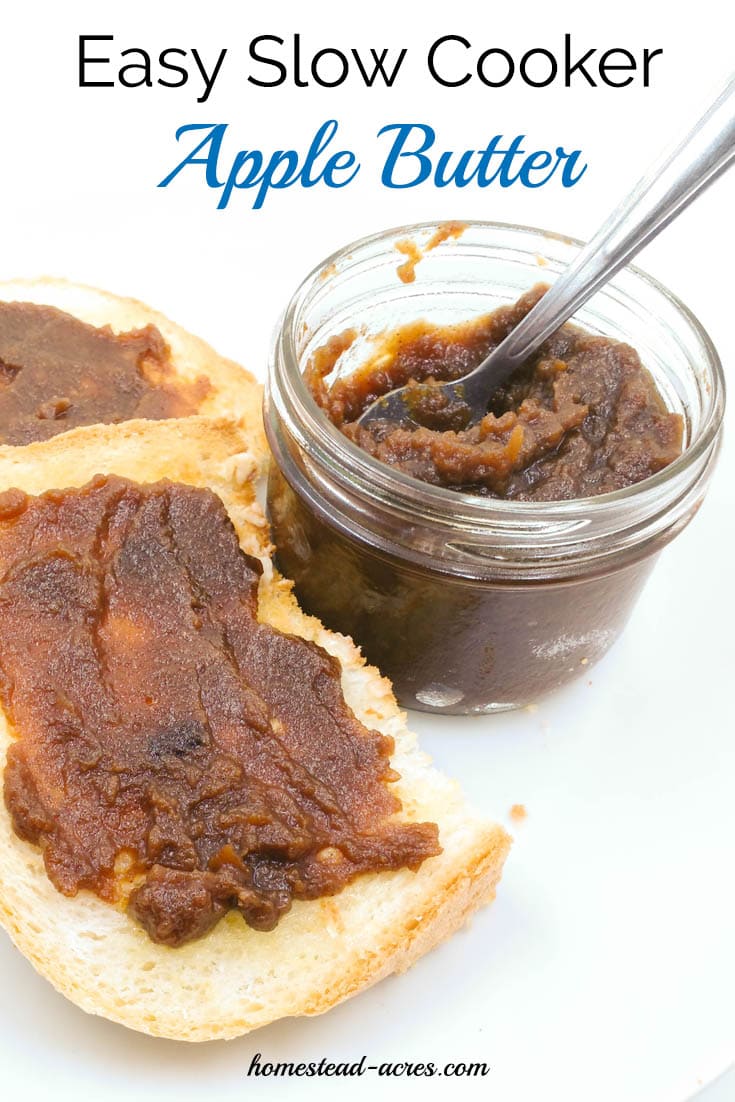 Honestly, I love that, but I'm a busy mom with a large family so I would much rather use my Nesco electric roaster or crock pot to help make cooking down the apple butter easier. After all, if I don't have to babysit it as much I can be canning applesauce and apple jelly while my butter is cooking down into a yummy, sticky jam that is just perfect on a biscuit on the cold winter mornings.
Easy Slow Cooker Apple Butter
Supplies
Ingredients
Apples – 1/2 a bushel (about 24 pounds) filled my Nesco roaster, about 6 pounds will fill my 7 qt crock pot.
2 cups Brown sugar (optional) you can also use white sugar. If your apples are really sweet or you're on diet restrictions you can skip the sugar.
2 Tbs cinnamon
1 Cup water
Start off by washing your apples well, then peeling and slicing them. I love to use this handy gadget to do the peeling, coring and slicing for me it makes fast work of the job!
I find Amazon has the

best price

on apple peelers & corers
Fill your Nesco roaster to the top with sliced apples and add 2 cups of brown sugar and 2 tablespoons of ground cinnamon. Then add just a little water to keep the bottom from sticking, about 1 cup is enough for me.
Put the lid on the roaster and cook at 350 F until the apples are tender. Make sure to stir the apples every 20-30 minutes or so to keep them from burning on the sides.
Once the apples are very soft mash them up with a potato masher and turn the heat down to 300 F. Allow the apples to continue cooking until they are soft enough to puree like applesauce. You can use a stick blender or simply use an electric egg beater! Blend your apples until they are very smooth. Then give the sauce a taste and adjust the sugar and cinnamon to your liking.
Tilt the lid of the roaster so the steam can easily escape and continue cooking the applesauce for another 3 to 4 hours. Try to check it every half hour or so to stir it up to prevent burning. I haven't had any problems with mine burning but you'd hate to lose a batch from not checking.
Overnight Slow Cooker Apple Butter
Alternatively, you can turn the temperature down to the slow cook setting and just let it cook slowly overnight. Cooking your apple butter at a slower temperature overnight will make sure that it doesn't burn and it will be all finished by morning. It's an amazing smell to wake up to!
You'll know your apple butter is ready when it's turned a nice brown colour and is very thick. A good old fashion guideline is to take a spoon and stand it up in the middle of the apple butter. If it can stand on its own without falling over it's done!
How To Freeze Apple Butter
Now it's time to preserve that delicious apple butter so you can enjoy it all year.
If you're going to freeze it simply let the apple butter fully cool down. Then ladle it into small plastic storage containers or canning jars. Make sure to leave some head room for expansion and cover and freeze.
Apple butter a yummy, sticky jam that is just perfect on a biscuit on the cold winter mornings.
Click To Tweet
Bernardin Mason Jar Caps – Plastic – Standard
Kerr 00500 Wide Mouth 8 Oz. Glass Mason Jars – 12 / CS
&
I love to use wide mouth canning jars and plastic lids to freeze apple butter and other jams. They stack really well in my freezer!
How To Can Apple Butter
Canning your homemade apple butter so so easy to do and it's a great way to enjoy it all year. Don't forget to can some extra apple butter to share as gifts to.
Fill your canning jars with hot apple butter and leave 1/4 inch of head room.
Run a spatula around the inside edge of the jar to remove any air bubbles and then wipe the jar rims clean, add the lids and rings.
Process in your water bath canner for 10 minutes or according to your altitude.
When the time is up remove the jars from the canner and place them on a towel. Allow the jars to sit undisturbed for 12 to 24 hours so the seal can set well.
Any jars that haven't sealed after 24 hours should be placed in the fridge to use first or can be processed.
Keep reading for a printable recipe!