This post may contain affiliate links, my full disclosure can be read here. As an Amazon Associate I earn from qualifying purchases.
Don't let summer go by without making this amazing garlic scape pesto recipe! It's so easy to make and freezes great so you can enjoy this tasty treat for a long time. This recipe is also nut free so it's cheaper to make and perfect for those with nut allergies.
Garlic scapes are one of my favourite treats to use in the summer but it's a seriously underrated ingredient!
If you haven't heard of garlic scapes before you are really missing out! Garlic scapes are the flower stock sent up by garlic plants in the early summer.
These need to be cut off to help the garlic put its energy into growing a larger bulb. The side benefit is you get to harvest these scapes before the normal garlic harvest is ready.
If you are growing your own garlic then you should have lots to pick from but if you aren't, then make sure to check local farmers markets and stock up.
Garlic scapes are only available for a few weeks in the summer but freeze and dehydrate very well to use in recipes later.
They taste just like garlic but have a spicer taste when eaten raw. More mature scapes will have a stronger taste then smaller scapes so keep that in mind when cooking.
If you want a milder tasting pesto you can add some basil or spinach leaves to lower the zest while still having a great garlic flavor.
How To Make Garlic Scape Pesto
To make garlic scape pesto you will need 10 garlic scapes.
You can just put them whole into your food processor after removing the flowers and pulse them up. But I find it much easier to cut them into pieces about 1 inch long first.
Add the salt and pepper to the food processor and pulse it for about 30 seconds or until the scapes are the consistency you like.
Stop to scrape the sides down as needed.
Then slowly drizzle in the olive oil while your food processor runs on low.
Add the parmesan cheese and pulse just long enough to combine.
How does this pesto taste? It's amazing! A little spicy, with a creamy texture that will give any recipe a unique wow factor.
How To Store Garlic Scape Pesto
Pesto only takes a few minutes to make so I love making it fresh in the summer. It will keep for 5 to 7 days in your refrigerator.
If you need to store pesto for a long time then make sure to freeze it instead.
Can You Freeze Garlic Scape Pesto?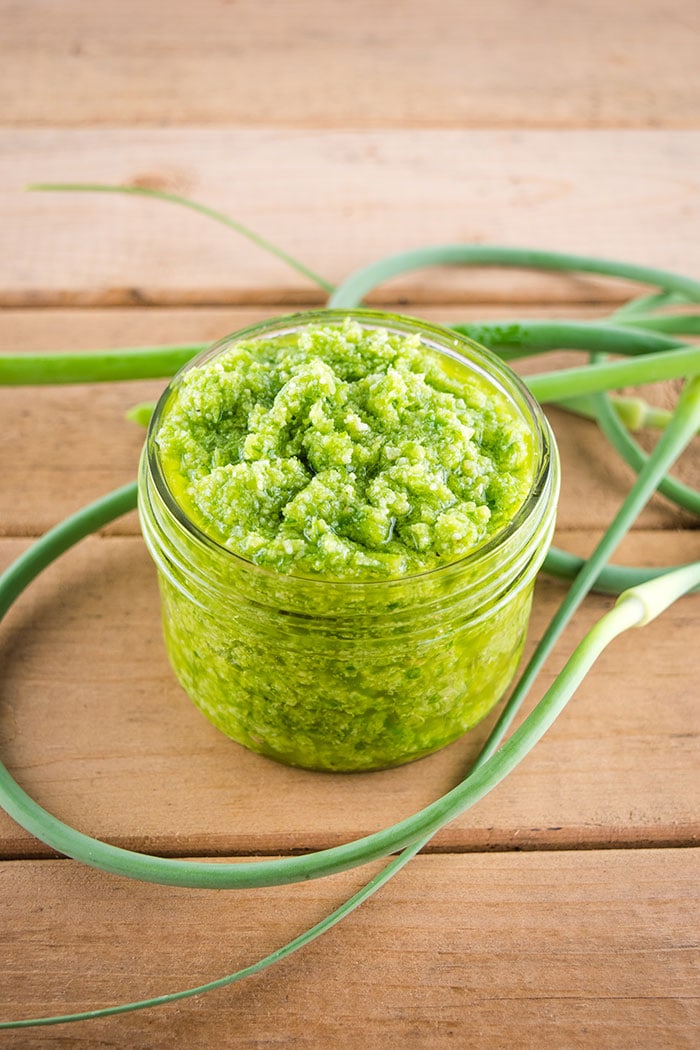 Yes, you can! Pesto is very easy to freeze and there are 2 easy ways to freeze homemade pesto.
First, you can pour the pesto into ice cube trays and place them into the freezer. After they have frozen pop them out of the tray and place them into freezer bags.
Another easy way to freeze your pesto is to simply pour it into plastic freezer bags, press out the air and spread the pesto flat through the bag.
Lay it on its side in the freezer. Then when needed just break off the amount you need.
How To Use Garlic Scape Pesto
You can use garlic scape pesto in any recipe that would call for traditional basil pesto.
Use it as a pasta sauce
A replacement for pizza sauce
Add it to your salad dressing
Add it to your bread dough
Use it as a sandwich spread
Top your eggs with a little pesto
Use it as a meat seasoning rub
Add a little to soups
Don't let summer go by without making some of this yummy pesto sauce to enjoy. But if you are in a hurry don't worry you can make this sauce from frozen scapes too.
Yield: 1 cup
Garlic Scape Pesto Recipe (Nut Free)
5 minute garlic scape pesto made with garlic scapes, olive oil, parmesan cheese, and a little salt and pepper. This easy pesto recipe adds a lot of flavor to your meals and freezes really well too!
Ingredients
10 garlic scapes, about 1 cup cut
1/4 tsp salt
1/8 tsp pepper
2/3 cup olive oil
1/4 cup parmesan cheese
Instructions
Wash remove the flower ends on the stock by cutting just below it.
Cut the garlic scapes into sections about 1 inch long. This is an optional step but makes blending them easier.
Place the garlic scapes, salt, and pepper into the bowl of your food processor and pulse for 30 seconds.
Slowly drizzle the olive oil in as you run the food processor on low.
Add in the parmesan cheese and pulse just enough to mix together well.
Use the pesto right away or store in the refrigerator or freezer.
Nutrition Information:
Yield:
8
Serving Size:
1
Amount Per Serving:
Calories:

179
Total Fat:

19g
Saturated Fat:

3g
Trans Fat:

0g
Unsaturated Fat:

15g
Cholesterol:

3mg
Sodium:

130mg
Carbohydrates:

2g
Fiber:

0g
Sugar:

0g
Protein:

1g
Nutrition information isn't always accurate, this information is for informational purposes only please consult a nutritionist for more information and guidance.
Don't forget to pin this for later!
Connect With Homestead Acres!
Be sure to follow me on social media, so you never miss a post!
Facebook | Twitter | Pinterest | Twitter
Visit my Amazon store to find all my favorite gardening, homesteading tools, and gadgets plus all of my printed garden books and journals!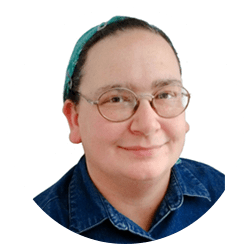 Kim Mills is a homeschooling mom of 6 and lives on an urban homestead in Ontario, Canada. Blogging at Homestead Acres she enjoys sharing tips to help you save money, grow and preserve your own food.