This post may contain affiliate links, my full disclosure can be read here. As an Amazon Associate I earn from qualifying purchases.
One of my of my favourite parts of the holiday season is baking cookies with my children. These soft and chewy ginger molasses cookies are one of their favorites we just have to bake every year.
Shhh, the truth is I'll make them up any time of the year not just around the holidays because I love them so much. But as the cold fall and winter weather moves in what is more perfect than a warm ginger molasses cookie?

Soft and Chewy Ginger Molasses Cookies
Since this cookie dough doesn't need to be chilled before baking you can enjoy your ginger molasses cookies in 20 minutes. I love using quick and easy recipes when I have a pack of hungry children lurking in my kitchen!
Ok, to get started you'll want to set your oven to 375F and line your baking pans with a baking mat or parchment paper set them aside until later.
Add the softened butter to your mixer bowl and beat your butter for about 30 seconds. Then add your sugar and continue to beat the mixture until it's nice and light and fluffy.
This takes about 3 minutes in my mixer. Then add the eggs and molasses and beat on low until it's just combined.
In another bowl combine the flour, baking soda, salt, cinnamon, nutmeg, and ginger and stir to blend them well. Slowly add the dry ingredients to your molasses mixture and beat on low until it's all combined.
In a small bowl add a 1/4 cup of sugar to roll the cookie dough balls in.
Form your molasses cookie dough balls with 1 to 1 1/2 tablespoons of dough. This is easiest using a cookie scoop.
Roll the cookies in the white sugar and place them 2 inches apart on a baking pan. Bake for 10 minutes or until done.
Family Favourite Molasses Cookies
These soft and chewy ginger molasses cookies are a must on our Christmas baking platters every year, right alongside our snickerdoodles.
I love that these cookies are just so easy to make! While many cookie doughs you need to chill before baking this isn't one of them.
When we have company coming or my children (ahem or me) start craving cookies we can have these ready in just 20 minutes. Then curl up with some cookies, homemade hot chocolate, and a good movie and we are all set to enjoy an afternoon.
Yield: 24 cookies
Soft And Chewy Ginger Molasses Cookies
These soft and chewy ginger molasses cookies are the perfect holiday cookie! With a slight crunch on the outside from the sugar coating, they are soft and chewy in the middle. Quick and easy to make, no need to chill the dough first.
Ingredients
3/4 cup butter, softened
1 cup white sugar
1/2 cup molasses
1 large egg
2 cups flour
1 tsp. baking soda
1 tsp. ground cinnamon
1/2 tsp. ground ginger
1/4 tsp. ground nutmeg
1/2 tsp. salt
1/4 cup white sugar
Instructions
Preheat your oven to 375F.
Line your baking sheets with parchment paper and set aside.
In a mixing bowl beat the softened butter for 30 seconds with your mixer. Then add the sugar and beat until light and fluffy, about 2 - 3 minutes.
Add the eggs and molasses to the butter/sugar mixture and beat on low until just combined.
In a separate bowl mix together the flour, baking soda, salt, cinnamon, ginger and nutmeg. Slowly add the dry ingredients to the molasses mixture while beating on low, mix until just combined.
Add the 1/4 cup of white sugar into a small bowl to roll the cookie dough in.
Form the cookie balls with 1 1/2 inches of dough and roll in the white sugar.
Place on the baking sheets 2 inches apart.
Bake at 375F for 10 minutes.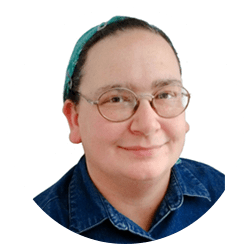 Kim Mills is a homeschooling mom of 6 and lives on an urban homestead in Ontario, Canada. Blogging at Homestead Acres she enjoys sharing tips to help you save money, grow and preserve your own food.