This post may contain affiliate links, my full disclosure can be read here. As an Amazon Associate I earn from qualifying purchases.
Looking for an easy way to preserve sweet corn? Learn how to freeze corn to enjoy that homegrown taste throughout the year.
Summer just isn't summer until the fresh corn is ready I always grow lots of sweet corn in our garden just so we can put it up for the winter. Preserving corn to enjoy in the winter is so worthwhile to get that wonderful flavor.
While canning corn is easy to do, I always like to freeze lots too because I simply enjoy the flavor frozen corn has over canned corn. It has a fresher taste to me and is still quick and easy to add too many recipes.
If you agree, then you'll be really glad to find out that freezing corn is actually very easy!
Supplies
How To Freeze Corn
Step 1. Shuck The Corn
Select fresh corn on the cob as it will be sweeter than corn that was picked days ago.
Then start by removing the corn husk and try to get off as much silk as possible.
Step 2. Blanch
While your corn is being husked, fill a large stockpot or blancher with water and bring it to a boil.
Using tongs place 3 to 5 cobs of corn at a time into the boiling water for 5 to 6 minutes depending on the size of the cob. If you have really large ears of corn you can go up to 7 minutes.
You don't have to wait for the water to return to a full boil, start timing right away so you don't overcook the corn.
Step 3. Cool
As soon as your timer goes off, remove the corn cobs from the boiling water and place them in a sink or bowl of ice water.
This starts to immediately cool the corn and stops the cooking process.
Let the corn stay in the water for at least 2 minutes. Keep an eye on the water temperature and add more cold water or ice as it warms up.
You want the water to stay cold so that the corn doesn't overcook while it's waiting to be packaged.
Step 4. Cut The Kernels From The Cob
Once the cobs have cooled you can start cutting the kernels off.
You can simply hold the cob on a cutting board and use a knife to slice off the corn kernels. But my favorite way is to use a bundt cake pan.
The hole in the center is perfect for holding the corn cob. Then carefully use a knife to slice the kernels off. They fall down into the cake pan making them very easy to measure out for freezing later.
Another way is to use a tool called a corn stripper. These are very handy if you are putting up a lot of corn.
They fit around the corn cob and you squeeze it tight then push it down and the blade cuts the corn from the cob.
They are very handy if you are doing large amounts of corn every year.
With any method, you are using be careful not to cut too deep or you'll end up cutting parts of the cob. I find cutting deep enough to get 3/4 of the kernel works well.
Step 5. Freeze
Measure the corn out into portions you like to use, I normally use 2 cup measurements. Then place into freezer bags.
Remove as much air as possible and seal or use a vacuum sealer for long-term storage. Then label and date the bags, this is really important so that you can keep rotating your food storage.
When you are finished packaging up your sweet corn, place the bags into the freezer in a single layer. This will help your corn to freeze quickly.
It should be fully frozen by the next day then you can stack the bags in your freezer to save space.
How Long Does Frozen Corn Last In The Freezer?
Frozen corn normally keeps well in the freezer for 8 to 12 months. After that, it can start to lose flavor.
How your corn is packaged will also have a big factor in how long it lasts. Try to make sure the bags have as much air removed as possible to help prevent freezer burn.
Can You Freeze Corn Kernels Without Blanching?
Technically yes, you can freeze corn kernels without blanching them first. But blanching helps to preserve the flavor and texture of the corn when it is frozen.
It's also much easier to cut the kernels off the cob after you've blanched them.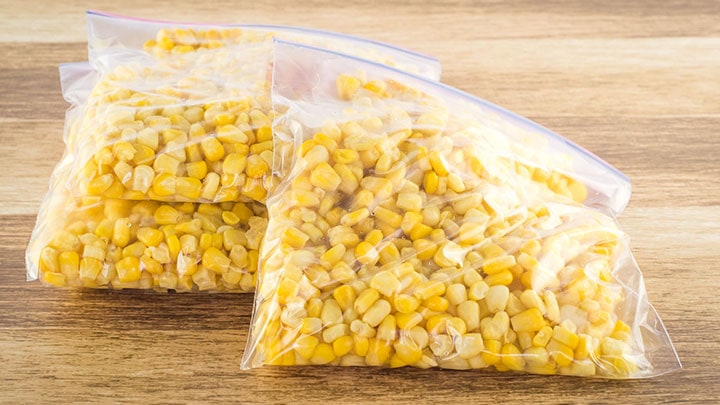 If you want to preserve the taste of sweet corn to enjoy all year you must learn how to freeze corn! Freezing corn is easy and keeps the sweet, fresh tastes of corn so that you'll love adding it to your recipes or using it as a quick dinner sidedish.
Instructions
Select fresh corn on the cob ideally as soon as possible after harvesting.
Remove the husks and silk from the cobs.
Bring a large stockpot of water to a boil. Then using tongs place 3 to 5 cobs into the boiling water. Cook for 5 to 6 minutes, start timing from when the cobs first go into the pot.
Remove the cobs and place them into ice water to cool, add more ice to the water as it warms up. Continue until you have blanched all of your corn.
Cut the corn off the cob and measure into portions and place into a freezer bag. Remove as much air as possible or vacuum seal, label, and date the bags of corn.
Place the bags into your freezer in a single layer and leave until frozen, about 24 hours. Then stack the bags in your freezer to save space.
Connect With Homestead Acres!
Be sure to follow me on social media, so you never miss a post!
Facebook | Twitter | Pinterest | Twitter
Visit my Amazon store to find all my favorite gardening, homesteading tools, and gadgets plus all of my printed garden books and journals!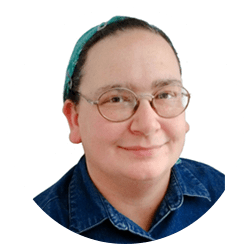 Kim Mills is a homeschooling mom of 6 and lives on an urban homestead in Ontario, Canada. Blogging at Homestead Acres she enjoys sharing tips to help you save money, grow and preserve your own food.