This post may contain affiliate links, my full disclosure can be read here. As an Amazon Associate I earn from qualifying purchases.
Looking for a way to use up your chive flowers? Try chive blossom vinegar is so easy to make and tastes amazing. You'll want to add this to your food preservation plans every spring.
There are so many ways to use chives but one of my favorites is to make chive blossom vinegar.
Chive plants start to flower in the late spring to early summer, and this is the only time of year that you can get fresh chive flowers. So I try to make the most of this time by harvesting the blossoms often.
One of the simplest ways to preserve chives is to make chive blossom vinegar. It really is as simple as picking and cleaning some flowers and steeping them in vinegar.
But the results taste oh so good! If you love the mild onion flavor of chives, you'll love having homemade chive flower vinegar on hand. It's great for making salad dressings and other tasty recipes.
How To Make Chive Blossom Vinegar
You'll Need:
3 cups white vinegar
2 cups chive blossoms
1-quart mason jar and lid
Step 1. Gather The Blossoms
Pick 2 cups of chive blossoms from your plants. You'll want nice, healthy flowers without any damage.
Look for blooms that are fully open but haven't started to dry out or fade in color yet. These flowers will have the strongest flavor.
Step 2. Clean The Flowers
After picking you'll want to rinse them in cool water.
The easiest way to do this is to place the flowers into a medium-sized bowl and cover them with cool water. Let it sit for a few minutes and then swish the flowers around.
This will help to remove any dirt or little bugs that can hide in flowers.
Spread the flowers out onto a dish towel to dry don't forget to pat the top of the flowers to remove water from both sides of the blossoms.
Step 3. Steep The Blossoms
When the blossoms are dry pack them into your quart mason jar. It should fill the jar up to between 1/2 and 2/3's full.
Heat the vinegar in a saucepan over medium heat until it's hot but not boiling.
Then pour the warm vinegar over the chive blossoms. Stir the flowers to mix them together well.
Place the lid on the jar and set it in a cool, dark place for 2 weeks to let the flowers steep. The vinegar will start to turn a beautiful pink or purple color.
Step 4. Store The Vinegar
After 2 weeks strain the vinegar and remove the blossoms. Store the finished chive blossom vinegar in a jar or bottle out of direct light in your cupboard. The spent blossoms can be added to your compost pile.
It should last for months but the color may fade if exposed to light.
How To Use Chive Blossom Vinegar
You can use chive blossom vinegar in any recipe that you would like to add a mild onion flavor to. Try using it to make salad dressings, marinades, or even add it to your potato salad.
Can I Use Other Kinds Of Vinegar?
Yes, I normally use white vinegar but white wine vinegar would also work well. You'll want to avoid using vinegar that has a strong flavor like apple cider vinegar because it would overpower the onion flavor of the chives.
Do I Have To Steep It For 2 Weeks?
No, you can use the chive vinegar sooner. But cutting the steeping time too short can lower the intensity of the chive flavor. I would let the blossoms steep for at least 3 or 4 days but the full 2 weeks gives a better result.
Can I Make A Larger Or Smaller Batch?
Yes, of course! You can cut the recipe in half or double or triple the recipe if you have enough chive blossoms. Either use a larger half-gallon or gallon jar or split it into multiple quart jars.
This recipe is very forgiving you can add more or less flowers to get the flavor you like.
Looking for more ways to use up chive flowers? Don't miss this easy chive blossom butter recipe!
Yield: 3 cups
Chive Blossom Vinegar Recipe
You'll love this easy chive blossom vinegar recipe. It's really so simple to make and a great way to preserve chive blossoms to enjoy later in the year.
Ingredients
3 cups white vinegar
2 cups chive blossoms
Instructions
Pick chive blossoms from a clean area.
Soak and rinse the blossoms to remove any dust or bugs. Then lay the blossoms onto a dish towel or to dry.
Add the chive flowers to your quart mason jar, it should be about 2/3's full.
Heat the vinegar in a saucepan until it's warm but not boiling. Then pour it over the flowers and stir.
Place a lid on the mason jar and store in a cool, dark place for 2 weeks to let the flowers steep.
When finished strain out the blossoms and pour the vinegar into a clean jar or bottle. Store in a cool, dark place.
Connect With Homestead Acres!
Be sure to follow me on social media, so you never miss a post!
Facebook | Twitter | Pinterest | Twitter
Visit my Amazon store to find all my favorite gardening, homesteading tools, and gadgets plus all of my printed garden books and journals!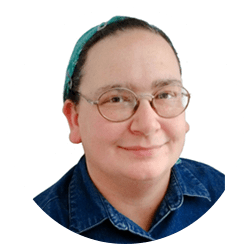 Kim Mills is a homeschooling mom of 6 and lives on an urban homestead in Ontario, Canada. Blogging at Homestead Acres she enjoys sharing tips to help you save money, grow and preserve your own food.