This post may contain affiliate links, my full disclosure can be read here. As an Amazon Associate I earn from qualifying purchases.
How to grow beets for fresh eating, freezing, and canning. If you love beets then you must try growing your own! Fresh, homegrown beets taste so much better then what you normally find for sale in stores.
Beets have always been one of my favorite vegetables, I can still remember snacking on my grandma's homemade pickled beets as a child.
Beets are a great vegetable to grow in your garden if you want a fast harvest.
With some varieties ready to pick in just 50 days that's a great way to grow food quickly for your family.
Don't forget that the beet leaves are also edible and can be picked and used just like swiss chard giving you an even earlier harvest.
How To Grow Beets
When To Start
Beets are a cold-hardy root vegetable that can be grown and enjoyed for most of the year.
You can direct seed beets 6 to 8 weeks before your last spring frost as long as you are providing protection from the cold and frost. This can be a simple cold frame, hoop tunnel or even a greenhouse.
If you can't provide extra protection the wait to direct sow in the garden until 3 to 4 weeks before your last spring frost.
You can continue sowing new plantings every 3 weeks through your growing season for a continuous harvest of fresh beets.
Planting
Once your soil can be worked in the spring or when then soil temperature is above 45 F (7 C) is a good time to start sowing beet seeds.
Plant the seeds 1 inch apart and about 1/2 inch (1.27 cm) deep. How wide you space the rows will depend on what gardening method you use.
If you need room to use a tiller then you'll want to go with 18 inches (45.72 cm) or wider. If you are weeding by hand then 1 foot (30.48 cm) can be enough room.
If you are using wide bed garden methods you can space multiple rows 6 inches (15.24 cm) apart with great results.
Each beet seed is actually a little cluster of multiple seeds. Sometimes only one will germinate but often they all will, so you'll need to thin the seedlings.
Wait until they have grown 2 to 4 inches (5.08 to 10.16 cm) tall and thin them to be 3 inches (7.62 cm) apart. You can simply pull out the weakest plants or cut them off at ground level with scissors.
Fertilizing And Watering
Beets will grow best when they have consistent watering. Make sure that they get 1 inch (2.54 cm) of water each week between rainfall and supplemental watering.
Adding a layer of straw or wood chip mulch will help to lock in the moisture in between waterings.
Beets are easy to grow but are heavy feeders so need good fertilizing to yield well.
You'll want to balance between the plants need for nitrogen and phosphorus for good results.
We've had the best success by topping our garden beds with 1 to 2 inches (2.54 to 5.08 cm) of good quality compost each fall.
This provides a good amount of nitrogen for healthy top growth as well as adding lots of organic matter to the soil.
If a soil test shows your garden soil is low in phosphorus you can add bone meal or rock dust to your soil to boost it naturally.
Harvesting
You can start harvesting beets when the roots reach 1 inch (2.54 cm) wide, at this stage they are called baby beets and are very sweet and tender.
Start by pulling every other beet leaving the remaining ones to continue growing to full size, this is normally when they reach 1 1/2 to 3 inches (3.81 to 7.62 cm) wide.
But it does, of course, depend on the variety of beet that you are growing.
Most varieties of beets grown past there maturity will tasty woody and tough. So make sure you harvest them on time.
To keep them from bleeding when cooking, make sure to leave about an inch of stem on after harvest.
Varieties Of Beets
Winterkeeper Lutz
Most beets get tough when they've grown past maturity. The one exception I've personally found to this is a variety called winterkeeper lutz, also called lutz green leaf.
It's a type of beet that says tender no matter what size it's harvested at. It's one of my long time favorite!
Early Wonder (50 days)
Sometimes called early wonder tall top, this variety was developed to provide great yields of beet greens early in the season. But it also gives you quick-growing beetroots that are super sweet.
Detroit Dark Red (60 days)
This classic heirloom beet produces dark red, round beets that are nice and sweet. Also good for beet greens, this variety is an old-time favorite for canning and pickling.
Cylindra (50 to 70 days)
Not all beets are round! If you are looking for something different then give cylindra beets a try.
These grow long roots up to 8 inches in a cylinder shape making each slice pretty much the same size. They can be planted closer together than most beets so a good way to save space in the garden.
With just a little care beets can produce a lot of food for you in your backyard garden. Try roasting beets for the sweetest and easiest way to prepare them.
How to grow beets for fresh eating, freezing, and canning. Do you love beets? Then you must try growing your own! Fresh, homegrown beets taste so much better then what you normally find for sale in stores. So save money this year and grow amazing tasting beets right in your own backyard.
Tools
Hoe
Shovel
String line or planting grid (optional)
Instructions
Prepare your garden bed before planting by removing any weeds and adding 1-2 inches of good quality compost.
Plant beet seeds 1 inch apart and 1/2 inch deep.
Space the rows by the gardening method you are using. If tilling leave 18 inches or more between rows, for hand weeding 12 inches is enough. For planting in wide rows use a 6 inch spacing in all directions.
When the beets have grown to 2-4 inches tall thin them to be 3 inches apart.
Keep the ground evenly moist but not soggy, providing 1 inch of water each week if you haven't had enough rainfall.
Start harvesting beets when they are 1 inch wide for baby beets. Harvest every other beet in the row making room for the remaining ones to finish growing to full size.
Connect With Homestead Acres!
Be sure to follow me on social media, so you never miss a post!
Facebook | Twitter | Pinterest | Twitter
Visit my Amazon store to find all my favorite gardening, homesteading tools, and gadgets plus all of my printed garden books and journals!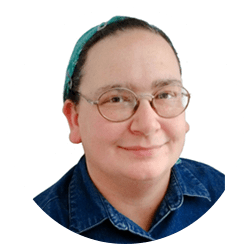 Kim Mills is a homeschooling mom of 6 and lives on an urban homestead in Ontario, Canada. Blogging at Homestead Acres she enjoys sharing tips to help you save money, grow and preserve your own food.