This post may contain affiliate links, my full disclosure can be read here.
Learn how to start your own money making blog!
Pickled beets have always been one of my favourite pickles.  I can remember back to when I was a very little girl watching my Nana make her pickled beets every summer.  Really, pickled beets were a staple in our home and we enjoyed them with many meals.  They are great as a side to a sandwich, a cold plate supper or right alongside a roast dinner.
Do you love beets?  Sadly I'm the only one in our family that loves beets.  Well, maybe I shouldn't say sadly it means more for me!
Making pickled beets is really easy and I've made my Nana's recipe every year since I was a little girl.  I hope you love it as much as I do.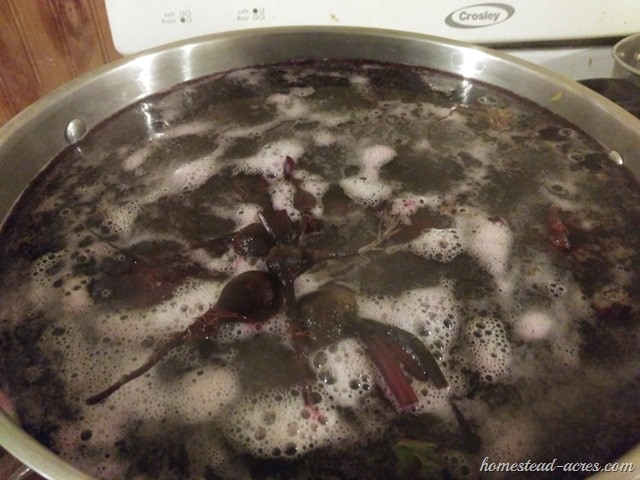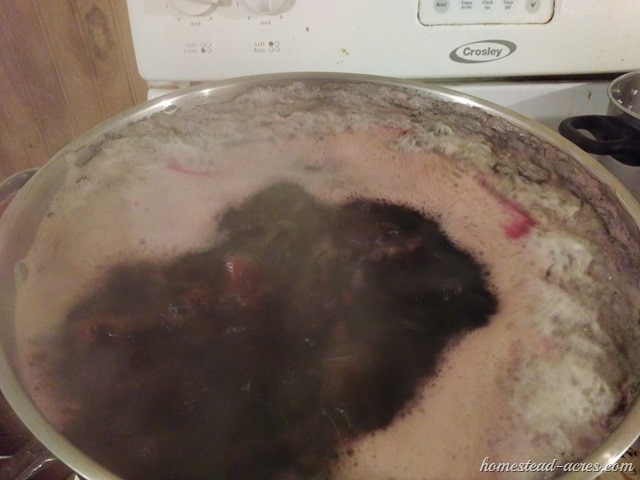 To start with you will need about 30 beets.  Wash them well and cut off the stems leaving about an inch of stem on the beet.  If you cut all of the stem off the beet will bleed its colour out.  Then place your beets into a large stock pot and cover with water.  Bring the water to a boil and cook until the beets are tender, about 25 to 30 minutes.
Drain the beets and let them sit until cool enough to handle.  Then simply pinch the skins and stems off.  Most of the time these just slip off very easily but once and a while on a larger beet you'll have some rougher patches.   You can scrub these a little harder or just use a knife to carefully trim it off.
In each pint size jar place salt, cloves, berries, and cinnamon.  Then cut larger beets into 1/4 inch slices and pack into your jars, small beets can be left whole.
In a large pot combine the water, vinegar, and sugar and bring it to a boil.  Pour this brine over your beets making sure to leave 1/2 inch of headroom.
Run a spatula around the edge of the jar to release air bubble then wipe the jar rim clean.  Place the lids on and process them in your water bath canner for 30 minutes for pints or 35 minutes for quarts or according to your altitude.
When the time is up removed the jars from the canner and set them on a towel and leave them to sit for 24 hours so the seal can set.  Any jars that have not sealed after 24 hours need to be reprocessed or placed into the fridge.  Let your pickled beets sit for 6 weeks before opening to develop the best flavour.
Don't miss my step by step video to see just how easy it is to make your own pickled beets!
Print
Pickled Beets
Author:
Prep Time:

00:30

Cook Time:

00:30

Total Time:

1 hour

Yield:

8 pints
Ingredients
30 beets (approx.)
2/3 cups water
4 cups sugar
4 cups vinegar
1/2 tsp pickling salt per jar
1/2 a cinnamon stick per jar
4 whole cloves per jar
2 allspice berries
Instructions
Wash beets and cut tops off leaving 1 inch of stem on. Place in a large pot and cover with water and boil until tender.
Drain and let cool until comfortable enough to handle. Slip stem and skins off.
Slice into 1/4 inch rounds, or leave whole if small.
Add salt, cloves, berries and cinnamon into each jar then fill each jar with sliced beets.
Combine water, sugar and vinegar and bring to a boil. Pour over beets, leaving 1/2 inch head space.
Run a spatula around the edge of the jar to release air bubbles, wipe the jar rims clean, add lids and process in a water bath canner for 30 min for pints 35 min for quarts.
Let sit for 6 weeks for flavor to fully absorbed.
Kim Mills is a homeschooling mom of 6 and lives on an urban homestead in Ontario, Canada. Blogging at Homestead Acres she enjoys sharing tips to help you save money, grow and preserve your own food.