This post may contain affiliate links, my full disclosure can be read here. As an Amazon Associate I earn from qualifying purchases.
How to make mini pinecone wreath ornaments for your Christmas tree! This simple pinecone craft is so easy to make and perfect for your rustic farmhouse style holiday decor. Topped with homemade faux snow they sparkle as real snow does on a bright moonlight night.
Of all the different holiday decorations you can make I have always loved rustic ornaments that use natural materials.
We've been busy making lots of new ornaments for our Christmas tree this year and just had to share this easy craft idea with you!
These miniature pinecone wreaths only need 6 small pinecones to make each one.
Luckily we are surrounded by pine trees and have many bags of cones collected for making decorations.
But don't worry this Christmas craft idea is so cheap to make even if you don't have free pinecones. You can pick up bags of pinecones cheap that have been cleaned and preserved to make crafting easy.
How To Make Mini Pinecone Wreath Ornaments
Supplies
Step 1. Gather Your Pinecones
The very first thing you'll want to do is select your pinecones. Each wreath will need 6 little pinecones. For making a mini wreath you'll want small pinecones, I like to use ones about 1 to 1 1/2 inches long.
You can buy bags of pinecones that are ready for crafting or if you have access to pine trees make sure to collect and save your own in the fall.
Step 2. Make A Wreath
Place 2 pinecones next to each other and line them up so the inside ends are as even as possible. The edges of the pinecones will just be touching slightly.
Place a dot of hot glue where the 2 pinecones touch and hold them together for a few seconds until they are dry.
Then continue adding the remaining pinecones until you have formed a circle.
Step 3. Add Support
Turn the wreath over and add a little extra hot glue in between the pinecones. Try to do a thin strip if possible so it's less likely to be seen on the front.
Let the glue set and then turn the wreath right side up.
Step 5. Make Homemade Snow
While your wreaths are drying let's get the faux snow-ready. Don't worry this step is so easy to do but really makes the little wreath ornaments sparkle.
Take 1 cup of epsom salts and 1-3 tablespoons of silver glitter and mix them together well. Don't worry about having too much, it stores in an airtight container really well.
Step 4. Make Your Wreaths Snowy
Now it's time to start making the wreaths pretty!
Using a small paintbrush dab the ends of the pinecones with white chalk paint. You could also use a tacky glue but I like to use paint because if any shows through the faux snow it still looks pretty.
If you can see any of the hot glue around the pinecones make sure to cover them in paint as well.
Before the paint dries sprinkle the faux snow over top of the pinecones. It will easily stick to the wet paint and look like little puffs of snow sitting on the tips of the pinecones.
Step. 5 Add A Hanger
Finally, decide how you would like to hang up the ornaments. A sparkly gold or red ribbon looks very pretty, but I decided to go with simple rustic twine.
Whatever you decide to use cut a length long enough to loop through the wreath and easily tie.
I loved how these cute little pinecone wreath ornaments turned out! They'll look so pretty hanging from your Christmas tree.
Yield: 1
How To Make Mini Pinecone Wreath Ornaments
Learn how to make mini pinecone wreath ornaments for your Christmas tree! You'll love this simple pinecone craft, it's so easy to make and perfect for your rustic farmhouse style holiday decor. Topped with homemade faux snow they sparkle like real snow does on a bright moonlight night.
Instructions
In a plastic container combine the epsom salts and glitter. Stir well to combine and set aside.
Glue 2 pinecones together so the edges are just touching and the inside edges are even. Continue to add pinecones until you have made a circle of 6 small pinecones.
Turn the wreath over and add some extra hot glue in between the cones on the back to help hold them securly.
Paint the tips of the pinecones with white paint to look like they have been just coated in fresh snow.
While the paint is still wet sprinkle the wreath with the faux snow so that it sticks to the paint.
Make a simple twine or ribbon bow as a hanger for your mini wreath ornament.
Notes
The homemade faux snow mix makes enough to coat many wreath ornaments. If you have extra store it in an airtight container until needed.
If desired you can spray the wreaths with polyurethane to keep the faux snow from falling off.
More Easy Rustic Christmas Ideas
Connect With Homestead Acres!
Be sure to follow me on social media, so you never miss a post!
Facebook | Twitter | Pinterest | Twitter
Visit my Amazon store to find all my favorite gardening, homesteading tools, and gadgets plus all of my printed garden books and journals!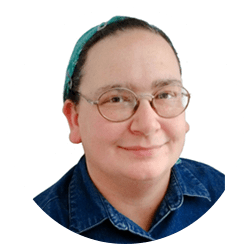 Kim Mills is a homeschooling mom of 6 and lives on an urban homestead in Ontario, Canada. Blogging at Homestead Acres she enjoys sharing tips to help you save money, grow and preserve your own food.