This post may contain affiliate links, my full disclosure can be read here. As an Amazon Associate I earn from qualifying purchases.
How to make pumpkin puree from scratch to use in your favorite pumpkin recipes. Homemade pumpkin puree tastes amazing and is a must make if you love the rich flavors of fall.
Making your own puree is so easy you'll wonder why you didn't start doing it sooner. With only one ingredient, the pumpkin, this no-fuss recipe requires little work and can be used in so many ways.
You can also make pumpkin puree ahead of time too and keep it in your fridge for up to a week or freeze for months.
What Is Pumpkin Puree?
Pumpkin puree is simply pumpkin that has been cooked and blended until smooth. It's normally unseasoned and the same as what you would find in the store called canned pumpkin, except that homemade pumpkin puree tastes so much better.
Compared to canned pumpkin that you can buy you'll find the color is more of a bright yellow than a dark orange.
What Type Of Pumpkins Should You Use?
The best pumpkins for making puree are pie pumpkins. These have been developed to have a sweeter taste than the large field pumpkins that are often used as decorations.
These pie pumpkins are often called sugar pumpkins. Look for ones that are solid orange color without green spots so that you know they are fully ripe.
How Many Pumpkins Do You Need?
An average-sized pie pumpkin weighing 3 1/2 pounds (1.5 kg) will give you approximately 2 1/2 cups of puree.
How to Make Pumpkin Puree
1. Prepare Pumpkins
Start by washing and drying your pie pumpkins. The next step is to cut the pumpkin in half and this is pretty easy with small pie pumpkins.
If your pumpkin doesn't sit stably on your table you can slice a small piece off the bottom so it does. This will make it easier to hold still as you cut it in half.
Then using a heavy chefs knife press it straight down into the pumpkin near the top of the stem. Then push it down through the side to the bottom of the pumpkin.
Make sure to hold the pumpkin steady and keep your fingers out of the way.
Turn the pumpkin and cut from the stem to the bottom on the other side again, making sure you cut through the bottom all the way.
The stem is almost always too hard to cut through, so the easiest way to open your pumpkin is from the bottom.
Place your fingers inside the bottom of the pumpkin and pull the halves open. This will cause the stem to separate from the pumpkin most of the time. But if a little remains you can just cut a slice off the top.
2. Remove Seeds And Pulp
Turn the pumpkin halves face side up and scoop out the pumpkin seeds and strings.
But don't toss out the seeds, just set them aside to make roasted pumpkin seeds with later.
3. Roast Pumpkins
Place the pumpkin halves cut side down in a roasting pan or baking sheet. To keep the pumpkin from sticking as it cooks it's a good idea to add water or parchment paper to the bottom of the pan first.
When using a roasting pan I prefer just to add a cup of water to the bottom, when I use a baking sheet parchment paper works great.
4. Scoop Out And Puree Cooked Pumpkin
Bake the pumpkins until the flesh is soft and you can easily cut through the skin and flesh with a knife or fork.
Remove them from the oven and let the pumpkins cool until you can handle it comfortably.
Scrape out the pumpkin flesh and blend it in your food processor until it's smooth.
It can be stored in your fridge for a week or frozen until you need it later.
How To Freeze Pumpkin Puree
If you've grown a lot of pie pumpkins or found a great deal at the store making up lots of pumpkin puree and freezing it is a perfect way to have yummy homemade pumpkin puree on hand for all your favorite recipes. It's really easy to do too!
Simply measure out a portion of puree and place it into a freezer bag. Press out as much air from the bag as possible and seal it almost closed.
With the bag laying flat press the pumpkin puree out to fill the bag, then seal the bag.
This will help them to lay flat and stack nicely in your freezer. Just remember to lay them flat until they are fully frozen and then you can move them around as you like.
You can freeze pumpkin puree in any measurements you like but I find 1 cup measurements fit perfectly into medium-sized freezer bags and makes it easy to pull just the right amount from the freezer when needed.
To use your frozen pumpkin puree remove it from the freezer the night before and let it thaw overnight in the fridge.
If you have a lot of water separate from the puree after thawing this can be drained off before using it.
How To Make Pumpkin Puree Without An Oven
Roasting pumpkins in the oven to make puree gives a great flavor but there are other ways to make puree without an oven.
Wash, cut, and peel your pumpkin and then cut it into chunks. Boil until the pumpkin is soft and then drain well before pureeing.
Wash, cut, and seed a pumpkin and place it into a slow cooker with 2 cups of water. Cook on low for 6 hours or until the flesh is tender.
Either way you decide to cook your pumpkin, having homemade puree on hand makes it easy to whip up your favorite pumpkin dessert recipes whenever you feel like a treat.
Want to try another fun way of preserving pumpkins? Try this easy tutorial on how to dehydrate pumpkins and make your own pumpkin powder!
Yield: 2 to 2 1/2 cups
How To Make Pumpkin Puree
Learn how to make pumpkin puree from scratch and you'll never go back to store-bought pumpkin again! Homemade pumpkin puree is so easy to make and filled with the flavor of fall. Make sure to freeze some so you can enjoy homemade pumpkin treats any time of the year.
Additional Time
15 minutes
Total Time
1 hour
15 minutes
Instructions
Preheat your oven to 350F
Wash and dry your pumpkin. If the bottom isn't even cut a small slice off so it sits stable on your cutting board.
Insert a heavy chef knife into the top along one side of the stem and cut downwards. Turn the pumpkin and repeat cutting from the top down on the other side.
Pull the pumpkin halves apart from the bottom, this should cause the stem to pop off. If any stem remains you can cut it off.
Scoop out the seeds and pulp, setting the seeds aside to roast later.
Place the pumpkin halves cut side down on a baking tray lined with parchment paper or a roasting pan with 1-2 cups of water in the bottom.
Roast for 45 to 60 minutes or until the pumpkin flesh is tender.
Remove from the oven and let sit until cool enough to handle.
Scoop out the pumpkin flesh and puree in a food processor until smooth.
Refrigerate for up to a week or freeze.

To Boil
Wash, cut, and peel your pumpkin.
Then cut it into chunks and place into a large saucepan filled with water.
Boil until the pumpkin is soft and then drain well before pureeing.
Slow Cooker Method
Wash, cut, and seed a pumpkin.
Place pumpkin halves into a slow cooker with 2 cups of water.
Cook on low for 6 hours or until the flesh is tender.
Freezing Instructions
Measure out puree into 1 cup portions and place it into a freezer bag.
Remove as much air as possible and close the bag 3/4 of the way. With the bag laying flat spread out the pumpkin puree inside it, then finish closing the bag.
Label and place them flat in your freezer until fully frozen. This makes them easy to stack in your freezer later.
Notes
A 3 1/2 pound (1.5 kg) pie pumpkin will yield approximately 2 1/2 cups of pumpkin puree.
Refrigerate pumpkin puree for up to a week or freeze for 6 months.
Pie pumpkins also called sugar pumpkins are the best choice for making homemade puree as they are sweeter than field pumpkins.
Roasting gives the pumpkin a richer flavor but boiling or using a slow cooker will work too.
Connect With Homestead Acres!
Be sure to follow me on social media, so you never miss a post!
Facebook | Twitter | Pinterest | Twitter
Visit my Amazon store to find all my favorite gardening, homesteading tools, and gadgets plus all of my printed garden books and journals!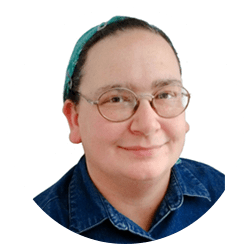 Kim Mills is a homeschooling mom of 6 and lives on an urban homestead in Ontario, Canada. Blogging at Homestead Acres she enjoys sharing tips to help you save money, grow and preserve your own food.