This post may contain affiliate links, my full disclosure can be read here. As an Amazon Associate I earn from qualifying purchases.
Mini Winter Hat Christmas Ornament – You will love these adorable mini yarn hat ornaments! They are so easy to make and look so cute hanging on your Christmas tree.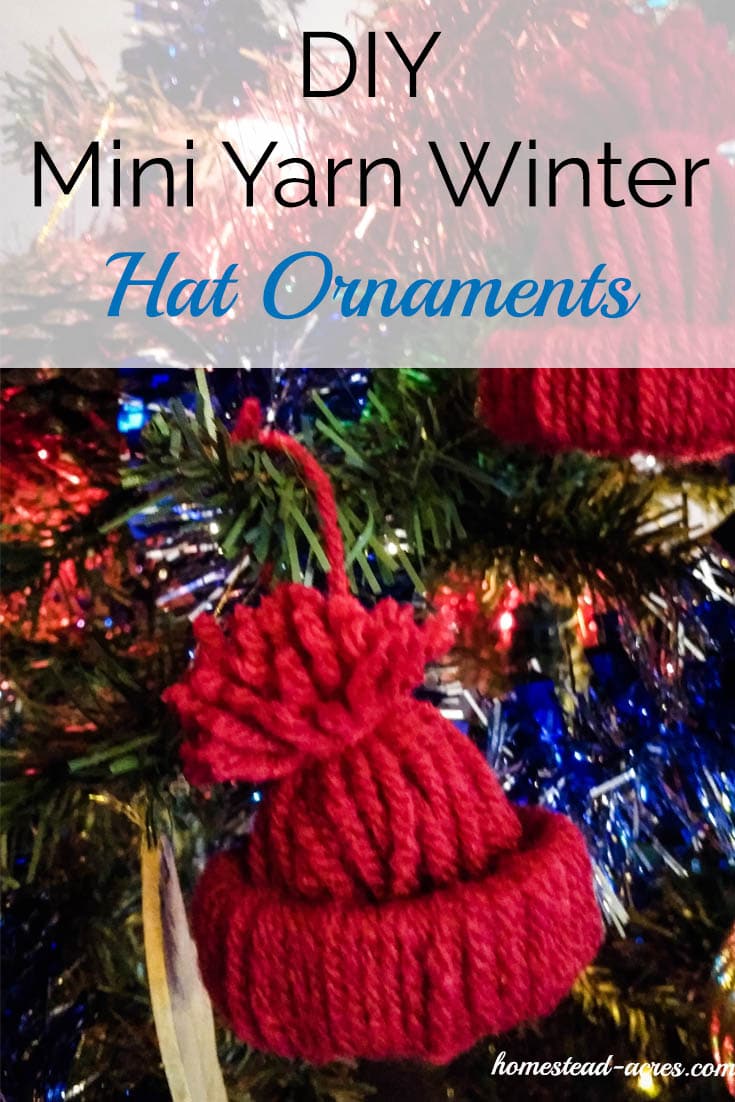 One of my favourite Christmas ornaments to make are mini yarn hat ornaments. I first learned how to make the cute little hats as a child and have many fond memories of making different colored hat ornaments to decorate our Christmas tree each year.
This year I've been teaching our kids how to make them and they've been having fun creating little hats in their favourite colors!
Supplies Needed:
| | |
| --- | --- |
| | |
| Red Heart Red Yarn | Red Heart Green Yarn |
You can use any type of yarn you like for this project. I prefer to use worsted weight yarn because I find it is fine enough to look pretty and still work up quickly.
How To Make A Mini Hat Ornament
To form the base of your mini winter hat ornaments you need to start with some paper tubes. You can use toilet paper tubes, paper towel tubes or even tubes from wrapping paper.
To make the tubes easier to cut flatten it first a little bit then cut the tube into sections about 1/2 an inch high.
Next, you will need to cut your lengths of yarn to about 10 inches in length. It's ok if the yarn is a little shorter or longer but you want to make sure all of the pieces are the same length.
The easiest way I have found to do this is to use a hardcover book and wrap the yarn around it. Then cut the yarn along the top and bottom edges of the book.

To start to form your mini hat ornament take a length of yarn and fold it in half so the ends are even. Place the looped end inside the tube.
Then bring the tail ends up over the outside edge.

Slip the tails through the loop and pull to tighten the yarn. Repeat this step until the tube is well covered with yarn.

Once your tube is well covered push the yarn strands down through the center of the tube. Straighten out the yarn tails so they are nice and even.


Now take another strand of yarn and wrap it around the top of the hat leaving about 1/2 an inch above it. Tie it tightly with a double knot.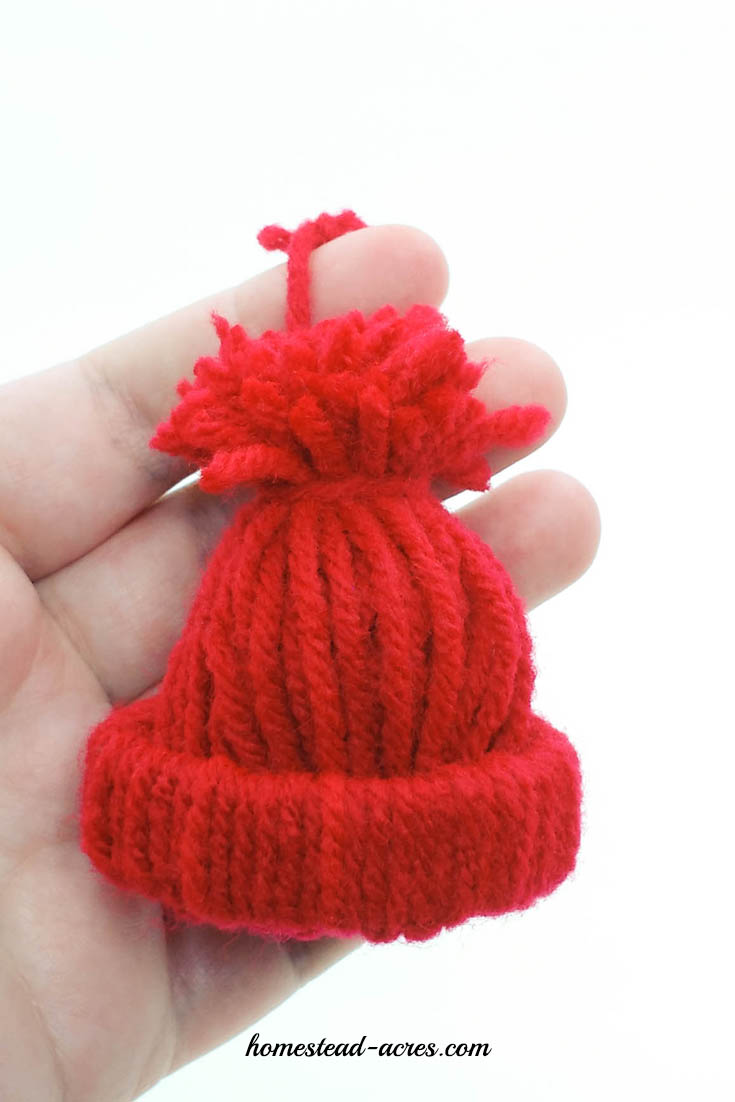 Trim the yarn on top to form a pom-pom shape.
To hang your ornament you can tie another knot at the end of the strand of yarn that you tied the top closed with if it's long enough.
If it's not you can tie a second string around the top just under the pompom as a hanger, or use a wire ornament hanger.
Step By Step Video Showing How To Make A Yarn Mini Hat Christmas Ornament
Looking for more easy to make ornaments for kids? Try these!
Button Christmas Wreath Ornament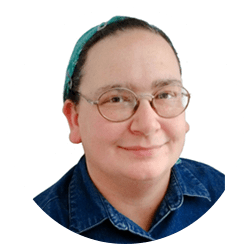 Kim Mills is a homeschooling mom of 6 and lives on an urban homestead in Ontario, Canada. Blogging at Homestead Acres she enjoys sharing tips to help you save money, grow and preserve your own food.