This post may contain affiliate links, my full disclosure can be read here. As an Amazon Associate I earn from qualifying purchases.
Rhubarb crisp is an easy dessert recipe that takes just a few minutes to make! This simple rhubarb recipe had become a family favorite for spring and summer desserts, with just the right balance of tart and sweet it's always a hit at BBQs.
I love making crisp recipes they are just as tasty as pies without all the hard work and time that goes into making them.
In the fall apple crisp is a staple dessert in our home but I love to cook in season. So come spring when our rhubarb plants start producing the tangy taste of rhubarb fills the kitchen.
In just a few minutes you can have a large pan of rhubarb crisp made and ready to bake with a tart fruit filling topped with a crisp buttery topping.
Ingredient Notes
To make this recipe you'll need:
Rhubarb – Fresh red or green rhubarb both have a similar flavor and the only real difference will be the color of your crisp. Remember the leaves are poisonous, only use the stocks. For making a 9×13 pan I like to use 9 cups of sliced rhubarb.
Flour – All-purpose flour works great in this recipe, I use 1/4 cup in the filling to help thicken the rhubarb juices as it bakes. Then 1 cup of flour for the topping. You can substitute whole wheat flour or your favorite gluten-free flour.
Oatmeal – A must-have for me in the topping is oatmeal. It really helps to give a nice crunch texture to the topping. I normally use large flake oats but quick oats will also work.
Brown sugar – 1 cup of brown sugar for the topping helps to give it a rich and sweet taste.
Granulated sugar – Rhubarb is a very tart plant that really needs some sugar added to it to balance it out. For this crisp, I use 1 2/3 cups white sugar in the filling. If you like your rhubarb more tart you can use less and if you like it sweeter try increasing it to 2 cups.
Butter – Butter is a must-have ingredient when making any crisp topping. It helps to give it that flaky, crunchy texture. I use 1 cup of salted butter in this topping.
You can use softened butter and cut it into the mix or you can melt it. I prefer to melt it and then mix it with the rest of the topping ingredients. This way it moistened the flour and helps to make a crunchier topping.
How To Make Rhubarb Crisp
Prepare Your Rhubarb
Wash your rhubarb and then slice it into 1/2 inch pieces. You will need about 9 cups of rhubarb. Normally there is no need to peel rhubarb but if your stalks are very thick peeling off the outer layer could be a good idea.
In a large mixing bowl combine the rhubarb, 1/4 cup of flour, and 1 3/4 cups of sugar and toss to coat the pieces well.
Pour into a 9×13 pan and set aside.
Make The Topping
In a medium-sized mixing bowl add 1 cup of flour, 1 cup of oats, and 1 cup of brown sugar. Add 1 cup of melted butter and stir until well mixed.
Bake
Spoon the topping mixture over the rhubarb and bake at 350F for 40 minutes or until the rhubarb is cooked and the top is light brown and crunchy.
Recipe FAQS
How do I know when my rhubarb crisp is done?
You want to bake it until the rhubarb is soft and the juices are bubbling. In my oven, this takes 40 minutes with fresh rhubarb.
Can I use frozen rhubarb for rhubarb crisp?
Yes, frozen rhubarb works great for making rhubarb crisp, you may need to add a few minutes to the baking time.
Frozen rhubarb can release a lot of water as it thaws so I prefer to measure while frozen. Depending on the water content of your rhubarb you may need to increase the flour in the filling a little to absorb the extra juices.
Why is my rhubarb crisp soggy?
If your rhubarb crisp is soggy right after baking it could be that it wasn't cooked long enough for the topping to get crispy.
Rhubarb releases a lot of juice as it cooks and even fully cooked crisp can start to get soggy after sitting for a few days in the fridge.
You can try to fix it by placing it back in the oven for a little while to dry out the topping again. Just be careful not to burn it.
How to store rhubarb crisp?
Rhubarb crisp can sit at room temperature for a day, just like pies and similar desserts. But if storing it for longer than a day it would be best to keep it in the refrigerator. Refrigerated it will last up to 7 days.
Can you freeze rhubarb crisp?
Yes, you can freeze rhubarb crisp in two ways baked or unbaked.
Freezing Before Baking
Prepare your crisp as normal but assemble it into a container that is both freezer and oven safe.
Cover it well with two layers of plastic wrap or other freezer-safe lid and freeze until ready to bake.
When you are ready to bake if your dish can go straight from the freezer to the oven safely you can bake it right from the freezer. Otherwise, let it sit on the counter for a few hours to start thawing before baking.
If your rhubarb crisp topping starts to brown too quickly before it's finished cooking cover with some foil and continue baking until done.
Freezing After Baking
To freeze rhubarb crisp after baking, cook it in a freezer-safe pan and then allow it to fully cool. Cover with a freezer-safe lid, or two layers of plastic wrap and freeze.
To reheat, let it thaw on the counter for 4-6 hours, then warm in a 350F oven until warmed through. To keep the topping from over-browning you may want to cover it with some foil.
You can also package smaller single servings of baked rhubarb crisp. Allow the crisp to fully cool and then spoon out the amount you want into freezer-safe containers.
Seal them tightly, label and freeze. When you are ready to eat them they can be warmed in the microwave or thawed and placed into a small oven-safe container to be warmed in the oven.
What To Serve With Rhubarb Crisp
My favorite way to eat rhubarb crisp is when it's warm, but it's also delicious cold or at room temperature.
For an extra special treat add a scoop of vanilla ice cream on top before serving. Whipped cream or custard sauce also goes well with the tart taste of rhubarb.
More Easy Dessert Recipes
Stewed Rhubarb Muffins
Easy Chocolate Pudding
Baked Apples
Yield: 10-12 servings
Easy Rhubarb Crisp
You'll love how easy to make this rhubarb crisp is! Tender rhubarb covered in a golden crisp topping with just the right balance of tart and sweet. Perfect dessert idea for spring and summer.
Ingredients
Filling
9 cups rhubarb, chopped
1/4 cup flour
1 2/3 cup sugar
Topping
1 cup flour
1 cup large flake oats
1 cup brown sugar
1 cup salted butter, melted
Instructions
Preheat your oven to 350F.
Wash and slice your rhubarb into 1/2 inch pieces.
Combine the rhubarb, flour, and sugar in a large mixing bowl and mix until the rhubarb is well coated.
Pour the mixture into a 9x13-inch baking pan.
In a medium-sized mixing bowl combine the remaining ingredients. Then sprinkle the topping over the filling.
Bake for 40 minutes or until the rhubarb is soft and the top is golden brown. Let the rhubarb crisp cool for at least 10 minutes before serving.
Notes
You can substitute quick oats for the large flaked oats if you prefer.
After cooling serve with ice cream or whipped cream.
Nutrition Information:
Yield:
12
Serving Size:
1
Amount Per Serving:
Calories:

393
Total Fat:

16g
Saturated Fat:

10g
Trans Fat:

1g
Unsaturated Fat:

5g
Cholesterol:

41mg
Sodium:

131mg
Carbohydrates:

61g
Fiber:

3g
Sugar:

44g
Protein:

3g
Nutrition information isn't always accurate, this information is for informational purposes only please consult a nutritionist for more information and guidance.
Connect With Homestead Acres!
Be sure to follow me on social media, so you never miss a post!
Facebook | Twitter | Pinterest | Twitter
Visit my Amazon store to find all my favorite gardening, homesteading tools, and gadgets plus all of my printed garden books and journals!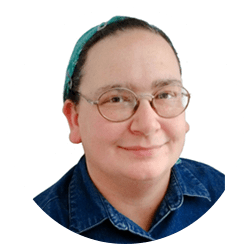 Kim Mills is a homeschooling mom of 6 and lives on an urban homestead in Ontario, Canada. Blogging at Homestead Acres she enjoys sharing tips to help you save money, grow and preserve your own food.