This post may contain affiliate links, my full disclosure can be read here. As an Amazon Associate I earn from qualifying purchases.
This easy stewed rhubarb muffin recipe is a yummy and healthy dessert to use with your homemade stewed rhubarb!
Do you love rhubarb? It's one of my favourite springtime treats! Every year I try to put up as much stewed rhubarb as possible during its short season. I recently found a new recipe to use my stewed rhubarb in and I can't wait to share this with you.
My friend Marie lives on an off-grid homestead in Canada and she wrote an amazing cookbook that I've just fallen in love with. Marie shared a Kindle version of A Cabin Full Of Food with me and after trying a few recipes I bought a paperback copy for myself.
A Cabin Full of Food: (Mostly a cookbook)
If you are interested in homesteading, homeschooling, prepping, and off-grid living you should check our Marie's blog Just Plain Living it's a great resource!
If you love recipes that use ingredients you can grow yourself or find easily at your local store or farmers market then you will love her cookbook A Cabin Full Of Food.
One of the first recipes I tried was Marie's stewed rhubarb muffins and she said it was ok to share this recipe with you too. You'll love these they are so good I can't keep enough of them in our home.
One important tip about this muffin recipe
I normally make my stewed rhubarb really runny almost like a syrup. For this recipe, you need a thicker, chunky stewed rhubarb.
It's really easy to make just cook your stewed rhubarb for under a minute so that it stays in slices.
If your stewed rhubarb is really runny place a little of the muffin batter on the bottom of the muffin tin before adding the stewed rhubarb and then finish adding the muffin batter over that.
This will seal the rhubarb inside and oh, yum!
Take 1-pint jar of stewed rhubarb and divide it equally among 12 muffin cups.
Next, cream together your butter and honey then beat in 1 egg.
Add your flour, baking powder, nutmeg and salt and mix, then add the milk and mix well.
Spoon your muffin batter over the stewed rhubarb and bake at 350 F for 20 minutes or until done.
When done remove the muffins from your oven and flip the muffin tin upside down over your cooling rack for 15 minutes.
This lets any extra moisture to drip out. Then you can remove the muffins from the pan.
I can't say enough how yummy these rhubarb muffins are! I have to make a triple batch just to make sure I get some when my children know I'm mixing them up.
You can buy A Cabin Full Of Food on Amazon and Amazon Canada.
Yield: 1 dozen
Rhubarb Muffins
Ingredients
1 pint of stewed rhubarb
1/3 cup butter
1/3 cup honey
1 egg
1 1/2 cups flour
2 tsp baking powder
1/2 tsp salt
1/2 tsp nutmeg
1/2 cup of milk
Instructions
In a greased muffin tin divide 1 pint of canned rhubarb between 12 muffin holes.
Cream together butter and honey, then beat in 1 egg.
Mix in flour, baking powder, salt, and nutmeg. Then add your milk and mix well.
Spoon batter over the rhubarb and bake at 350 F for 20 minutes.
Invert your hot muffins on a cooling rack and allow to stand for 15 minutes so extra moisture can drip out. Then remove from the muffin tins and enjoy!
You May Also Enjoy: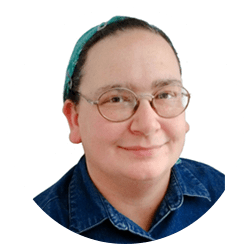 Kim Mills is a homeschooling mom of 6 and lives on an urban homestead in Ontario, Canada. Blogging at Homestead Acres she enjoys sharing tips to help you save money, grow and preserve your own food.