This post may contain affiliate links, my full disclosure can be read here. As an Amazon Associate I earn from qualifying purchases.
Easy baked apples recipe filled with raisins, brown sugar, cinnamon, and butter. It's a tried and true dessert idea adults and kids will love.
Baked apples are such a quick and easy recipe you can make for a snack or dessert. Tender and juicy and packed with the flavors of fall.
If I could make only one dessert in the fall it would be homemade baked apples. They are so simple to make even on a busy day.
Easier to make than apple pie but tastes just as good, it's the perfect budget-friendly treat on a cold day.
How To Make Baked Apples
Prepare The Filling
In a small mixing bowl combine the brown sugar and cinnamon and stir to combine.
Then stir in the raisins and set the filling aside until later.
Core The Apples
Rinse and dry your apples, then using an apple corer or paring knife cut out the cores.
Take care not to go all the way through the apple. You want to leave 1/2 an inch (1.27 cm) of the apple intact on the bottom.
If you are using an apple corer, go down about 3/4 of the way into the apple then use a spoon or knife to scoop out the core.
If you don't have a corer then using a paring knife is easy to. Cut a hole about 1 inch wide around the apple stem taking care not to go all the way to the bottom.
Pull out the core and then take a small spoon to scoop out any remaining seeds.
Add Filling
Spoon the sugar filling mixture into the apples. It will shrink down a little as the apples bake so I like to pack the filling in close to the top of the apple.
Place In A Baking Dish
Place the apples in a baking dish or pie pan. A glass pie pan works great for a small batch of 4 apples for larger batches a 9×13 pan is perfect.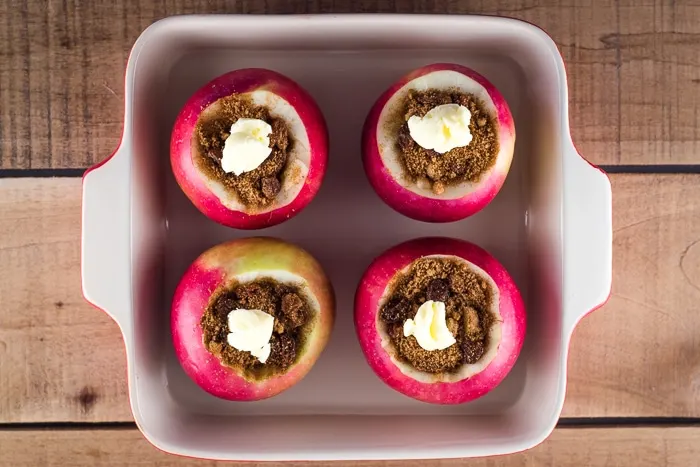 Then top each one with 1/2 teaspoon of butter.
Bake
Add a little water to the baking dish to help keep the apples from sticking. Then place the apples into the oven and bake for 30 to 45 minutes until the apples are cooked through and tender.
Don't let them overcook or they will turn into a mushy mess. The cooking time will depend on the variety of apples, size, and your oven temperature.
When ready, take them out of the oven and let them sit for about 5 to 10 minutes before serving. Then drizzle a little juice from the pan over top of them.
Quick Sauce To Drizzle Over Apples
A simple way to make a sauce to serve over top of your baked apples is to thicken the pan drippings.
Pour the juice from the baking pan into a small saucepot. Then bring it to a boil over medium heat while stirring.
Continue boiling until the sauce has thickened, it will take about 5 minutes and be reduced by half.
Let it cool a little and then drizzle over top of the baked apples.
What To Serve Baked Apples With
Homemade baked apples are wonderful on their own but are amazing served with whipped cream, vanilla ice cream, or caramel sauce. A scoop of yogurt or cold cream is a great choice too.
Best Type Of Apples To Use
The best apples to use when making whole baked apples are ones that are firm and round. Avoid using apples that don't sit up straight as they can leak filling or tip over in the oven.
Macs, Spy, Fuji, or Honeycrisp are great apples for making baked apples.
Brown Sugar Or White Sugar?
I love making baked apples with brown sugar for the flavor boost it gives. But if you don't have any on hand you can easily use white sugar instead. As you can see in the video below they come out lovely when done with white sugar.
Can You Make Them Ahead Of Time?
I don't recommend making baked apples ahead of time. Raw apples will quickly start turning brown after being cut open.
But you can mix the filling up and keep it in your fridge for a few days before using it. Then simply prepare the apples and fill when you are ready to bake.
More Apple Recipes
Yield: 8
Baked Apples Recipe
Easy homemade baked apples filled with brown sugar, cinnamon, and raisins and baked until moist and tender are the perfect snack or easy dessert idea for cold days.
Ingredients
8 apples
1/2 cup brown sugar
2 Tsp. cinnamon
8 Tsp. butter
1/2 cup raisins
1 cup water (or apple juice or apple cider)
Instructions
Preheat oven to 350F
Combine sugar and cinnamon in a bowl and stir well. Then mix in raisins and set aside.
Wash and core your apples, leaving the bottoms whole. Try to leave at least 1/2 an inch (1.27 cm) of the bottom of the apple intact.
Fill apples with the filling mixture and place into a baking dish.
Add 1 tsp of butter on top of each apple.
Then pour 1 cup of water into the bottom of the baking dish.
Bake for 30 to 40 minutes at 350F or until the apples are cooked through and tender but not mushy.
For The Topping
Pour sauce from the baking tray into a pot and bring to a boil.
Boil gently for about 5 minutes or until thickened, while stirring.
Remove the sauce from the heat and let it cool a little. Then pour over top of the apples before serving.
Notes
Sugar: You can use either brown sugar or white sugar in this baked apples recipe. Brown sugar adds a flavor boost and
Make-ahead tips: Prepare the filling up to 3 days ahead of time and keep it in an airtight container in your fridge. But don't cut the apples until just before baking.
Best Apples To Use: Select apples that have an upright shape and stay firm when cooking. Macs, Spy, Fuji, and Honeycrisp are good choices.
Nutrition Information:
Yield:
8
Serving Size:
1
Amount Per Serving:
Calories:

208
Total Fat:

4g
Saturated Fat:

2g
Trans Fat:

0g
Unsaturated Fat:

1g
Cholesterol:

10mg
Sodium:

35mg
Carbohydrates:

46g
Fiber:

5g
Sugar:

37g
Protein:

1g
Nutrition information isn't always accurate, this information is for informational purposes only please consult a nutritionist for more information and guidance.
Connect With Homestead Acres!
Be sure to follow me on social media, so you never miss a post!
Facebook | Twitter | Pinterest | Twitter
Visit my Amazon store to find all my favorite gardening, homesteading tools, and gadgets plus all of my printed garden books and journals!
Kim Mills is a homeschooling mom of 6 and lives on an urban homestead in Ontario, Canada. Blogging at Homestead Acres she enjoys sharing tips to help you save money, grow and preserve your own food.