This post may contain affiliate links, my full disclosure can be read here. As an Amazon Associate I earn from qualifying purchases.
When I was a little girl our family often made a braided apple bread. It was one of my favorite treats I looked forward to each winter! Unfortunately I don't have our family recipe and so I've been trying to recreate it. This recipe uses the dinner roll recipe I posted the other day. But you could also use your favorite bread recipe or my basic bread.
While this isn't quite what I remember from childhood, it's wonderful! I had to hide the last piece so hubby would be able to try some. lol We'll be making this often over the winter.
How To Make Braided Apple Bread Step By Step Video
Yield: 1 loaf
Braided Apple Bread Recipe
Easy braided apple bread recipe that makes a wonderful dessert or snack. Fall just isn't the same without this yummy cinnamon and apple treat.
Total Time
1 hour
10 minutes
Ingredients
5 Apples peeled and sliced
1/2 Cup sugar
2 Tsp cinnamon
1 Cup Warm water
3 Tbs Sugar
3 Tsp Yeast
1 Tsp Salt
2 Tbs. Butter
1 Egg
3 to 3 1/4 Cups All Purpose Flour
Instructions
For The Filling
Peel and slice apples.
Mix with sugar and cinnamon.
Pour into a baking dish and bake at 350F for 10 to 15 min.
For The Bread Dough
Combine warm water, sugar and yeast in a bowl. Let sit for 10 min.
Stir in butter, salt and egg.
Stir in flour.
Kneed for 10 minutes.
Cover and let rise until doubled in size.
Roll out the dough into a square and cut 1 inch slices from the sides.
Pour apple filling in the middle.
Fold the top of the dough in and fold sliced dough strips over each other to braid.
Transfer to a baking sheet and bake at 350F for 25 minutes.
Notes
You can also make the bread dough in your bread machine. Simply combine all the dough ingredients in the right order for your machine. Select the dough setting.
We like a thicker bread loaf but if you like a thinner bread you can divide the dough in half and make 2 loaves.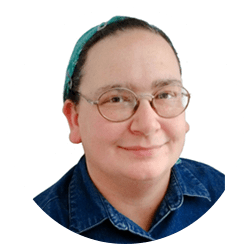 Kim Mills is a homeschooling mom of 6 and lives on an urban homestead in Ontario, Canada. Blogging at Homestead Acres she enjoys sharing tips to help you save money, grow and preserve your own food.