This post may contain affiliate links, my full disclosure can be read here. As an Amazon Associate I earn from qualifying purchases.
Looking for a way to use up chive blossoms? This chive blossom butter recipe is so easy to make and can be frozen to enjoy later too.
One of my favorite things about being a gardener is that it opens the doors to so many amazing flavor combinations and new recipe ideas.
I've always loved to grow chives in my herb garden but not just for the wonderful mild onion-flavored leaves I love to use chive flowers too.
Yes, chive blossoms are edible and can be used in many tasty recipes. One of my favorite ways to use them is to make chive blossom butter.
It's so easy to make and tastes amazing!
In our zone 5 growing area chives start flowering in early May and will continue until late June. When your plants start to flower will depend on your growing zone but it's normally in the late spring and early summer.
Take advantage of this to harvest as often as you can. Frequent harvesting of the flowers will encourage the plants to keep growing and flowering for a longer period of time.
How To Make Chive Blossom Butter
You Will Need:
1/2 cup of salted butter softened
4 chive blossoms
Serving or storage container for the finished butter.
Step 1. Gather The Flowers
Pick fresh chive flowers from your herb garden. I like to pick the whole stock the flower is on. These flower stocks are harder than the normal chive leaves.
You'll want to discard this stock later as they are too hard to eat but they make it easier to hold onto the flower while you clean them.
Step 2. Clean And Separate The Flowers
Then give them a rinse with cool water to remove any dirt or little bugs that could be hiding inside the flowers.
Cut the flower off the stock and pat the flowers dry with a paper towel or spread onto a kitchen towel to dry.
When the flowers are dry separate the florets of the flower. I find the fastest way is to use kitchen scissors and snip the flowers apart.
Step 3. Mix Together
Place your softened butter into a mixing bowl and add the chive flowers. Mix them together until they are well combined.
Then spoon the butter into a serving container or place it into parchment paper or plastic wrap and roll it into a log.
How To Store
Chive blossom butter will keep for 1 week in the refrigerator. You can also freeze herb butter for up to 3 months.
For easier use place the butter into small silicone molds and freeze. When frozen remove them from the molds and package them in freezer bags.
You can also roll the butter into a log shape using plastic wrap or parchment paper and cut it into small sections before freezing. This makes it much easier to take out a little at a time.
How To Use Chive Blossom Butter
Having herb compound butter on hand is so handy! With this butter you can use it anywhere you would like to add a mild onion flavor to your dish.
Spread it on freshly baked bread, biscuits, or savoy muffins.
Use it to fry eggs or home fries.
Add a pat of butter on top of your stake or fish before serving.
Add chive butter to your mashed potatoes or other mashed vegetable dishes.
You can also use it as a base for making gravy and other sauces.
Can I Use Unsalted Butter?
Yes, you can use unsalted butter to make chive blossom butter. I prefer to use salted butter because it lasts longer and we love salt in our food. But if you are watching your salt intake the recipe will work with unsalted butter.
Can I Add Chive Leaves?
Yes, of course, you can! The leaves have a stronger taste than the blossoms do but chopping up some of the leaves can add a great pop of color to your butter.
Looking for another easy chive recipe? Don't miss this easy chive blossom vinegar!
Yield: 1/2 cup
Chive Blossom Butter Recipe
Chive blossom butter is a must-make recipe for spring! Infuse the delicate onion flavor of chive flowers into butter and enjoy it as a savory spread or use it to drizzle over your favorite roasted vegetable dishes.
Ingredients
1/2 cup salted butter, softened
4 chive blossoms
Instructions
Pick fresh chive blossoms from a clean area.
Soak and Prince the chive flowers in cold water to remove any dirt or little buts that could be hiding inside.
Pat the flowers dry or lay them on a dish towel until dry.
Separate the florets from the flower.
Place your softened butter into a mixing bowl and add the florets. Mix together until well combined.
Spoon into a serving container and refrigerate until ready to use. To freeze for later spoon into silicone molds or place into parchment paper or plastic wrap and roll into a log. Place in the freezer until firm then separate into serving-size portions and place in freezer bags.
Notes
You can also make this with unsalted butter and add salt to taste.
Connect With Homestead Acres!
Be sure to follow me on social media, so you never miss a post!
Facebook | Twitter | Pinterest | Twitter
Visit my Amazon store to find all my favorite gardening, homesteading tools, and gadgets plus all of my printed garden books and journals!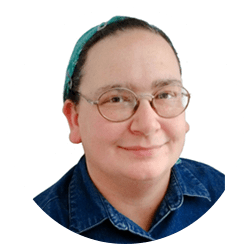 Kim Mills is a homeschooling mom of 6 and lives on an urban homestead in Ontario, Canada. Blogging at Homestead Acres she enjoys sharing tips to help you save money, grow and preserve your own food.