This post may contain affiliate links, my full disclosure can be read here. As an Amazon Associate I earn from qualifying purchases.
You'll love making these Christmas painted mason jars as a quick holiday craft idea. These painted jars come together so fast but look super cute decorated with greenery and berries.
Fill them up with pretty greenery and you have a simple Christmas table centerpiece that will look perfect with your farmhouse table or use them to hold candy canes, flower, or even utensils.
I've always loved decorating in farmhouse style and love vintage looking decor. As an avid canner that means I always have lots of mason jars available to make easy crafts from too.
If you love the look of decorating with mason jars then you will love this simple Christmas painted mason jar idea! Not including drying time they take less than 30 minutes to make.
How To Paint Mason Jars For Christmas
Supplies
Step 1. Clean The Mason Jar With Rubbing Alcohol
First, wipe down your mason jars with rubbing alcohol. While the jars may look perfectly clean glass picks up oils from your hands easily.
Just take a cotton pad and even wipe over the outside of the jar. There is no need to clean the inside with rubbing alcohol.
If you want the paint to stick to the jars well don't forget to take this simple but important step!
Step 2. Paint The Mason Jars
When the jars have finished drying from being cleaned it's time to start painting.
You can use acrylic craft paint but my favourite to use is chalk paint. I find it applies much easier and seems to last really well on the finished jars.
Using a foam brush will help make your painting job easier and reduce the streaking I've seen happen with bristle paintbrushes.
Depending on the colour of paint you are using you will need 2 to 3 coats. I find that the lighter the colour like white needs more coats then a darker colour like red does.
Just be sure to let the paint fully dry in between coats. If you don't the paint can bubble and flake off.
Step 3. Distress The Jars
I love the look of distressed mason jars and if you do too then now is the time to get out your sandpaper!
Using a fine-grit sandpaper work over the areas that have a raised design and a little along the edges and shoulders of the jar.
Step 4. Seal The Paint
Finally to help protect the paint from getting chipped and also make it easier to wipe the jars clean when needed you will want to apply a sealer.
I normally use a polyurethane spray sealer and find it works really well.
Place the jar over a dowl and spray an even coating. Then carefully slide the jar upside down onto some parchment paper so that it can dry.
Step 5. Decorate Your Christmas Mason Jars!
Ok, now it's time to do the really fun part and that's to start decorating your mason jars.
For this Christmas centerpiece, I made 2 different styles.
Some jars I glued a 1 to 2 piece of greenery to the center front of the jar with hot glue.
Then I wrapped twine around the jar a few times and tied a bow in the front.
Finally, I added a little sparkle by hot-gluing a red cranberry just under the bow. I cut these off some Christmas flower pics I got in the dollar store.
Another cute way to decorate the mason jars is to use a burlap ribbon instead of twine.
I couldn't find a narrow burlap ribbon locally so I just cut the wider burlap in half so that it was just wide enough to cover the jar rim.
Christmas Painted Mason Jars Ideas
You can use these cute Christmas mason jars in so many ways!
Use them as a candy cane holder
A Vase for fresh or fake flowers
Fill them with Christmas activity ideas and each day pull one out to do as a family
A holder for cutlery
Make a pretty centerpiece
I decided to keep a few of these pretty jars back for myself and made a quick and easy Christmas centerpiece for our table.
I placed a length of burlap down the middle of the table. In the middle, I placed a tiny wreath of greenery that I found at the dollar store. It was the perfect size to set a mason jar in the middle!
I went back and forth between using them to hold holiday greenery and candy canes.
This was such an easy project to make and turned out to be a simple table centerpiece that my kids couldn't easily damage.
Yield: 3
Christmas Painted Mason Jars
These Christmas painted mason jars are a perfect quick holiday craft idea! Learn how to paint your own mason jars for Christmas they come together so fast but look super cute decorated with greenery and berries. Fill them up with pretty greenery and you have a simple Christmas table centerpiece that will look perfect with your farmhouse table or use them to hold candy canes, flowers, or even utensils.
Additional Time
30 minutes
Instructions
Wipe down each jar with rubbing alcohol to remove any grease from your hands.
Then paint the jars white or red using chalk paint and set aside to dry. They will need 2-3 coats of paint.
Using a fine-grit sandpaper scuff the edges of the jars and around the rim to give it an aged look. Then wipe off any dust that was left behind.
Sealing the jars helps to protect the paint from scratching and makes it easy to wipe down later. Apply on a coating of your favorite polyurethane or ModPodge sealer.
When they have dried glue some greenery to the front of the jars.
Wrap some twine around the jars a few times finally tying a bow in the front.T
hen glue a red bead just under the bow for a pop of color. Tiny pinecones also look very cute!
Notes
You can also use burlap instead of twine to wrap around the tops of the jars.
More Christmas Ideas
Connect With Homestead Acres!
Be sure to follow me on social media, so you never miss a post!
Facebook | Twitter | Pinterest | Twitter
Visit my Amazon store to find all my favorite gardening, homesteading tools, and gadgets plus all of my printed garden books and journals!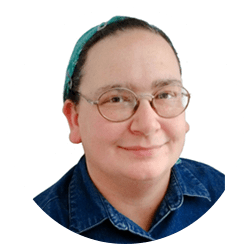 Kim Mills is a homeschooling mom of 6 and lives on an urban homestead in Ontario, Canada. Blogging at Homestead Acres she enjoys sharing tips to help you save money, grow and preserve your own food.