This post may contain affiliate links, my full disclosure can be read here. As an Amazon Associate I earn from qualifying purchases.
You'll love these adorable tabletop snowman faces! They are so easy to make and perfect if you are looking for a unique snowman craft idea that is also cheap to make. Using simple wood, scraps or even pallets these work up quick and easy. I've included a printable snowman face template further down to make it even easier for you.
I love making homemade snowman crafts to decorate my home for Christmas but they are also sweet to leave up most of the winter.
Keeping up some winter-themed decorations really helps to create a warm but fun feel in your home.
Hey, our winters are long, cold and very grey so I'll take any little bit of winter cheer I can get!
If you have been thinking about making snowmen decorations for your home this Christmas then you must try these little cuties.
They use hardly any wood and could even be made out of pallets for free.
How To Make A Wooden Tabletop Snowman Face
Supplies
1 x 6 – 10" long
1 x 4 – 6 1/2" long
1 x 2 – 9" long
Fake flowers
Step 1. Prepare The Wood
Cut a length of 1 x 6 to 10 inches long, this will be the snowman face and hat. Then cut a length of 1 x 4 to 6 1/2 inches long this will become the base of the snowman.
Finally cut a length of 1 x 2 to be 9 inches long, this will become the brim of the hat. Sand all the pieces smooth remembering to sand the edges and wipe off any dust.
Step 2. Mark The Hat
Take the hat brim and line it up onto the face board and trace a line going across it. This will become your painting guideline.
We like to angle the hat brim so that the top hat looks like it's tipping on the snowman's head. The measurements we use are 2 1/2 inches on the left and 3 1/2 inches on the right.
Step 3. Paint The Hat, Brim And Base
Using the black chalk paint, paint the top of the hat on the face board remembering to also paint the sides and top.
Then also paint the hat brim piece and the base black if you want it to match the hat. Set them aside to dry.
Step 4. Paint The Snowman White
Once the hat has finished drying paint the bottom of the face board white again remembering to paint the sides. Set it aside until it's fully dry.
Step 5. Trace And Paint The Face
Next, it's time to add a cute face to your tabletop snowman! If you are good at drawing faces freehand then go ahead and get creative.
I'm really not very good at drawing faces by hand so I made a template to print out and use. You can download a copy below to make the project easier.
Line up the template so it's centered on the face board and trace it on. If you would like to make each one unique you can trace the nose shape onto some card stock and change the angle of the nose for each one.
Using the black chalk paint, paint in the eyes. Then use a shade of orange for the snowman's carrot nose.
The eyes normally only take one coat of paint but the lighter colors used for the nose takes 2 or 3 coats depending on how dark you want the color to be.
Once the paint has dried outline the eyes and nose using a black paint marker. Then draw on a smiling mouth.
You can use the one in the template or another quick and easy way to do this is to simply trace the curve of a tomato sauce can.
Step 6. Attach The Hat Brim And Base
Line up the hat brim piece so that the paint line is centered under it, then turn the snowman face over and screw them together using the 1-inch wood screws.
Turn the base upside down so the unpainted side is facing up, then center the snowman on top of it and make some guide marks along the edge.
Start screwing in 3 of the 1 1/4 inch wood screws inside this guide area, then place the snowman face on top and finish screwing them together.
Step 7. Decorate Your Snowman
Now that your little snowman face is all put together it's time to have some fun decorating up the hat. Have fun and get creative!
I like to take small white or red flowers and glue one on just above the brim. But you can also add some ribbon just above the hat brim too.
And you're done!
See that was fun right? These sweet little snowman faces look so cute sitting on your mantel or a corner table. You could also have them peeking out from under your Christmas tree!
Yield: 1
How To Make A Tabletop Wooden Snowman Face
You'll love these adorable tabletop snowman faces! If you are looking for a unique Christmas craft idea these little guys are perfect for your table or fireplace mantel. Made using inexpensive wood, scraps or pallets it's a real budget-friendly idea that will bring some cheer to your Christmas decor.
Total Time
1 hour
50 minutes
Materials
1 x 6 - 10" long
1 x 4 - 6 1/2" long
1 x 2 - 9" long
Fake flowers
Instructions
Cut your wood to length and sand smooth, then wipe off any dust before going further.
Place the hat brim pice on top of the face board on the angle you would like to use for the hat brim. 2 1/2 inches on the left top edge and 3 1/2 inches on the right is a good guideline. Draw a line along the bottom edge to be your painting line.
Paint the hat section, brim and base black and set aside until dry.
Paint the face background white remembering to get the side edges and let dry.
Draw or trace on a happy snowman face.
Paint the eyes black and the nose orange. The nose may need 2 to 3 coats of paint depending on what shade you are using.
Once the face has dried trace around the edges of the eyes and nose with a black paint marker. Then draw on a mouth. The curved edge of a tin can works great for this!
Line up the hat brim so that it overlaps the painting guideline you made earlier, making sure to center it. Then turn the snowman over and use the 1-inch wood screws to attach the brim.
Turn the base over and center the bottom of the face on it marking the edges. Start 3 screws in this area then turn the snowman on its side and finish attaching the base plate.
If desired hot glue a pretty flower just above the hat brim.
More Fun Christmas Ideas
Connect With Homestead Acres!
Be sure to follow me on social media, so you never miss a post!
Facebook | Twitter | Pinterest | Twitter
Visit my Amazon store to find all my favorite gardening, homesteading tools, and gadgets plus all of my printed garden books and journals!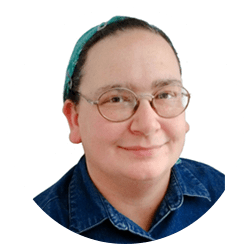 Kim Mills is a homeschooling mom of 6 and lives on an urban homestead in Ontario, Canada. Blogging at Homestead Acres she enjoys sharing tips to help you save money, grow and preserve your own food.