This post may contain affiliate links, my full disclosure can be read here. As an Amazon Associate I earn from qualifying purchases.
Do you know how to make butternut squash puree? This homemade squash puree is so easy and delicious you'll wonder why you didn't make it sooner.
Whether you have been growing butternut squash in your garden or found a great deal at your local market fall is the perfect time to stock up on squash.
This vegetable is so easy to store and easily found in most grocery stores in the fall and winter. But keeping whole squash in your pantry or root cellar can take up a lot of room.
Thankfully, it's really easy to make butternut squash puree and freeze it to use later if you want to save on storage space.
If you have ever made homemade pumpkin puree then you will find this just as easy and delicious.
How To Make Butternut Squash Puree
1. Prepare And Cut Squash
Start by washing and drying your butternut squash. Then place it on a cutting board and cut it in half lengthwise.
The easiest way to cut butternut squash in half is to place a large chefs knife into the center then cut from the middle towards the end. Then turn the squash around and cut through the opposite end.
If your cutting board slips around try placing a tea towel under it, and another one on the end of the squash to give you a better grip.
2. Remove Seeds
Scoop out the seeds and pulp but don't toss out the seeds, they are great for roasting!
3. Roast
To roast butternut squash you have two easy options. You can place the squash halves cut side down on a parchment-lined baking tray, or place them cut side down in a roasting pan or baking tray with 2-3 cups of water in the bottom.
Both options will help the squash to cook without burning or over caramelizing the edges and turning the squash halves upside down helps to lock in the steam so they cook faster.
Place the squash in the oven to roast for 45-60 minutes or until tender.
You'll know the squash is done cooking when a knife or fork easily goes into the thickest part of the squash without resistance.
Remove the squash from the oven and let it sit until it's cool enough to handle.
4. Puree
Then use a spoon or ice cream scoop to scrape out the flesh and place it into a food processor or blender and puree until smooth. If you are doing multiple batches scoop the squash into a bowl so you don't overfill the food processor.
If you are serving right away as a side dish you can season with melted butter, brown sugar, cinnamon, and salt to taste.
But I often leave the butternut squash puree unseasoned and freeze it in portion sizes. Then whenever I need it I will thaw the squash and season it based on how I'm going to use it.
How To Freeze Butternut Squash Puree
Freezing butternut squash is so easy and fall is the perfect time to make lots of puree and put it up to enjoy later.
To freeze the puree, measure it out into 1 or 2 cup portions and place it into freezer-safe containers.
If you want to save on freezer space, using freezer bags is a great option. Just add your measured squash into the bag, squeeze out the air then lay the bag flat, and spread the squash out to be a thin layer.
Then finish closing the bag, this makes the bags really easy to stack in your freezer.
How To Puree Butternut Squash Without A Blender
Making any puree is easy if you have a food processor or blender, but if you don't have one you can still make squash puree.
Mash with a potato masher and then use an electric mixer to whip them up if they are still lumpy.
Use a handheld immersion blender.
Use a hand-cranked food mill.
Can You Blend Butternut Squash Skin?
No, the skin of butternut squash is too tough to try to add it to your puree. Simply scoop out the soft flesh of the butternut squash and puree, then add the skin to your compost pile.
Do I Need To Peel Butternut Squash Before Roasting?
No, if you are roasting butternut squash in your oven or slow cooker there is no need to peel it before making puree.
How To Use Butternut Squash Puree
There are many uses for homemade squash puree. It can be used as a quick side dish and pairs well with turkey, chicken, and pork dishes.
Mashed potato substitute
Substitute for pumpkin puree
Add it to bread recipes
Use it as an oil substitute (replace it 1 to 1)
How To Puree Butternut Squash
How to make butternut squash puree as a side dish or to freeze to enjoy later. It's so easy to make squash puree from scratch you'll wonder why you didn't do it sooner!
Instructions
Preheat your oven to 350F.
Wash and dry the butternut squash.
Place it onto a cutting board and using a strong chefs knife cut down through the middle, then cut towards the end. Turn the squash around and slice through the other half.
Use a spoon or ice cream scoop to remove the seeds and pulp and set the seeds aside.
Place the squash halves face down on to a baking tray lined with parchment or a tray or roasting pan with 2-3 cups of water in the bottom. This will help the squash from sticking or over caramelizing on the edges.
Roast for 45-60 minutes or until the flesh is tender. You can easily test it, when a knife or fork passes through the thickest part without resistance it's done.
Remove the oven and let sit until it's cool enough to handle.
Use a large spoon or ice cream scoop to scrape the flesh from the squash and place it in the bowl of your food processor or blender.
Puree until the squash is smooth.
If using as a side dish right away add seasonings to taste, otherwise leave unseasoned for freezing.

Freezing
Measure squash puree into 1 or 2 cup portions and place into freezer containers. To save on space try using freezer bags and press the puree out flat inside them. Then place it into the freezer laying them flat until frozen. This makes them very easy to stack to save on freezer space.
Connect With Homestead Acres!
Be sure to follow me on social media, so you never miss a post!
Facebook | Twitter | Pinterest | Twitter
Visit my Amazon store to find all my favorite gardening, homesteading tools, and gadgets plus all of my printed garden books and journals!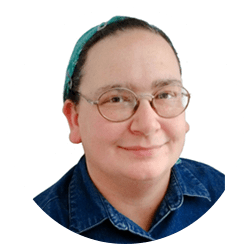 Kim Mills is a homeschooling mom of 6 and lives on an urban homestead in Ontario, Canada. Blogging at Homestead Acres she enjoys sharing tips to help you save money, grow and preserve your own food.