This post may contain affiliate links, my full disclosure can be read here. As an Amazon Associate I earn from qualifying purchases.
Looking for an easy way to use up your cucumbers? Then you are going to love this sweet cucumber relish! This yummy homemade relish is so easy to can and is perfect to serve on hotdogs, hamburgers, sausages and more!
Making relish is one of my favorite canning times during the summer and fall.
It's a great way to use up a lot of produce from your garden!
You know what I mean right?
We all get to that time of the growing season when our gardens are producing so much that you feel like you are being flooded with freshly picked veggies.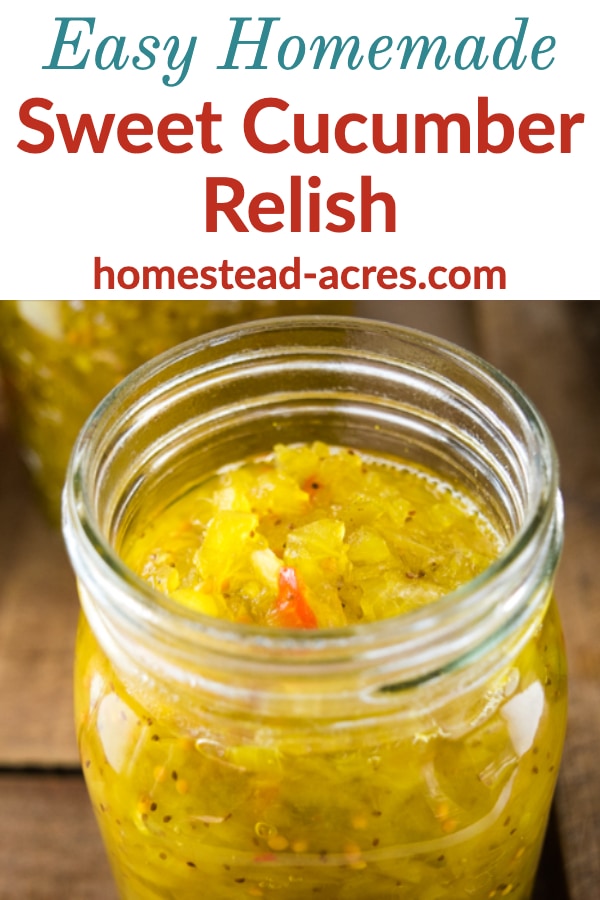 Making batches of relish is a great way to use up all the extra vegetables! Relish is easy to make, really doesn't take a lot of time and can be used as a topping on many foods throughout the year, not just hot dogs, hamburgers and sausages.
This sweet cucumber relish has to be my favorite cucumber relish recipe ever! We've enjoyed making many batches of this for years.
How To Make Sweet Cucumber Relish
Wash and peel your cucumbers, then cut them in half lengthwise.
Next scoop out the seeds. This is really easy to do using a small spoon or even a grapefruit spoon.
Slice the cucumbers into chunks so that they fit into your food processor better.
Using a food processor pulse them until they are the size you like.
Remove the seeds and stems from the peppers, peel and cut the onions in half. Then also pulse these in your food processor.
Place the cucumbers, peppers, and onions into a large bowl and add the canning salt. Cover and let the mixture sit overnight.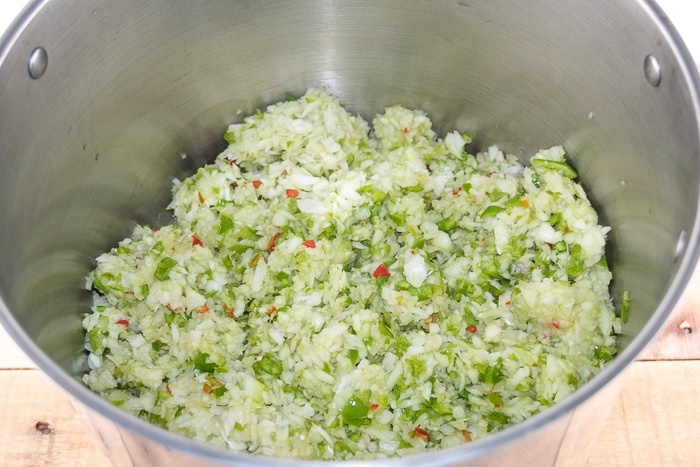 The next morning drain it well pressing out as much moisture as possible.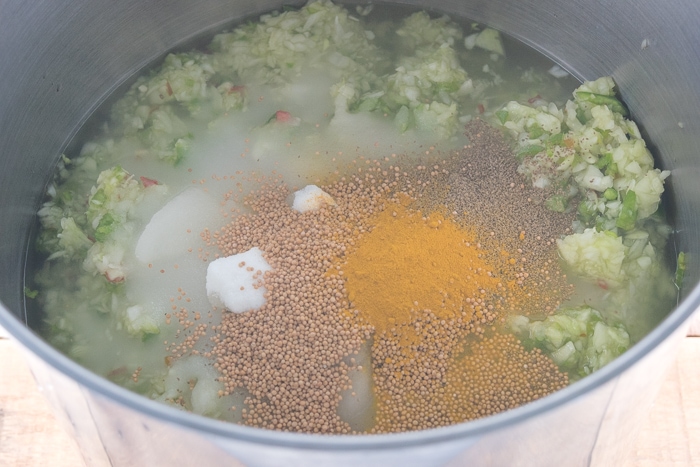 Place the vegetable mixture into a large pot and add the sugar, vinegar, and spices. Bring them to a boil, then turn down and simmer for 30 minutes stirring occasionally.
Ladle into pint or half-pint canning jars leaving 1/2" headspace.
Remove any air bubbles, wipe the rims clean and place the lids on. Process the relish for 10 minutes in a water bath canner or according to your altitude.
Do You Have To Use Red Peppers?
Nope! If you don't have red peppers on hand you can use yellow or green bell peppers. I like to use red because it adds a nice pop of color to the green cucumber relish but since I use homegrown vegetables I often make this recipe with green peppers if that's what I have available in my garden.
Do You Have To Use A Food Processor?
No, if you don't have a food processor you can still make this recipe. Either dice the cucumbers by hand or use a food mill if you have one.
When Is The Sweet Cucumber Relish Ready To Eat?
You should let the relish sit for 4-6 weeks to let the flavors fully develop before eating. I know it's hard to wait but it's really worth it!
What Type Of Cucumbers Do You Use For Relish?
For making homemade relish you can use slicing cucumbers or large pickling cucumbers. I avoid using English cucumbers as I find they don't hold up well when making pickles or relish. But normal slicing cucumbers or pickling cucumber that have become too large to pickle work great for relish.
Can I Use This Recipe To Make Refrigerator Relish?
Yes, you sure can! If you are just to busy to start canning right now you can just place the cool jars of relish into your fridge. They will last a long time that way too.
See making homemade sweet cucumber relish is so easy, anyone can do it! So grab some fresh cucumbers, peppers, and onions and make up a batch of this yummy relish recipe to enjoy all year long.
Yield: 5 Pints
Sweet Cucumber Relish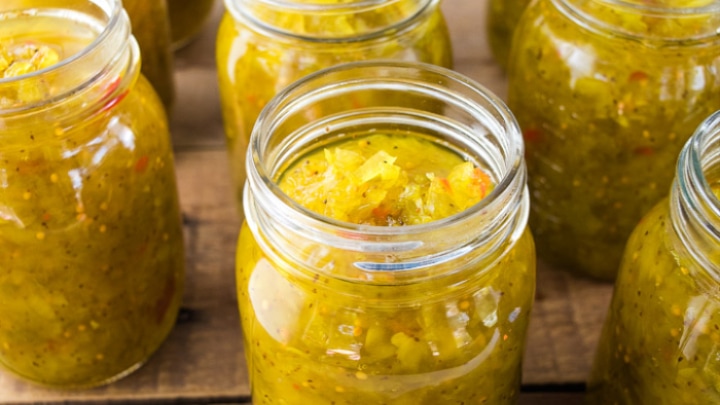 This sweet cucumber relish is the perfect treat on hot dogs, egg or potato salad and your other favourite dishes. Made with onions, bell peppers and just the right spices this classic sweet pickle relish has an amazing flavor!
Total Time
12 hours
50 minutes
Ingredients
10 cups cucumbers, chopped
8 red bell peppers
5 cups onions, chopped
1/2 cup canning salt
3 TBS celery seed
3 TBS mustard seed
2 tsp. Turmeric
5 cups vinegar
5 cups sugar
Instructions
Wash and remove stems from the cucumbers.
Peel the cucumbers cut them in half lengthwise and remove the seeds. Cut them into large pieces and puls them in your food processor until they are the texture you like.
Remove the seeds from the peppers and chop in your food processor.
Peel and quarter the onions and pulse in the food processor.
Combine all the vegetables into a large pot and cover with the pickling salt. Cover and let sit overnight.
The next day drain out the liquid from the vegetable mix.
Place the mixture back into a large pot and add the vinegar, sugar, and spices and bring it to a boil. Then turn down and simmer for 30 minutes stirring occasionally.
Ladle into pint or half-pint canning jars, remove any air bubbles and wipe the rims clean. Place the lids and wrings on finger tight.
Process in a water bath canner for 10 minutes, adjusting the time for your altitude.
Notes
If you are in a hury you can let the vegetable mixture sit in the salt for 2 hours instead of overnight.
If you don't have a food processor this recipe also works well by just chopping the vegetables by hand.
Recommended Products
Hamilton Beach Food Processor & Vegetable Chopper with Bowl Scraper, 10 Cup
Ball Wide Mouth Pint Jars, 12 count (16oz – 12cnt), 4-Pack
Norpro Stainless Steel Wide-Mouth Funnel w/ Handle
Don't Miss These Relish and Pickle Recipes!
Connect With Homestead Acres!
Be sure to follow me on social media, so you never miss a post!
Facebook | Twitter | Pinterest | Twitter
Visit my Amazon store to find all my favorite gardening, homesteading tools, and gadgets plus all of my printed garden books and journals!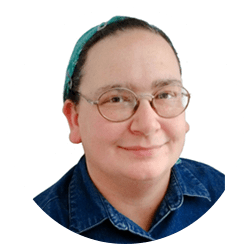 Kim Mills is a homeschooling mom of 6 and lives on an urban homestead in Ontario, Canada. Blogging at Homestead Acres she enjoys sharing tips to help you save money, grow and preserve your own food.