How To Make A Weekly Meal Plan The Easy Way
This post may contain affiliate links, my full disclosure can be read here.
Do you struggle with menu planning? I understand it wasn't always easy for me either but, I'm so glad that I kept practicing because my menu is one of the most important kitchen tools I have. Let me show you how to make a weekly meal plan the easy way!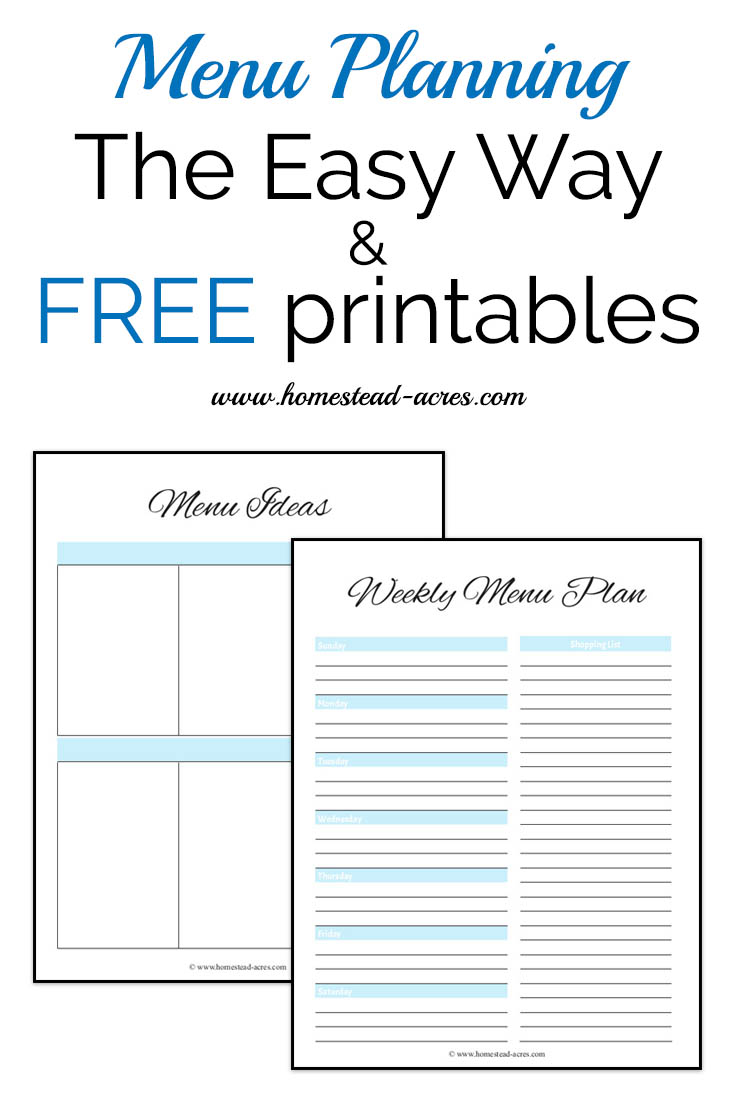 Why You Need A Menu Plan
If you are a parent you know as the day moves on everyone starts asking that question "What's for dinner?" If you fail to plan ahead that can become the dreaded question, right?
By taking a little time to plan your meals for the week you can:
save time by not making last minute trips to the store
save money by not buying takeout or frozen foods
eat healthier meals
So let's get started!
How To Make A Weekly Meal Plan
To keep meal planning really easy in our home I use a different theme for each night of the week. Your themes can be by ethnic or protein group whatever works best for your family.
I use menu themes to help plan out our weekly meals and save money.
Start by making categories for 5 to 7 ethnic meals or meal types like roasts, sandwiches, pasta etc. In each category make a list of all your family's favourite meals.
It's ok to add some new recipes to your menu but it's best to start with family favourites. This makes it easy for you to plan and less likely that your meals will be met with protests for takeout. Yes, this is coming from someone who has made a few flops too. (smile)
Quick and easy planning!
Once you've made a meal idea bank you can just plug these ideas into your menu.
Sunday is our roast night. So I know that on Sunday I'm going to cook a beef roast, pork roast or turkey.
I leave the type of meat open and based on what roasts are on sale. I make sure to buy roasts that are large enough to give us leftover meat for other meals that week.
Monday we eat stir-fries. I love rice and so do my husband and children. Stir-fries are also quick to cook so they are perfect for us as Monday tends to be a busy day for our family. I always use leftover meat from Sunday's roast as the meat in the stir-fry dish.
Tuesday I plan on having soups, stews, chili, or baked beans along with a salad and homemade bread. Sometimes I buy premade soup but most of the time we have homemade.
Our homemade soup is either made from the roast on Sunday or soups that I've made in larger batches and canned. These home canned soups are easily thickened into a quick stew as well!
Wednesday I plan for an easy casserole night. These can easily be made using any meat or vegetable on hand or I will use a casserole from my freezer meals. Many times I will use my crock pot to slowly cook the casserole all day for me so I don't have to worry about getting it in the oven if I have to go out.
On Thursday we love to have sandwiches with a side salad. This is such an easy category to add variety to. We either make white homemade bread or use my easy dinner roll recipe to make large sandwich buns/sub buns. Want something a little lighter? Wraps are a great choice for lighter sandwiches and we often use these in the summer.
The fillings choices are endless! A few of our favourites are:
egg salad
BLT
sloppy joes
chicken salad
vegetable wraps
Friday is always our pasta night but again this leaves a lot of room to customize.
Some of our favourites are:
Saturday is always our family homemade pizza night.
Sunday – Pork shoulder roast, potatoes, canned peas, gravy and dinner rolls.
Monday – Rice, stir-fry using leftover meat from the roast, peppers, celery, carrots, peas
Tuesday – Chicken and dumplings, salad, and homemade bread
Wednesday – Hash ( ground beef, potatoes, carrots)
Thursday – Pulled pork sandwiches with salad
Friday – Taco Twist Casserole, dinner rolls, salad
Saturday – Homemade Pizza, garlic bread, salad
For breakfasts and lunches, we keep our meal plans very simple
Our breakfasts are toast and eggs, pancakes, biscuits, oatmeal or fruit. On Sundays when we are not in a rush we plan a large brunch with homefries, sausage or bacon, eggs, and toast.
For lunches, I like to have quick and easy choices. Some of our favourite lunch ideas are:
potato salad
garden salad
boil eggs
pasta salad
wraps
soup
These are just ideas, of course, customize them to fit your family's tastes!
Once you have made your idea meal bank you can start filling in the places on your menu planner. To do this start by going to your pantry, fridge, freezer, and garden to find out what you already have on hand. Look at your menu idea bank and pick out the recipes that you already have most of the ingredients on hand to make.
The average family wastes 25% of the food they buy, this can add up to thousands of dollars each year! By starting your menu planning with the food you already have on hand you will be saving a lot of money on your grocery budget.
I use the printable forms in my Pantry & Food Preservation Planner to keep a current inventory of everything I have in my pantry. It makes this job quick and easy!
Planning your grocery shopping trip
After you have selected your recipes from what you already have on hand sit down with your grocery store flyers or their online sites and find out what is on sale.
If beef roasts are on sale this week then pick that for your Sunday roast. If it's roasting chickens or pork shoulder roast then go with that. Select ingredients that are on sale that you know your family will eat and fits with the recipe idea bank you've made.
It doesn't matter if expensive exotic food is on sale if your family just won't eat it. You won't save money buying groceries on sale if it won't be used.
To start making your shopping list pick your first recipe and write down every ingredient you need to make it with the exception of the supplies you already have on hand. This is why I love using my pantry planner forms so much, I always have a current inventory in my pantry binder and don't have to search the cupboards for each item.
Work through each recipe that you have added to your menu and list each item. This way you won't miss anything and cause yourself another trip to the store to pick it up.
Are you ready to get started planning your family's meals?  I've made an easy to use printable menu idea bank and weekly menu planner as a free gift to my subscribers.