This post may contain affiliate links, my full disclosure can be read here. As an Amazon Associate I earn from qualifying purchases.
Easy Crockpot Chili Recipe – An easy classic crockpot chili recipe that is so simple to make. Let the chili simmer all day in your slow cooker for a flavourful dinner.
Slow cooker meals have always been some of my favorites anytime during the year. It's so nice to know that dinner is cooking and ready for you in the evening without you needing to stop what you're doing to go and make dinner.
With just a few minutes of prep work in the morning, you have an easy dinner ready for you.
This crockpot beef chili recipe is so easy to make, it's become my go-to recipe when I need a warm, hearty dinner on a busy day.
This recipe makes a large batch of chili and since we have a large family it's perfect for us and still gives lots of leftovers to enjoy reheated or as toppings over rice, mashed potatoes or on chili dogs.
So if you are looking for an easy chili recipe for a crowd this one is perfect for your family get together or game day!
Simply get the chili cooking in the morning and when you're ready to eat set out your favourite toppings and let everyone serve themselves.
More Easy Recipes
Chili Topping Ideas:
Sour cream
Greek Yogurt
Shredded cheddar cheese
Green onions
Crushed tortilla chips
Shredded lettuce
Cilantro
Olives
Slow Cooker Chili Tips
Brown the ground beef before adding it to the slow cooker. This will improve the flavor and texture of the meat in your chili.
I used powdered vegetable stock to add a boost of flavor to this chili recipe. This is a quick way to add flavor to chili if you don't have fresh peppers and celery on hand.
Watch the spiciness of the chili powder. Different brands can be hotter or milder than others. It's a lot easier to add more heat to your chili than it is to dilute it once it's too spicy. Trust me on this one!
Do You Drain Canned Beans For Chili?
This recipe uses canned beans that are undrained. But if you have health concerns about the sodium or sugar that is in canned food you can drain and rinse the beans before using them.
Just make sure to replace the same amount of liquid in the recipe. You could use water or beef stock instead.
Crockpot 22-ounce Double Handle Soup Bowls, Set of 4 (White)
PRADO STONEWARE COLLECTION – Stacking/Stackable Soup, Chili
BIA Cordon Bleu 16-Ounce White Porcelain Chili Bowls, Set of 4
What Are The Best Beans To Use For Chili?
You can use many types of dried beans in chili recipes. Kidney beans, of course, are the first type you probably think of because it's used in traditional chili recipes.
For making a red chili recipe you can use kidney beans, pinto beans, and black beans, northern and navy beans. If you are making a white chili recipe then you can use the same beans except for the kidney or black beans.
Easy Crockpot Chili Recipe
This is a simple beef chili recipe that has loads of beef, onions, tomatoes, seasoning, and flavor.
Cook the ground beef in a large skillet over medium heat until it has browned.
Then add the chopped onions and garlic and cook until the onions start to turn translucent.
Add the ground beef mixture to the slow cooker. Then add the remaining ingredients and stir it well to combine.
Cook on high for 3 hours or low for 6 hours.
Easy Crockpot Chili Recipe
An easy Crockpot chili recipe that is hearty, flavourful, and so easy to make! Perfect for busy weekday dinners, family get-togethers and game day parties.
Total Time
3 hours
15 minutes
Ingredients
1 pound ground beef
4-5 cooking onions (medium sized)
2 19 oz cans kidney beans
1 19 oz can six bean mix
2 28 oz cans crushed tomatoes
1 28 oz can diced tomatoes
1 23 oz can cheese flavored tomato sauce
3-4 bulbs of garlic, chopped (or 3-5 tbs of garlic powder)
3 TBS. powdered vegetable stock
2 tbs. salt
1/2 cup brown sugar
2 TBS. parsley
2 TBS. oregano
1 tbs. rosemary
1 tsp. Chili powder
1 tbs. black pepper
1 tsp. Chili flakes (red pepper flakes)
2 tbs. paprika
Instructions
Brown ground beef in a frying pan, add chopped onions and garlic to the pan and cook until onions start to become transparent.
Transfer to your slow cooker. Then add the remaining ingredients. Stir and cook for 3 hours on high or 6 hours on low.
Notes
We like our homemade chili mild but very flavorful. If you want a spicy chili than simply double the amount of chili powder and red pepper flakes.
This recipe almost fills my 7 qt. crockpot, if yours is smaller then cut the recipe in half.
What are your favourite chili toppings?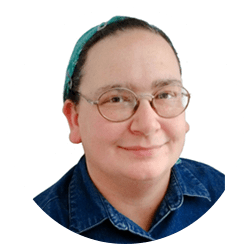 Kim Mills is a homeschooling mom of 6 and lives on an urban homestead in Ontario, Canada. Blogging at Homestead Acres she enjoys sharing tips to help you save money, grow and preserve your own food.